Instruction
If you decide to do
Boxing
, pick up high-quality Boxing
bandages
. The fact that they should put up the Boxing gloves. It is so organized production of these products.
In that case, if Boxing will be the child who only tries his hand at this sport, buy the short bandages. Their length is on average 2.5 meters. It is so much need in order to wind the brush completely, but it does not fix the fingers. But seniors should only purchase long Boxing bandages. With their help, holding up a fist and brush. Don't worry about costs a lot of time, because very soon even a 4-metre strips will be wound in a few minutes. In this long Boxing bandages fix all the fingers and prevent various injuries.
As for the material of which is made a Boxing bandage, then there are two options: elastic and cotton fabric. Again children should use Boxing bandages cotton. This is due to the fact that toddlers can accidentally pull the hand so that the fingers will swell. This has a negative impact on the results of the battle on their health. But if you are an adult and prefer elastic, feel free to use it. But again – be extremely careful while winding, all the time careful how tight bandage.
In addition, forget about the fact that Boxing bandages are designed to absorb sweat. It is a myth. As practice shows, during their normal exercise produces a large amount of fluid, which remains on the fingers. Thus, the gloves are still suffering.
In order to solve the problem with unpleasant smells, and will buy regular cotton gloves in one of the hardware stores. They will perform the function of socks, only wear them on hands.
Advice 2: How to choose a Boxing bag
A Boxing bag or punching bag is a sports equipment on which to practice and improve the impact athletes. It helps to develop accuracy, rigidity and speed of impact. Made punching bags from leather or artificial leather, sometimes canvas. Inside they Packed plastic or crumb rubber, rags, sawdust. To correctly choose a Boxing bag, you need to know what they are. And talk about this.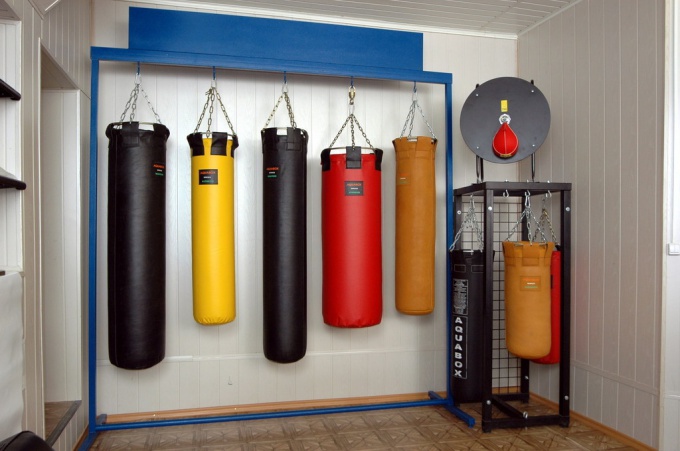 Instruction
Heavy Boxing bag is a rather large cylinder, which weighs from 60 to 110 kg. Due to its gravity they are equipped with very powerful suspension system. Heavy punching bags are large in size and high in cost and therefore are mainly used in the halls.
Heavy Boxing bag is great for practicing basic strokes. Because of its weight it difficult to lose, and therefore, it can also work out the kicks. The main purpose of heavy Boxing bags – aid athletes in working out the force of the blow and lethal series.
Medium Boxing bag is used not only in halls but also at home. The form has a cylindrical or pear (hence the name "punching bag"). The weight of the average bag is around 30-60 kg. It is convenient to hang on the bar of the house, because the powerful mounts he requires, and is a lot less.
The average Boxing bag will help to work out a fairly wide range of strikes, but the legs on it to beat already difficult. Just the kind of bag badly shaken. But for the workout of punches, he is perfect.
Lightweight Boxing bag is done in the form of a pear and weighs 5-30 kg. it can do even a child. And adults this bag helps develop speed bumps.
The horizontal uppercut heavy bag has a cylindrical shape and is suspended horizontally. The name implies that it is intended for working off of blows of uppercuts. The weight of this bag is around 25-50 kg.