Instruction
Do not expect a puppy that he calmly put up with the care of the owner. Dogs are inherently pack animals, they certainly need to take part in all the events that occur in the family. This is especially true of puppies, which in the first months of life need constant attention. So be prepared that the reaction of the dog loneliness will be negative. Try before you leave to clean, close and hide all the dog can ruin, chew, break.
The puppy normally have learned to endure loneliness, it is necessary to accustom to it gradually. For a start, let him get used to be alone in the room. Try to leave your puppy at times when he's fed and walked and ready to take a NAP. Wait until your pet calms down on his couch, leave the room and close the door. Even if the baby to find that there was one, would begin to howl and scratch at the door, do not throw back immediately. Give your puppy to be alone for at least a few minutes. Then you can log in to cuddle your four-legged friend, treat him with something delicious, to praise. Repeat these training treatments, gradually stretching the time. The puppy therefore will understand that you will return, you just have to wait.
You can do the opposite way: to limit the dog the entrance to any particular room, for example, in the kitchen. Leaving, do not let the puppy behind you. Are there a while, and then come back to your pet, gently welcoming him.
Leaving the apartment, try not to attract the attention of the
dog to
your care. No need to say goodbye to the dog - it will only worry her. On the contrary, distract it, for example, a toy or treat. Before leaving, always leave the puppy a few toys that he will be able to do. At first your pet will also help not to feel too lonely enabled TV or radio. Can also leave him with something belonging to you earlier, but an unnecessary thing. The puppy will be calmer, if he will take her to his bed, with the scent master.
Note
If you came back and discovered that the puppy in your absence mischief: something broke, scattered, made a puddle - don't start to scold him immediately. The kid simply does not understand what it is, but would be upset and scared. Your return should not associate the puppy with negativity and punishment. For all leprosy dog it makes sense to punish only if you catch it in the process of making an objectionable offense, because the memory of the puppy short.
Useful advice
Remember that the puppy spoils the surrounding objects, not to annoy you, but because he had nothing to do, from anxiety or because he has itchy teeth. Attempts dog to mess in the house need to stop, but without excessive aggression.
Advice 2: How to teach your dog to stay alone at home
Dogs are gregarious creatures. They constantly feel the need to communicate with other
dogs
, it gives them the opportunity to develop and obtain the necessary life skills. If the animal lives among the people, the constant presence of someone from them becomes compulsory for her. Because loneliness is a state unnatural for dogs. But sooner or later you have to leave your pet at home.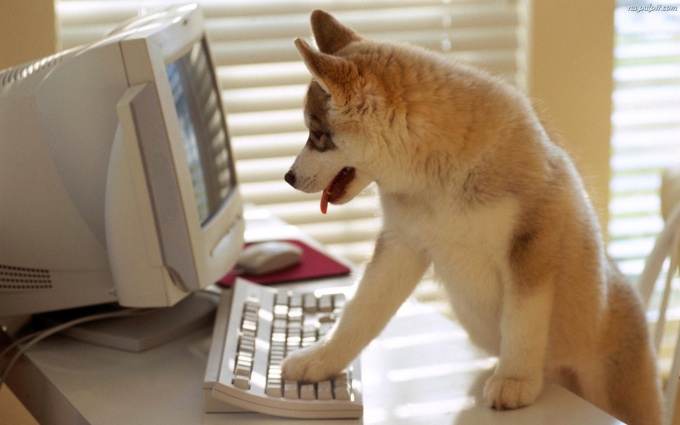 Instruction
For your dog's loneliness – the real reason for the stress. It is therefore necessary from a very early age to teach puppy to stay alone in the room. Start simple: try to leave the room for a while and leave the dog alone. You need to ensure that during your absence, the puppy whined and howled. If the room is quiet, praise the puppy and give him a reward. Your absence should gradually increase. If the animal developed a persistent reflex, which he will be praised, when you come back, it won't be much to worry from-for absence of the host and will look forward to his return.
A common mistake of many is, the behavior of the following type: you return home, caught the devastation on the dog, and begin to scold her. The fact that puppies and even adult animals gnaw clothes, shoes and furniture exclusively in order to cope with stress. Indeed, while the master, the dog is very sad and lonely. When, returning, love the owner starts to scold the dog, she falls into a vicious circle: on the one hand, afraid to remain one, on the other – afraid of future punishment. It is best for some time to come to terms with the losses in the form of chewed-up shoes or furniture and do not scold the puppy. Practice the following behavior: when leaving, say goodbye to your dog is cold, and on his return be sure to praise it, ironed and strongly encourage.
Be sure to buy puppy toys, which he will be engaged in during your absence. This should be something that can be long and with impunity to chew or any special puzzles. Yes, there are. Now, there are special toys for dogs made of durable material that is impossible to crack. Inside is placed a tasty treat, and the dog must figure out how to extract it from there. These are the smartest animals are very fond of logic puzzles and if you leave your baby anything like that, it is boring just will not.
Note
Dogs need love, affection and companionship. If you are rarely home or are always traveling, think about whether or not to get a dog? Maybe look after a pet that is less demanding of human attention and care?
Useful advice
Do not blame the puppy if in your absence he's smashed flat to the bottom, turned everything upside down and chewed on an ancient piano. Remember that the baby just learns to master the external world, playing and exploring all around. Be indulgent and try to better cover little guy, so it does not spoil valuable items.