You will need
spices for fish;
olive oil;
salt.
Instruction
Take the fresh trout. You can choose any trout like rainbow, mountain-brook, amber or sea. The fresh trout is determined by its gills. Buy chilled fish and before buying look at the gills. To do this, lift the Gill fenders and evaluate the color. Gills from red to bright pink coloring say that the fish is fresh. Otherwise, buy a trout is not worth it.
Clean the fish from scales. Rainbow mountain-brown or amber to clean very simple. Take a teaspoon or tablespoon and turn it convex side up. Swipe the scales and remove it. Clean trout to be not only fast, but very carefully. Scales in the kitchen does not scatter. With sea trout you can remove the peel completely, or to clean with a spoon.
Clean the trout from the inner parts if required. To do so, make a careful incision from the bottom of the fin almost to the gills. If you hit the gall bladder, the flavor of the fish deteriorate. It will become bitter.
Grease a baking sheet with olive oil. Olive oil has the correct density and gives a unique flavor to the dish future. It should not be replaced by sunflower. Turn the oven to warm up.
Place on a baking sheet mountain-brook, amber or rainbow trout without cutting. If you took a sea trout, it is pre-cut into pieces about 1-1,5 thick. Turn the steaks. If properly cut and into the intervertebral region, special efforts to create steaks is not required.
Salt trout, sprinkle with spices and RUB with olive oil. RUB the fish with spices and salt should be from all sides and very thoroughly. Otherwise, trout can turn out dry. You can fix this with a sauce "tar-tar" (mix Mayo with spices for fish).
Put the trout to be baked in a preheated 180 degree oven. If the oven has multiple adjustments, select the mode "Top-heat" or "Grill".
Bake the trout for 25 to 30 minutes. In the "Grilled" fish to bake for about 40 minutes. The taste will depend on the species. If you chose amber trout, it will be very soft and tender. Rainbow trout sweet, not much different from her mountain-brook. All types of trout with white meat. Fans of the red fish should pay attention to the sea troutthat is distinguished by its rich flavor.
Advice 2 : How to cook trout on the grill
Trout
is a type of salmon fish. They are found in cold waters, therefore, contain the greatest amount of fat. Fish contains the highest amount of polyunsaturated fatty acids and phosphorus. It is believed that if a man eats
trout
, it was able to deliver him from depression and stress. In cooking fish is not complicated. The main thing - to emphasize the delicate taste and texture. Recipes for trout, a huge amount. Very tasty fish baked on
the grill
. Soaked smoked trout has a distinctive delicate taste.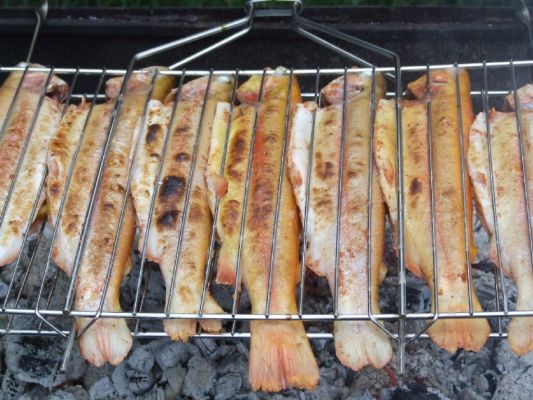 You will need
olive oil (2 tbsp);
onions (1 PC.);
parsley (2 tbsp.);
ground black pepper;
salt;
mushrooms (100 g);
lemon (2 pieces).
Utensils:
rifled Board;
knife;
glass;
pan.
Instruction
Take the fish, clean it by removing the insides. Rinse well under running water. Dry and wipe with a clean cloth.
Prepare salt and pepper. Mix them with each other. RUB the fish with spices.
Take a cutting Board and chop finely the parsley. Put aside.
Then take onion, peel it and finely chop.
Take the lemons, cut in half and squeeze the juice into a glass.
Then take the sliced Board and finely chop mushrooms.
After that, take a pan, add the fish and drizzle with lemon juice. Put the trout on top of some cargo. Leave this marinade fish for an hour.
After the fish zamarinuetsya, remove it from the pan.
Connect the sliced mushrooms and onions with parsley.
Put in the belly of the fish the mushrooms with greens. Brush the trout with oil.
Lay the trout on the grill and cook on the coals. In the process of cooking sprinkle a dry white wine. Cook for 15-20 minutes.
Fry the fish until cooked. Remove, arrange on the plates. Trout ready!
Note
The trout caviar should be taken with caution for people suffering from hypertension.

Trout is not recommended for pregnant women and nursing mothers, as in some types of mercury present. Even in small quantities, harmless for an adult, it will be harmful to the embryo or newborn.
Useful advice
Trout is an oily fish. If you serve this fish with lemon, vegetables and herbs, you absolutely do not worry for the piece.
Advice 3 : How to cook rainbow trout
Rainbow
trout
refers to the mean freshwater Steelhead salmon. This fish has a delicate fatty meat and crisp skin.
Rainbow
trout
oven baked, grilled, cooked in pots.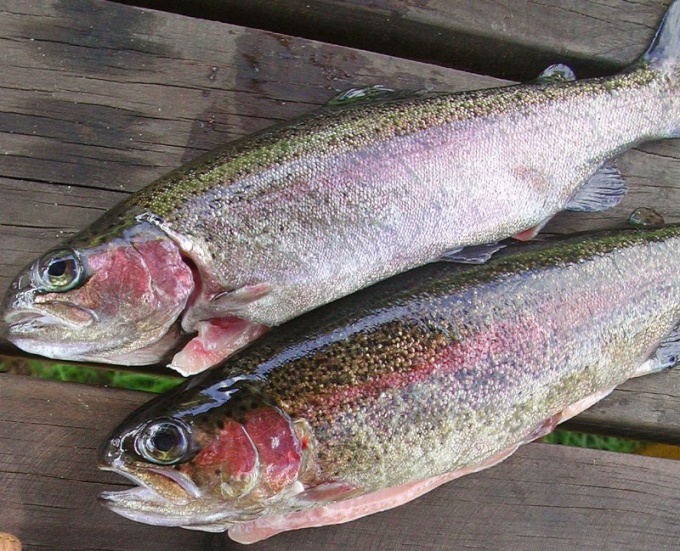 You will need
For rainbow trout in mushroom sauce:

— 4 medium-sized rainbow trout;
— 250 g of mushrooms;
— 100 g of butter;
— 300 ml cream;
— 1/2 of lemon;
— 1 bunch of parsley;
Sol
ground black pepper, to taste.
For rainbow trout
grilled:
— 4 medium-sized rainbow trout;
— 50 g of butter;
— 1 tbsp of red caviar;
— 20 ml of olive oil;
— 1 lime;
— 1/4 lemon;
— 12 stalks of thyme;
— 1/2 tsp. leaf tarragon;
— 1/2 tsp of chives;
Sol
ground black pepper to taste.
Instruction
Rainbow trout in mushroom sociosite rainbow trout, remove the head and entrails, wash in cool running water. If the fish was frozen before cooking it needs to be completely defrosted. RUB the fish inside and outside with salt and ground black pepper. Leave for a few minutes.
Melt in a pan 50 g of butter. Fresh mushrooms finely chop. For the sauce you can use frozen mushrooms. Sauté mushrooms in butter for 5 minutes. From lemon squeeze the juice. Add the mushrooms to the lemon juice, salt and pepper to taste. Pour in heavy cream and bring to a boil, immediately turn off the heat.
Fry the fish in remaining butter for 4-5 minutes on each side until Golden brown. Put the roasted trout in a baking dish in a single layer. Pour the fish with mushroom sauce. Preheat the oven to 180-200 degrees C.
Bake rainbow trout in sauce in the oven for 15-25 minutes depending on the weight of the fish until tender. Parsley finely chop and sprinkle on her the finished dish before serving.
Rainbow troutcooked on gamepadstate fish. Rainbow trout gut, wash and rinse in cold water. Dry with paper towel inside and out. Lime cut into thin slices. Squeeze the juice of quarter of lemon.
RUB the fish with spices. Inside each fish, put a slice of lime and 3 sprigs of thyme. Brush trout with olive oil. Grill preheat. Fry the fish on each side for 5 minutes until tender.
Prepare the caviar oil. Melted butter, whisk until soft. Pour lemon juice, add finely chopped chives and tarragon. Gently stir in the caviar and add the ground black pepper.
Put ready rainbow trout on the plate. Then put the caviar oil and serve immediately.