Instruction
In order to tie up crochet baby things, you do not need to have a great experience, as there is quite a large number of diagrams and descriptions of simple products, which can handle even a beginner. Find them online very easy.
For models of children's clothing, then better to start from the simple, such as tank top or cap, and then move to more complex models. The advantage of crochet crochet is that you can knit models that do not require stitching, which is very good for kids.
The knitting process impossible without the yarn, and for children it is especially important to use natural skin. For lightweight blouse perfect cotton thread, and the warmer things better knit from yarn made from sheep wool. But in the latter case you must first confirm that the child has no allergies to wool.
Having mastered knitting crochet, you can create not only openwork summer, but warm things. Depending on the structure of yarn and hook size, which will be knitting.
Another important point – the size of clothes for your child. Children grow very quickly, so it's best to knit things a little for growth, then they will last the child longer.
Thinking about accessories for knitted crochet baby things, we must first think about the security issues. For example, choosing between buttons and a drawstring in clothing kids, better to stay on the drawstring with POM-poms. As buttons the child can remove and try to put in your mouth.
Note
Sizes of children's clothes allow us to say that for its manufacture it is necessary not so much time, and it is a guarantee that the work will be completed.
Useful advice
Knitting children's clothing and the fact that it can be used, remains of yarn, for which it is difficult to find application.

Baby clothes often have to be washed often, therefore, the knitted product has to hold its shape and not stretch out after the next wash. These different qualities of clothes made of mixed yarn, such as a mixture of cotton and acrylic. To wash and dry things, crochet, properly: wash in warm water and only his hands, and drying on a horizontal surface.
Advice 2: How to knit, knit with POM-POM
Using yarn with POM-POM (thickening of chenille), you can quickly and easily tie a bold, beautiful thing. But the singularity of these threads can be confusing at the first stage, so before you start to knit from the "pompon" yarn, you must understand some tricks.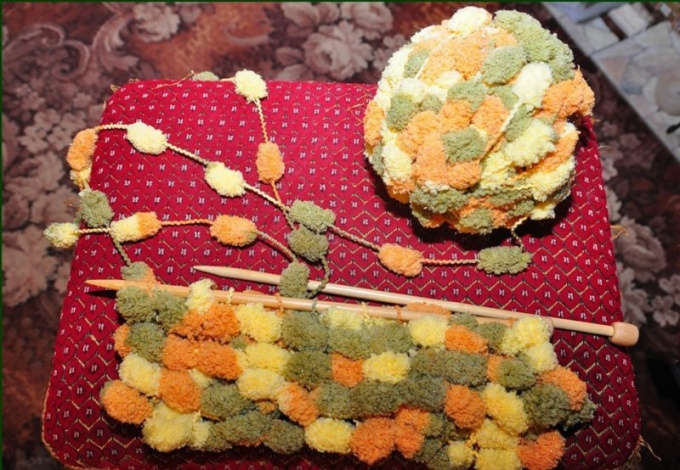 You will need
- yarn POM-poms;
- the spokes;
hook;
- glue or a match.
Instruction
Before you begin knitting yarn with POM-POM, attach the end of the thread to not pusilla. To do this, dip it in glue, burn me with a match or just tie a knot in it.
If you knit with needles draw loops of the bridges between POM-poms. Just make sure you have the jumpers from the loop and wear on the needle. To knit scarf enough 8-9 loops.
Turn the needle and provarite edge loop (in this case, one of the POM-POM will fall vertically). Then promazyvaya loop conventional front hinges. Next row knit front to get a smooth canvas. POM-poms straighten your constantly on the same side. So you knit all the fabric.
To obtain three-dimensional fabric made of yarn with POM-POM, constantly knit facial loops and straighten your POM-poms on the front side, on the wrong.
At the end of the product can make the fringe. For this, picking up loops, appetite not every jumper, and flowing the two. The first row is already knit as usual, promazyvaya each thread between the pompons. Finishing the knitting, knit the last row as well, missing two jumpers (or three POM-POM).
To the canvas turned out not so loose and soft, each interval between the POM-POM promazyvaya at two loops. In this case, the product will be malleable, but more dense.
Yarn with POM-POM you can add to the product, crochet. Knit cloth in the usual columns with SC thread in the matching colour. Every sixth column promazyvaya as follows: yo, elongated chain of the previous row loop, promazyvanie "pompon" yarn. Don't forget to straighten out the POM-poms on one side of the product. The product will be very warm and will keep good form.
Useful advice
If you knit a great product, such as a Cape or tippet, be sure to secure the ends of the spokes tips. May be purchased in the store, plugs or cut from eraser squares.