You will need
henna;
- glass or porcelain;
- wooden shovel;
- hot water;
- olive oil.
Instruction
Do not dye your hair only Basma, otherwise your hair will become blue-green. Mix it with henna. Depending on the ratio of ingredients you can get different shades.
To obtain a light brown color, mix in a glass or porcelain dish henna and Basma in equal proportions. To obtain the brown color in the ratio 2:1 (henna: Basma), black – 1:2. Rich black color you will receive, if diluted 1 part henna, 3 parts of Basma.
Take 25-200 grams of the mixture, depending on length of hair. Fill it with boiling water and stir with a wooden spatula until the consistency of sour cream. Mash all the lumps.
Allow paint to stand for 40 minutes, and then apply it on hair.
Brewing Basma henna can hot water (temperature about 80° C), a decoction or infusion of herbs. To give hair a rich chestnut use of strong coffee, tea or decoction of buckthorn, the red shade of heated red wine, purple beet juice. To obtain the gold sparks in colored hair make a mixture of acidified water. Add lemon juice or Apple cider vinegar (a teaspoon in a glass of water) or a few crystals of citric acid. To obtain a mahogany add water, 3-4 tea spoons of cocoa.
If you have dry or thin hair, pour the paint in the hot milk, kefir or yogurt at room temperature.
For a uniform distribution of the mixture add 1-2 teaspoons of olive oil.
A paste the consistency of sour cream is designed for the roots. For coloring the hair along the length to prepare a new batch with double the amount of liquid or dilute with hot water already available. Liquid paint is easier to distribute through hair, thick will dry up and fall off in lumps from the hair, leaving light spots.
Advice 2 : How to colour hair with Basma
Basma – natural vegetable dye is ideal for dyeing
hair
in deep dark tones. This dye is used in combination with henna, is able to improve the structure of hair, reinforce roots, remove dandruff, improve hair growth and add Shine.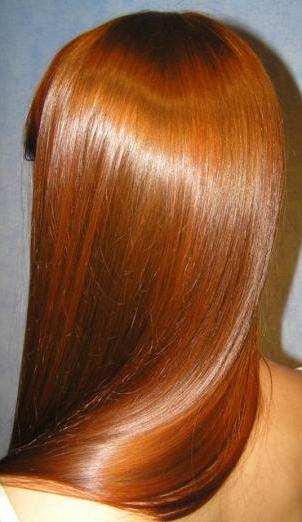 You will need
- Basma
- henna
- glassware
- a brush for applying paint to the hair
Instruction
To avoid getting green, which stains Basma, apply it to freshly washed wet hair after the initial dyeing with henna or with henna.
Take necessary, depending on hair length and desired color, the amount of dry powder of henna and Basma, ranging between 25 to 100 g.
To dye the hair with Basma and to achieve the desired effect will help the following relationship: chestnut brown color after exposure to the two colors in equal parts, bronze color you will achieve after applying the henna and Basma in the ratio of 1 part of the first 2 parts of the second dye, however, the 2nd part of the Basma in combination with 1 part of henna gives black hair.
In a glass or porcelain dish mash with a wooden spoon powder with hot water, warmed red wine or strong infusion of hot black coffee. In order to evenly paint the hair with Basma add shampoo, glycerin or flax seed decoction.
The skin around the hairline grease with a fat cream or vaseline, which will help to avoid staining of the strip on the face in bright yellow trudnosmyvaemye color. In the middle put, that has been lightly dry hair with a towel.
Dilute the remaining slurry with hot water at one third and apply on hair ends, then wrap hair with plastic wrap and top wrap with a towel to create a thermal effect.
For a light coloured paint hold from 10 to 40 minutes for dark – from 1 to one and a half hours. Further, a hair rinse with warm water without shampoo. Only a day hair can be rinsed with acidified water.
Useful advice
Before painting for the first time, play it safe – first color a small strand to see the color and verify the correctness of the choice. Remember: Basma hair is not washed off, it can only be cut off.