Instruction
Go to any music store and look at sold there are models of drum sticks. Pay attention to the labeling. The numerical value says about the thickness of sticksand alpha about her appointment. If you are a novice drummer, ask the seller a stick marked 2V and note its diameter and weight. Models with this label is designed to play in the brass band and symphonic orchestras. They are very comfortable and popular among aspiring drummers, developing technique and performance.
Purchase the construction market of the wooden block. In principle, suitable American walnut, maple or oak, but it is better to buy a piece of maple. This wood is light and sticks out her perfect for a quick and quiet game. When you become a superstar or a professional maker of drum sticks, take sticks from exotic woods such as Bubinga or rosewood.
Remember the 2B model, which you saw in a music store and cut sticks about the same length and thickness. To do this, the bottom part sticks thickened - it will be a counterweight to the end of the wand head. The opposite end of thin sticksthat strike the drum, is called "shoulder". The length and shape of this area affect the sound. Cut the stick so that it gradually purified to the head. Then the sound of her would be more subtle.
The head sticks make pointed (Pointed or triangle-tipped). This is the most popular option, which guarantees srednestogovaya sound.
Treat carved sticks sanded to remove rough edges and protect hands from possible splinters.
If you want more confident and stronger to hold the sticks, buy a special anti-slip tapes and tape them to the base of the sticks.
Note
Do not wrap the stick with duct tape and band-AIDS, trying to make it less slippery. Use for this purpose only a special tape.
Useful advice
Remember that wands are consumable for a drummer. They do not need to cherish and try to protect from faults. Enjoy!
Advice 2 : How to spin drum sticks
Torsion drum sticks - very effective technique that many famous drummers use during music performance, for example, Gerry brown. To learn how to spin drum
sticks
, takes a long time to train.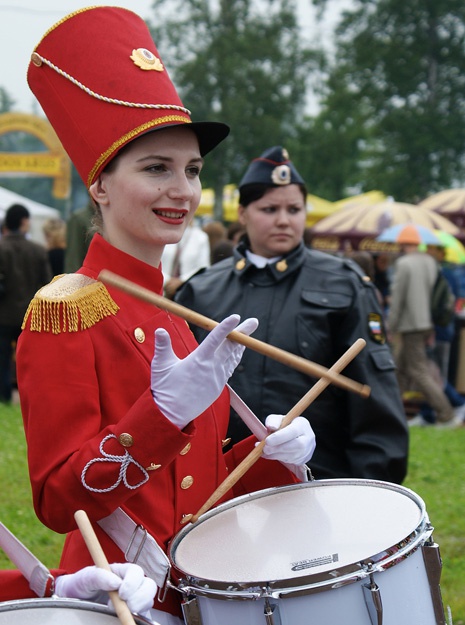 Instruction
Note that the twist drum sticks akin to twisting a stick in karate. Feints drum sticks can be made by using two fingers, and with the help of four. Equally spectacular looks clockwise rotation and in the opposite direction. 2-3 years regular drumming this skill appears by itself. Sometimes it can be worked out, especially with this time.
Put the stick between your index and middle fingers perpendicular to the palm of your hand and try to rotate it. Imagine holding a propeller. During the unwinding of the stick should always stay just between the index and middle fingers. Beginning training can help the other fingers, but the wand will start to spin in your hand easily and naturally, as if without your help.
Please note that it is not necessary to rotate the stick as a paddle - first one end, then the other. Try to keep your arm immobile, moving only two working fingers.
Note that the fingers should be kept straight, allowed only a slight bend in the phalanx.
Try to use a few exercises to develop hand and finger. This will help you quickly master the twirling drum sticks. First, do rotating sticks, single strokes according to the scheme: R-L-R-L-R-L, where R is the rotation right, L - left.
When you can do this exercise at a fast pace, continue to practice double strokes: R-R-L-L-R-R-L-L-R-R-L-L.
And having mastered this technique, try to execute paradiddle: R-L-R-R-L-R-L-L-R-L-R-R-L-R-L-L.
Visual information on how to spin drum sticks? view video schools Mark Mineman, Bobby Jasonbay and Thomas lang. The album Changes the band Godsmack also may be useful for you. In it, Shannon Larkin performs various tricks drum sticks.