You will need
2 bulbs;
2 carrots;
250 ml dry white wine;
100 ml of water;
¼ Celery root;
150 g butter;
a clove of garlic;
1 Bay leaf;
salt to taste.
Instruction
Mussels used for the preparation of salads, appetizers, first and second courses. Try to cook mussels with vegetables.
To start cooking you need to peel the shell under cold running water with a brush and slightly scrape them with a knife. In addition, it is necessary to remove the small, hair-like, a bundle of fibers through which the clam is attached to the rocky surface of the seabed. To cut the "beard" it's pretty much pulling it. Meat mussels would not be affected.
After that, live clams, put in cold water for several hours, periodically changing its order to remove foreign bodies and sand.
Peel and chop the onions and garlic, peel the carrots and celery cut into strips. Wash and chop the bunch of parsley.
Heat in a large saucepan the butter and slightly saute vegetables, parsley, a clove of garlic, add the Bay leaf and peppercorns.
Pour in the pan the water and wine, add salt and bring to a boil.
Lower it into the boiling mixture prepared mussels and simmer, covered for 7-10 minutes on high heat until all the shells open. From time to time you will have to shake the pan. Then drain the mussels in a colander,remove not opened, open the rest of the shell a little wider, sprinkle with parsley and serve.
Bon appetit!
Note
The sash shell quality raw mussels should be tightly closed or close if you tap them, such as a pen knife. If not, these molluscs as food should not be consumed.

In the process of cooking the shells must be opened by themselves. If they remain closed, then the meat is inedible.
Useful advice
Consisting of 83.2% of water tender mussels are very nutritious. It contains 15% protein, 1.5 % fat, a significant amount of these valuable minerals, such as calcium, iron, phosphorus, and many trace elements. It is rich and vitamins.
Advice 2 : How to cook mussels in ele
A very simple recipe for mussels in ele, which will appeal to all lovers of seafood. The dish turns out very tender and flavorful, and time for its preparation requires quite a bit.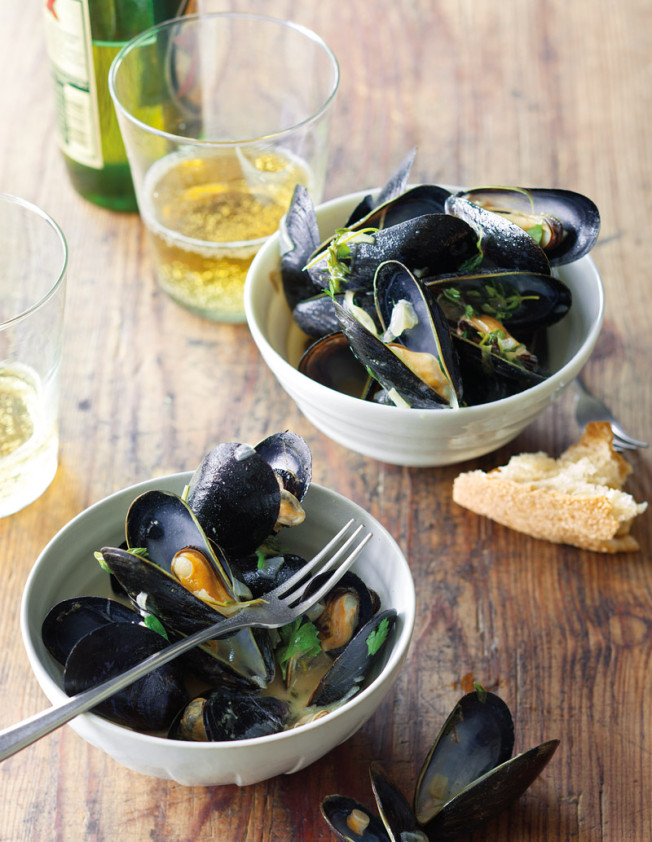 You will need
- 2 tablespoons of butter;
- 30 g of chopped onions, shallots;
- 1 clove of garlic;
- half tablespoon chopped thyme;
- 180 ml of any of ale;
- 500 g of mussels;
- tablespoon Dijon mustard (optional);
- 2 tablespoons of chopped parsley;
- salt and pepper to taste.
Instruction
Mussels must be washed thoroughly. In a frying pan over medium heat melt the butter and fry the onions for shallots for 4 minutes. Add the chopped garlic and thyme, fry for another 1 minute.
Add to the pan with the ale, bring to the boil and add mussels. Close the pan with a lid, cook the mussels for 6-8 minutes.
Put the mussels on a plate, in a pan add mustard and parsley. Stir the sauce, sprinkle with salt and pepper to taste and pour them mussels. The perfect addition to the dish will be fried to Golden brown bread.