You will need
water;
salt;
sugar;
butter;
high pan or steamer.
Instruction
In contrast to the white asparagus, green no need to peel, the skin is so delicate that the need in this no-does not arise. Will only need to trim the bottom zaberemenila the ends, rinse the sprouts asparagus under running water and primary treatment can be considered complete.
If the asparagus is fresh, and at the end of the stems at a slight tap of the finger drops of juice, then the above procedure can be skipped, it will be enough only one washing.
But if you got the old stems, no peelers to do unlikely. But in this case, you do not need to clean the stems completely. Tough skin is covered with germs from the old usually only the lower third. Peelers if you don't, cut it off with a sharp knife, trying to capture maximalno a thin layer.
If you decide to boil
the asparagus
in water, then for these purposes, a very high or a very wide pan. Collect the treated stems into a bundle, tie them with a rubber band or kitchen string. Boil water, add to the pot a pinch of salt and sugar and a small piece of butter.
Dip asparagus in boiling water, immediately turn off the heat of the burner under the pan. After 10-15 minutes of being in hot water asparagus reaches the desired degree of readiness, and can be served to the table, Dobrev special sauce and garnish.
For cooking asparagus in the steamer, put the stalks in a steam bowl and cook them not more of the same 10-15 minutes. If for some reason you overcook them, the asparagus will become watery and lose flavor. In this case, it will not save the best sauce.
Useful advice
Green asparagus is good boiled. It can be roasted and even eaten raw in composed salads and as a separate snack.
Advice 2: How to cook fresh asparagus
Asparagus is not only a great delicacy but also a real antidepressant and aphrodisiac. One of the most low-calorie vegetables contain a large amounts of protein and rich in vitamins and minerals. Asparagus, known since Pharaonic times, the Russian market appeared relatively recently and immediately won the love of all lovers of fine cuisine.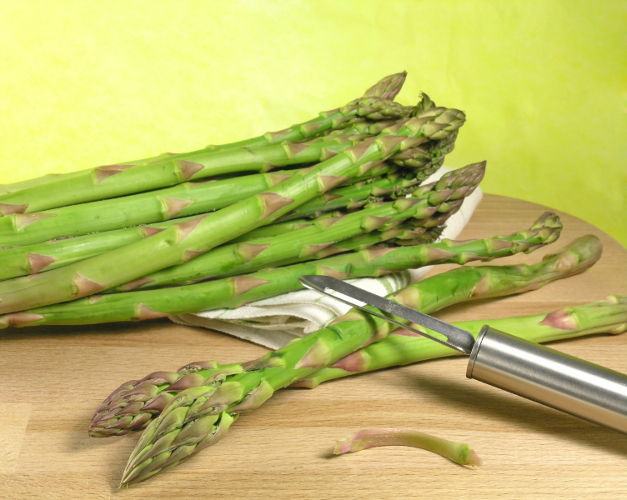 Instruction
Salad with avocado and Spiriva will need: 1 kg of asparagus 2 medium avocados, juice and zest of 1 lemon, 2 tbsp olive oil, 2 tbsp chopped parsley 1 tbsp chopped cilantro 1 tbsp chopped mint, 1 tbsp white wine vinegar, 1/2 tbsp balsamic vinegar, 1 tsp sugar, salt and black pepper - to taste.Remove the thick asparagus ends, and cut it into small pieces. Put them in boiling water for 2-3 minutes. Then rinse
the asparagus
under cold water and dry.
Peeled avocado cut into cubes and together with the lemon juice and zest and add to the asparagus.
For the filling mix the olive oil, parsley, cilantro, mint, vinegar, sugar, salt and pepper. Add to the salad and mix thoroughly. Salad can be served immediately or leave to cool for 2 hours.
Salad of roasted Spiriva will need: 50 ml of olive oil, 2 tbsp lemon juice 12 asparagus sprouts, spinach leaves, 50 g grated Parmesan, 1 tbsp chopped almonds.Sauté asparagus over medium heat with the lemon juice and olive oil for 5 minutes. In large bowl, combine spinach, Parmesan, almonds and add the chopped into small pieces asparagus. Mix thoroughly and serve.
Asparagus in piconewton this easy to prepare appetizer will surprise you and your guests.You'll need: 500 g of asparagus 8 to 10 strips of bacon.Wash the asparagus and trim the thick ends. Cut the strips of bacon across in two. Wrap each strip around a sprig of asparagus, ends at the same time leaving open. Lay the asparagus on a baking sheet and cook in pre-heated 400 degree oven for 20-25 minutes. The finished dish to be served warm.
Note
The most important thing when cooking asparagus is not to overcook/not to overcook it. In this case significantly affected its taste.
Useful advice
Pleasant taste asparagus butter. Add it when cooking or already to the finished dish.