You will need
water;
salt;
sugar;
butter;
high pan or steamer.
Instruction
In contrast to the white asparagus, green no need to peel, the skin is so delicate that the need in this no-does not arise. Will only need to trim the bottom zaberemenila the ends, rinse the sprouts asparagus under running water and primary treatment can be considered complete.
If the asparagus is fresh, and at the end of the stems at a slight tap of the finger drops of juice, then the above procedure can be skipped, it will be enough only one washing.
But if you got the old stems, no peelers to do unlikely. But in this case, you do not need to clean the stems completely. Tough skin is covered with germs from the old usually only the lower third. Peelers if you don't, cut it off with a sharp knife, trying to capture maximalno a thin layer.
If you decide to boil
the asparagus
in water, then for these purposes, a very high or a very wide pan. Collect the treated stems into a bundle, tie them with a rubber band or kitchen string. Boil water, add to the pot a pinch of salt and sugar and a small piece of butter.
Dip asparagus in boiling water, immediately turn off the heat of the burner under the pan. After 10-15 minutes of being in hot water asparagus reaches the desired degree of readiness, and can be served to the table, Dobrev special sauce and garnish.
For cooking asparagus in the steamer, put the stalks in a steam bowl and cook them not more of the same 10-15 minutes. If for some reason you overcook them, the asparagus will become watery and lose flavor. In this case, it will not save the best sauce.
Useful advice
Green asparagus is good boiled. It can be roasted and even eaten raw in composed salads and as a separate snack.
Advice 2: How to cook soy asparagus
Soy
asparagus
– the invention of the Chinese. Made from soy, this product and asparagus as such is not. Rather, it is a semi-finished product made from ground powder of the soybean. Of powder brewed soy milk, foam with this milk is removed, dried and turns into familiar to us all soy
asparagus
. By the way, it is believed that soy asparagus is not only delicious and affordable, but incredibly useful and nutritious. The most common dish of this product – salad in Korean.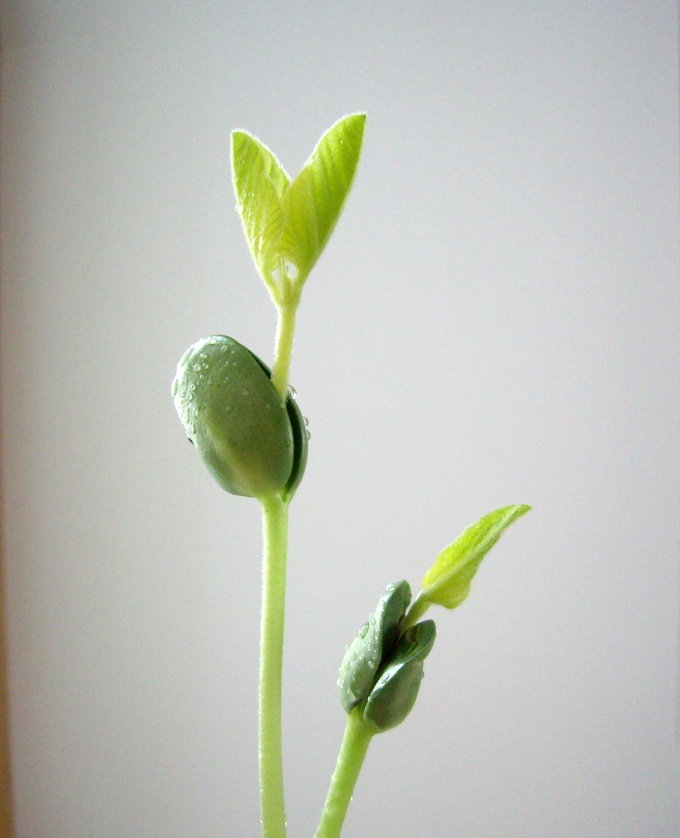 You will need
0.5 kg of dry soy asparagus;

3 carrots;
3 cloves of garlic;
5-7 tbsp vegetable oil;
2 tbsp vinegar;
2 tbsp soy sauce;
1 tsp salt;
1 tablespoon of sugar;
0,5 tsp red pepper.
Instruction
Soy asparagus should break and soak up to 2 hours. Fill it with lukewarm water. Make sure the edges are peeking out of the water. Soaked the asparagus drain in a colander and shake. The taste is fresh, kind of swollen.
In lightly salted boiling water drop soaked the asparagus and cook for about 5 minutes. Pour the boiling water in a separate Cup. Rinse the asparagus with cold water.
Peel the carrots and grate on a fine grater, garlic crush using a special press. Cooked asparagus cut into pieces no larger than 2-3 cm, mix with garlic and carrots. Sprinkle with red pepper.
Glow sunflower oil, pour over the pepper and the asparagus. Add all the remaining ingredients: vinegar, soy sauce, salt, sugar. Mix everything carefully. If it is dry, add more vegetable oil or water in which the cooked asparagus.
Put to marinate for a few hours in the refrigerator. Asparagus ready to eat.
Note
Cold dishes from soy asparagus mainly differ in the variations of the marinade (honey, soy, mayonnaise, mustard and others) and additives, vegetables, mushroom, seafood, etc.
Advice 3: How to clean asparagus
Despite the fact that asparagus is not the cheapest vegetable, it can be often seen on our tables in the form of a garnish or seasoning. Do not be confused by the variety of colors – from white to purple-green. Asparagus – the product is very easy to use, and its cleaning will not have need of special effort.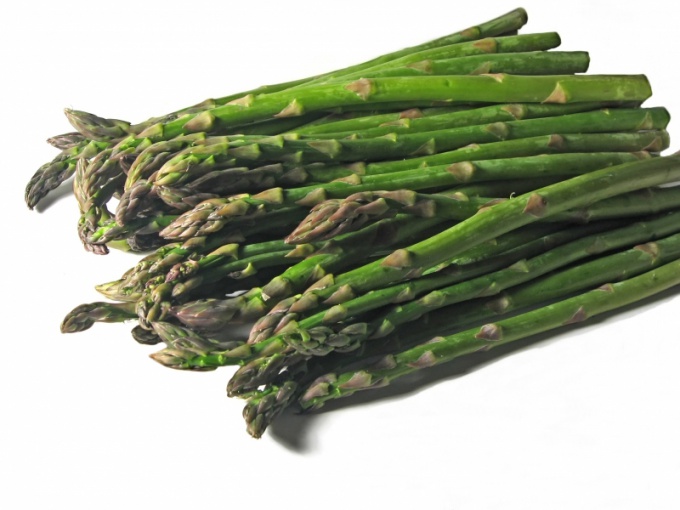 You will need
- a knife or a potato peeler
Instruction
Don't forget before working with any vegetables, wash them carefully (asparagus is no exception – rinse it under cool water).
Need to get rid of dry fibrous tip of the asparagus (place close to the roots of plants). To do this it is simple enough – it easily breaks off at the right place. Typically, its length ranges from 1 to 3 cm depending on the length of the vegetable.
Next, you have to understand how the young vegetable. If the skin is very soft, and cut its not worth it (after all, it is a sufficient quantity of vitamins for which you acquire
the asparagus
). Enough carefully with a sharp knife to cut the film with the "head" (head) of the vegetable.
If the skin is thick and fibrous (as often happens with white asparagus), then you need a more thorough cleaning. For this you will need a sharp thin knife and the best knife for cleaning of potatoes (popularly known as the "potato peeler"). Putting the stalk on the palm, begin to remove the skin layer by layer from head to bottom, until you get to the juicy core and not get rid of all the fibers. That's asparagus and is ready for further processing!
Note
1. When you purchase asparagus, choose shoots which the top layer seems strained. "Wrinkled" skin of vegetable suggests that he's on the counter too long and dry.
2. Thin stalks of asparagus require less time for initial processing.
Useful advice
1. The most delicious asparagus from the upper part, so it requires the most thorough and accurate processing.
2. If you have correctly processed the asparagus, you can also freeze. From it then get the asparagus soup and asparagus relish.
3. If after processing of asparagus you want to preserve its rich color, it is necessary to lower it in cold water with ice.
Advice 4: How to cook fresh asparagus
Asparagus is not only a great delicacy but also a real antidepressant and aphrodisiac. One of the most low-calorie vegetables contain a large amounts of protein and rich in vitamins and minerals. Asparagus, known since Pharaonic times, the Russian market appeared relatively recently and immediately won the love of all lovers of fine cuisine.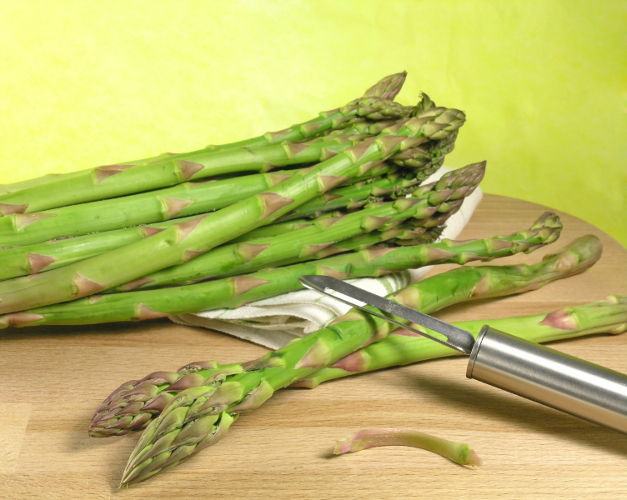 Instruction
Salad with avocado and Spiriva will need: 1 kg of asparagus 2 medium avocados, juice and zest of 1 lemon, 2 tbsp olive oil, 2 tbsp chopped parsley 1 tbsp chopped cilantro 1 tbsp chopped mint, 1 tbsp white wine vinegar, 1/2 tbsp balsamic vinegar, 1 tsp sugar, salt and black pepper - to taste.Remove the thick asparagus ends, and cut it into small pieces. Put them in boiling water for 2-3 minutes. Then rinse
the asparagus
under cold water and dry.
Peeled avocado cut into cubes and together with the lemon juice and zest and add to the asparagus.
For the filling mix the olive oil, parsley, cilantro, mint, vinegar, sugar, salt and pepper. Add to the salad and mix thoroughly. Salad can be served immediately or leave to cool for 2 hours.
Salad of roasted Spiriva will need: 50 ml of olive oil, 2 tbsp lemon juice 12 asparagus sprouts, spinach leaves, 50 g grated Parmesan, 1 tbsp chopped almonds.Sauté asparagus over medium heat with the lemon juice and olive oil for 5 minutes. In large bowl, combine spinach, Parmesan, almonds and add the chopped into small pieces asparagus. Mix thoroughly and serve.
Asparagus in piconewton this easy to prepare appetizer will surprise you and your guests.You'll need: 500 g of asparagus 8 to 10 strips of bacon.Wash the asparagus and trim the thick ends. Cut the strips of bacon across in two. Wrap each strip around a sprig of asparagus, ends at the same time leaving open. Lay the asparagus on a baking sheet and cook in pre-heated 400 degree oven for 20-25 minutes. The finished dish to be served warm.
Note
The most important thing when cooking asparagus is not to overcook/not to overcook it. In this case significantly affected its taste.
Useful advice
Pleasant taste asparagus butter. Add it when cooking or already to the finished dish.
Advice 5: How to cook white asparagus
White asparagus contains a large amount of nutrients and vitamins. It is much more tender green asparagus as it is grown in the absence of sunlight. Baked in the oven with bacon or salmon, it will decorate your table with its appearance and appreciate its wonderful taste.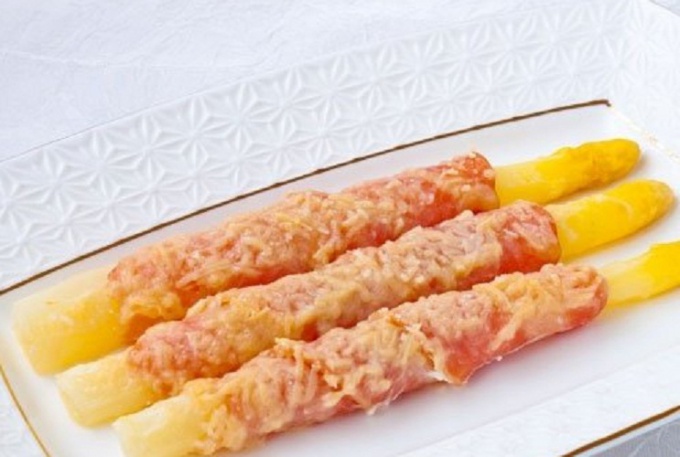 You will need
smoked salmon or smoked ham;
flour;
butter;
milk;
cheese;
black pepper;
nutmeg;
salt.
Instruction
Take two bundles of white asparagus (about 22-24 pieces), clean the bottom of the stems with a knife for peeling potatoes and rinse them under cold water. Fill a large saucepan with water, place in it the stalks of asparagus and put on fire. If you bought or collected the asparagus is a little podwal, add water, one tablespoon of sugar and the same amount of lemon juice.
Boil
white
asparagus
for 10-15 minutes. Readiness check with a knife: if you can easily cut the stalk - the asparagus is already cooked.
Prepare the sauce. To do this in a small sauce pan (best to use non-stick), melt 30 grams of butter. Then, add 40 grams of flour and mix well to avoid lumps. Add to flour and butter, half a liter of milk 2,5% fat and grated nutmeg small size, do not forget to stir constantly. Add salt and pepper to taste. When the sauce after boiling, thickens, remove the pan from the fire and stir its contents with 120 grams of grated Emmenthal cheese. The sauce is ready.
Wrap in thin slices of smoked salmon or smoked ham (if finances allow, purchase the "Parma"), two or three escape boiled white asparagus, all you need 7-9 slices. Put everything in a fireproof dish or mold, pour on top of previously prepared sauce and place in oven to bake. The oven temperature should be around 200-220 degrees, if the plate modes of cooking – select "grill". The dish is ready when the sauce formed a Golden crust. Serve white asparagus with salmon on the table on slightly warmed plates with boiled new potatoes, as an alcoholic beverage ideal white wine Muscat.
Useful advice
Instead of the white asparagus, you can use green,really boil it will need 7-10 minutes. The freshness of the asparagus is easy to check, slices it thick and dense head. Do not throw away the broth from cooking the asparagus, it can be used to make a soup.
Advice 6: How to marinate asparagus
The asparagus season is very short, early spring and the early summer. But this is a very useful low calorie vegetable, rich in vitamins C and K, folic acid, dietary fiber. Asparagus not only goes well with different sauces, and perfectly marinated. And due to its delicate taste, in different marinades has different flavors.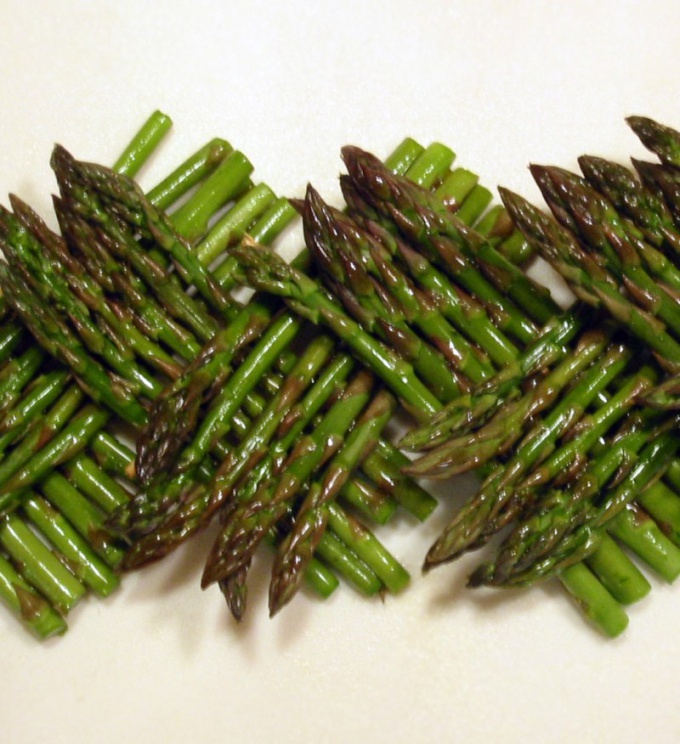 You will need
marinated in ginger-sesame sauce
500 g fresh asparagus;
1 tablespoon of sesame seed;
2 tbsp rapeseed or olive oil;
2 tablespoons rice vinegar;
2 tablespoons orange juice;
2 tsp soy sauce;
1 clove of garlic;
1 tsp grated fresh ginger;
1 / 4 tsp red pepper flakes-Chile;
1 / 4 teaspoon sesame oil.
A simple marinade
500 g asparagus;
1 Cup of Apple cider vinegar:
1 tablespoon salt;
1 1/4 vegetable oil;
1 tsp of black pepper;
1 tablespoon fennel seeds;
1 tablespoon of sugar;
2 cloves of garlic.
Instruction
Before marinating fresh
asparagus
should be cleaned. Rinse it under running water to remove any contamination. Put on kitchen towels and Pat dry. Place on a cutting Board. The asparagus is the most delicious part - the top gentle "spikes", and closer to the roots it becomes harsh. Cut with a sharp knife about 2 - 2.5 inches from the bottom. Usually the hard part of the asparagus – the light. Place a sharp knife just under the "spear" at an angle of 45°, cut away from the stem to the upper layer. Perform the same operation on all sides of the stem.
Asparagus, marinated in ginger-sesame sosaw a wide saucepan, boil water, the sunflower, put the asparagus and simmer it for 5 minutes. While the product is cooking, prepare a bowl with cold water and ice. Drain asparagus through a colander and immediately immerse in ice water. Remove it from the water and let them dry out. Put in a large bowl.
On a dry pan fry until Golden brown the sesame seeds. Be careful, sesame cooks very quickly and is distracted for a while as it's already burned.
Peel and chop the garlic. Put in a small bowl, add the vegetable oil, rice vinegar, orange juice, soy sauce, ginger, pepper flakes and sesame oil. Whisk the marinade with a whisk.
Sprinkle the asparagus with roasted sesame seed, pour in marinade and cover with clingfilm. Marinate 15 - 20 minutes. Prepared asparagus can be served, and can be stored for several weeks.
Simple marinade this marinade asparagus do not need to boil. Enough to put it in boiling water for 1-2 minutes, then chill in ice water and dry. Prepare high sterilized jars in which the asparagus can be placed "spears" up so that the marinade coated the whole thing. Lay the asparagus on the banks.
Make a marinade. Heat the vinegar on medium heat. It needs to be warm, but not boiling. Put salt, sugar. Peel and chop the garlic plates. Put in the vinegar. Add oil, fennel seeds, pepper. Mix well and pour over asparagus. Close the lids and store in the refrigerator. Asparagus will be ready in 6 hours.This marinade you can add a few tablespoons of Dijon mustard, the taste will benefit from this.