Instruction
First, clearly define the goal that you get with weight loss. All of you probably know of cases where actors rapidly lose weight by 10-20 kg for the role in the movie. Easy enough to lose them in this case, it helps having a goal and the right mental attitude. In your case, the target may be a prestigious job, meeting a nice person that you like, or just the opportunity to wear beautiful, sexy things. Be sure to keep in mind that your goal should be realistic and feasible. Here is an example of the right, which effectively will help you to tune in to losing weight: "I will lose weight and will not hesitate to sunbathe on the beach and swim". However, if you set a goal to lose weight and get married, then most likely you will have to wait for disappointment, because marriage has little to do with weight lossM.
Second, compare the importance of what you lose during the diet and what you will receive in return. If losing weight will help you in your career or make life more varied, to lose weight, undoubtedly worth it. But if you expect that your postroynevshaya figure will bring peace in the family or respect in the company of friends, it is unlikely. So be sure to weigh all the "pros" and "cons" and decide whether you want to lose weight.
The third point – think about whether you will be able to follow a diet concerning your way of life. If your work involves frequent travel, meetings with partners in a cafe, banquets, you most likely will not be able to keep to a special diet. In this case, you fall through and it will bring yet another disappointment. The solution in this situation is to find a diet that you can comply with in any case and refrain from frequent get-togethers with buddies in cafes and during lunch to parents.
The next step for effective mood for weight loss – menu planning and graphics power. If you chose a certain diet, then purchase for her all products. And nothing more - do not make yourself temptations! If you decide to restrict calories – carefully study each package of the products, count the calories and record your diet in a special notebook. If you are going to limit yourself in food each day beforehand to see what and how much you will eat for Breakfast, lunch and dinner. And, of course, strictly adhere to the selected mode.
And the last moment. If you decided to lose weight, start here and now, not tomorrow and Monday. Tell yourself "should" and "I can" and let this be your motto for the near future.
Note
If your fullness appeared too sharply or it is clearly excessive to start a diet should visit a specialist-a nutritionist, who after examination will prescribe a diet.
Useful advice
Start going to the gym or dancing, this will not only help to burn calories and fat, but also help the skin stay elastic. Find like-minded people among friends or on the Internet. Then you will always have someone to discuss the problem and who can help you recover lost mental attitude in case of failure.
Advice 2 : How to set yourself psychologically to lose weight
The diet, restriction of food or fasting did not cause stress, decline of mood and decreased performance, it is very important to properly set yourself up for weight loss psychologically. You can carefully calculate your diet, stock up on necessary products, magic supplies and equipment, but if you haven't prepared yourself mentally, things can go wrong. Or you won't last long, or your character will change dramatically, you will become irritable and angry or, on the contrary, tearful and sad. Before you go on a diet, adjust yourself psychologically to lose weight.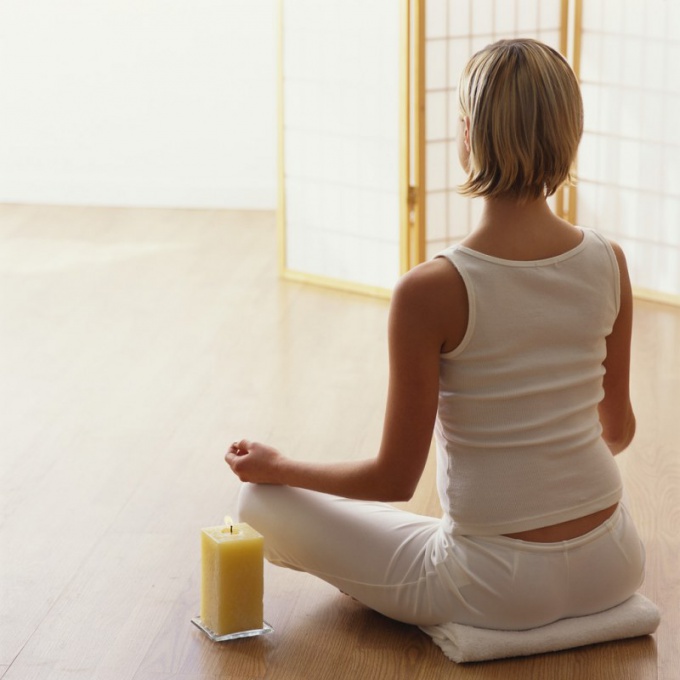 Instruction
Determine for yourself the main objective – what you decided to lose weight. Or for whom. What motivates you? Health problems or dissatisfaction with their appearance? Inferiority complex or regret that you don't fit into your favorite jeans? Your beloved makes a claim to you or a hindrance to the work? Ask yourself sincerely and consider whether the incredible effort and sacrifice that goal. If your decision stands, then lift the objective in the slogan each day.
Indicate the proportions you expect to achieve through dieting or fasting. It can be your own photos when you were slim or at least without extra pounds (every woman there is a photo where she would have liked herself). The hang in a prominent place – above the bed, the mirror in the bathroom, in the kitchen. If not your photo, look in glossy magazines, the picture with a slender girl that you would like to be like. If you are uncomfortable to put the picture in a prominent place (shame to her husband, children, parents), put it in your Desk drawer or just in my pocket and from time to time get. Look at the photos will definitely convince you not to snack once again with tea and cookie.
Keep a diary. In the computer, in a notebook. Divide the page in half. One half what are the (relatively) "Pros slim" and the other "Cons". Write both entries in your thoughts. Write honestly, openly, to the intimate details (it's more no one will read). You can start with the banal "slender easier gait", and "Full of hard to pick up clothes" to outright "Slim energetic in bed", "Full sweat a lot and stink".

Determine where the diary records, "I Want...": buy some tight sweater, new outdoor swimsuit; to prove to my husband that I can, when I want, and let him not mocking me; to surprise colleagues, friends, neighbors; to come to the reunion did not changed during the last 10 years...

Write in your journal anything you want, as long as it supported you in difficult times dieting (and they will), reminded of your goal. And, of course, diary entries need to record your details – weight, waist, hips, chest. The main thing - to endure the first days when the numbers don't change. After a week of your efforts, they start to decrease and your motivation to lose weight will be doubled.
Control your emotions. Remember the good old Dale Carnegie: "Two men looked through prison bars: one saw mud, the other stars". Really, life for each person is what he sees: if he feels that everything is very bad, then it really all is very bad. Do not take the process of losing weight as a punishment, violence, dark and unhappy period in your life. Perceive it as a path to health, to harmony, to a new life where all will be well.
Search for pleasant moments in the process of weight loss. Visit bath, sauna, massage, Spa treatments, beauty salon – all you need to afford. These activities will help to relieve you the physical and nervous tension, brings comfortable feeling. Then the annoying side (not the cake, cookies, favorite cookies) you will not perceive as painful.
Visit a psychologist if you have such an opportunity. He will teach you the special facilities, will give you the training will introduce people who have similar problems. Well attend the General meeting of associates - collectively is always easier to lose weight, there is an incentive to appear more successful than others in the process of losing weight an opportunity to demonstrate their indomitable willpower and desire to win.