You will need
0,5 Cup sugar
1 teaspoon of salt
250 g butter
1 Cup milk
3 eggs
12 g dry yeast
Instruction
Heat the milk to 40 degrees.
Put in the milk 1 teaspoon of sugar.
Dissolve yeast in warm milk.
Mix well and let the yeast began to "walk."
Two eggs, separate the white from the yolk.
Mix the egg yolks and whisk.
In the flour pour the yeast, egg and oil, add salt, sugar and mix thoroughly.
Knead the dough for 10-15 minutes.
Close the dough with a towel and put in warm place to raise for 2-2.5 hours.
The risen dough divide into 4 parts.
Roll into balls, then use your hands to roll the bun into an arc, thicker in the middle.
Grease a baking sheet with oil.
Place on a baking sheet the dough into a loaf.
Cover the pan with a towel and put to rise the loafin a warm place for 30 minutes.
Grease a loafand some egg whites and pop them into the oven for baking.
Bake at 180 degrees for 35-45 minutes.
The finished loafand remove from the oven and let cool, covered with a towel.
Note
The consistency should be not thick and not runny.
Useful advice
The longer you knead the dough, the more magnificent the it will cakes.
Advice 2: How to bake molasses bread
Bread is an indispensable product in our diet. In the old days, bakers made hundreds of different recipes for biscuits and cakes, which were passed from mouth to mouth, from generation to generation and inherited. One of the most common and famous types of bread is rye, which you can buy in any store in the form of a block or round form. Bake Borodinsky bread at home, especially if you have a bread maker, and enjoy its taste with subtle flavor of coriander.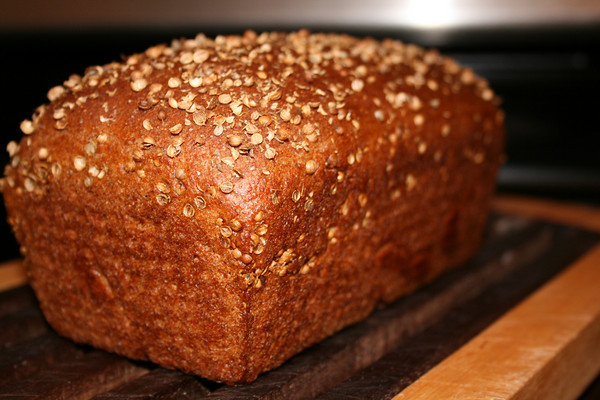 You will need
1 tsp vegetable oil
1/2 tsp salt,
2 tbsp sugar
1 tbsp honey or molasses
325 g rye flour,
75 g of wheat flour (preferably class II),
1 tbsp gluten
1 tsp dry yeast
1.5 tbsp dry yeast,
3 tbsp of malt,
75 g of rye flour,
1.5 tsp. ground coriander,
Cup of boiling water.
Instruction
The first thing you need to prepare welding. To do this, pour into the prepared bowl 75 grams of rye flour, 3 tablespoons of malt and 1.5 teaspoons of ground coriander. Stir and pour a glass of boiling water.
Cover the bowl with a clean cloth or towel and leave in a warm place for two hours for saccharification. The process will go better if a bowl placed in a warm oven or in another bowl with hot water, the desired temperature is 65 degrees.
Cooked the tea cool slightly, so it is not dead yeast and fold in the bread machine container. Then add all the remaining ingredients in this order: 135 ml of water, one teaspoon vegetable oil, 1/2 tsp salt, 2 tbsp sugar, 1 tbsp molasses (mixed with a small amount of water), 325 g rye wholemeal flour 75 g wheat flour (preferably class II), 1 tbsp gluten 1.5 tbsp dry yeast, 1 tsp of dry yeast.
After that, select the program on the bread maker for kneading dough. During kneading the help of a wooden spatula to mix rye dough.
After the dough is mixed, flatten it with wet hands and sprinkle with whole coriander seeds. Leave to ferment in the bread machine for three hours.
Select the mode "Baking" for an hour and 10 minutes. You get amazingly delicious and mouth-watering bread, its aroma will collect all households at the same table.
During kneading and wish good health to all those who will eat this bread. If you decide to bake bread in the oven, knead the dough and let it rise. Then form a loaf and place on a baking sheet, let rise again. Bake in the oven at a temperature of 170 degrees for 45-50 minutes.