Instruction
Decide what kind of veil you are going to sew - in two parts. monolithic, with elastic or without. Monolithic blanket for such a large sofa is quite difficult to sew, so it is best to make separate covers-covers for each part of the sofa. For a solid bedspreads you need to connect two components at an angle of 45 degrees. Also the perfect solution elastic band, stitched at the edge of the curtain case, in which case they will not slide.
Carefully obmerte part of the sofa that you want to conceal, draw the pattern on graph paper (in reduced form). When making patterns do not forget about the allowances somewhere 1.5-2 cm.
Cutting your chosen fabric according to the dimensions in the pattern.
Sew a connecting seam of the paintings, then make a neat hem and the edges of the curtain, if desired, insert the rubber band. Carefully iron the finished product with steam.
The veil on a corner sofa a good idea, especially in cases when the sofa is not disassembled at night. If you use the sofa as a permanent sleeping place, possibly in this case, the solution would be a blanket or a fur pelt.
Advice 2 : Covers for corner sofas from simplicity to luxury
It is known that almost all furniture gradually loses its original appearance, including the quality of the upholstery. For example, your favorite sofa, which is placed directly in front of the TV, and it is a favorite place in the living room for all family members, unfortunately, over time, will also lose its former beauty and attractiveness. But, nevertheless, it is worth asking how this can be avoided.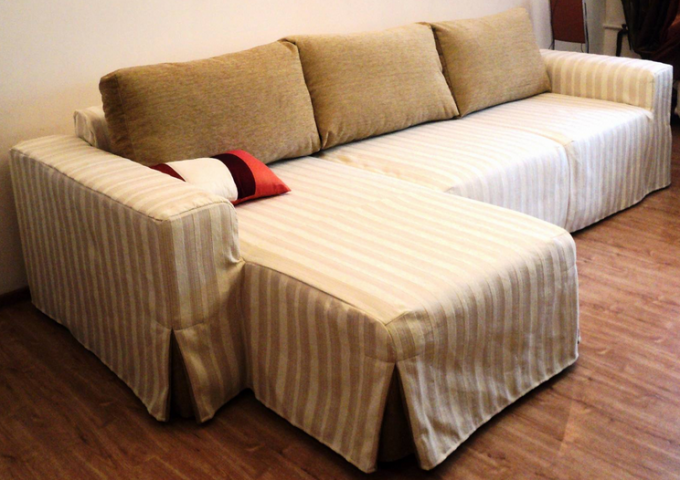 The solution to the problem of fading of the upholstery


If it is a regular sofa, such problem is solved fairly quickly. For example, it is possible to lay on his usual blanket or plaid, these things will not allow to damage the upholstery material and thus prolong its service life. If the sofa is a corner, to solve the problem of fading becomes a little more difficult. However, in this situation, there are ways to preserve the presentable appearance of the furniture.


To protect the upholstery of the sofa from premature aging will be able products such as pouches. Another option of protection can serve as special blankets, designed for this kind of furniture. They are sold ready-made or sewn to order, but if you're handy with a sewing machine, you can easily sew this pouch yourself.


Covers for corner sofas: advantages and disadvantages


The covers look great on the corner sofas are attractive and presentable appearance. They are equipped with special tightening elastic band that allows them to slide off the sofa. Holsters have many advantages, but there are disadvantages. For example, when the sofa needs to decompose, so that it turned the bed, the cover have to be removed.


How and where can I buy covers for the corner sofa?


Whatever it was, deciding to sew a cover for the furniture yourself, you must understand that first and foremost you need to make quality measurements, and then find a decent couch and a corresponding cutting. Only then can you start to sew together, which will be the case for your corner sofa.


The option of ordering a case in the Atelier creates the risk that there can offer only those fabrics that they have in stock and not ones that you would like to choose yourself, and ensure that sewn case it will be good to sit on your sofa, nobody else will. But as an option, to consider this decision still stands.

You can sew a case with their hands or order in the Studio, but it is reasonable to just buy the finished product at a specialized store. As a rule, these covers are very large, you can buy slipcovers for sofas and corner. A variety of fabrics and colours will surprise even the most demanding customer, and there is a choice of cover decorating elements, for example, fringes, cushion or small pillow.


Buying such a product in the store, you can use and advice of a specialist who will tell you how to properly care for a particular fabric, and whether you can avoid unpleasant moments in operation.