Products for cottage cheese casserole with apples
Cottage cheese – 1 pack,
Apples (preferably sour varieties) – 2-3 pieces
Sugar – 2-3 table spoon
Semolina – 2 tablespoon
Eggs – 1-2 pieces,
Sour cream – 1 tablespoon
Ground cinnamon - a pinch of salt.
Method of preparation
Cheese spread in a bowl. Add eggs, sour cream, semolina, sugar, mix everything carefully. If desired, add a little lemon juice, it will give a special aroma of cheese casseroles, raisins or candied fruit.
Wash apples , peel, cut in half and remove the stem. Cut into small pieces, sprinkle with cinnamon, stir.
Turn on oven at 180oC. Grease the form with butter and sprinkle with semolina. Put on the bottom of the apples on them – the cheese mass. Put in preheated oven. The finished casserole should rise to brown, about 20 minutes.
Carefully remove the form with the casserole from the oven, allow to cool slightly and place on a dish. Cottage cheese pie is good both warm or cold.
If the cottage cheese for some reason you depremler, can cook a delicious Apple pie with apples.
Advice 2: Low calorie cottage cheese pie
This delicious and easy diet cottage cheese casserole is a gift for those who are dieting or simply watching their weight.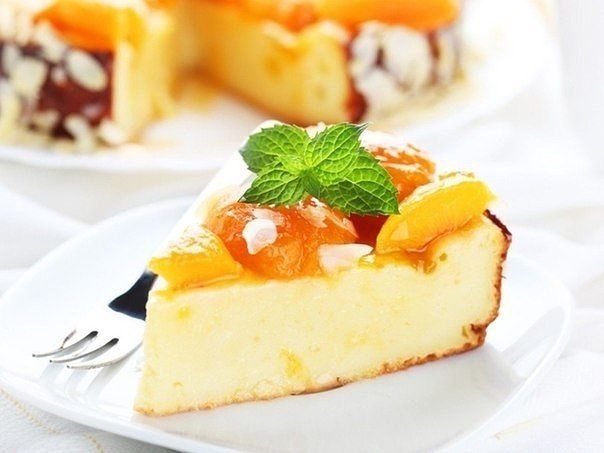 This gentle low-calorie cottage cheese pie is an excellent replacement for the heavy cakes and pies. This is a great dessert, besides its preparation will not take you more than 10 minutes, plus cooking time.
Calories - 94 kcal.
100 grams sugerida:
Carbohydrates - 11 g
Fat - 1 g
Protein - 11 g
For 3-4 portions you need:
Low-fat cottage cheese - 300 g
Semolina - 70g
Any berries (strawberry, cherries, strawberries, blueberries, etc.) - you can take both fresh and frozen
Egg - 1 PC.
Soda - 0,5 tsp
Method of preparation:
1. Turn on the oven at 180 degrees.
2. Carefully blend low-fat cottage cheese with egg and baking soda until smooth with no lumps.
3. Add 2 tablespoons of semolina and berries, again mix well (frozen berries thawed not necessary).
4. On the bottom of the form for baking pour a little semolina to the casserole well they were removed. It is convenient to use a silicone form.
5. Spread the batter into the pan, level, top sprinkle the remains of the monkey.
6. Put in a preheated 180 degree oven on a medium level for 20-30 minutes (depends on oven).
Low calorie cottage cheese pie with berries ready. Let cool slightly and serve.