You will need
- 1 kg of nonfat cottage cheese; 200 g cream cheese; - 5 eggs; - 180 g corn flour; - 2 teaspoons of baking powder; - 6 tbsp liquid stevia; - 50 ml of rum.
Instruction
Stevia is a relatively recently appeared in the sale of natural sweetener produced from the same plant, called different honey pot. Sweetness of stevia sugar exceeds 300 times. It is available in three forms – powder, tablets and liquid solution, which is very convenient to use when baking.
Wipe the curd through a sieve. Separate the yolks from the whites. Proteins put in the refrigerator, and the yolks mix with cottage cheese and cream cheese until a homogeneous air mass. Add in the liquid stevia and rum. Continuing to interfere, add spoon for spoon corn grits. In case of absence thereof, you can use normal wheat flour or even semolina. But that corn will give the future cake a pleasant yellow shade, and diet plan, it is also preferable derivatives of wheat.
Chilled whites beat with a mixer until the state of sturdy foam. Spoon for spoon type them in the prepared weight. Try stir very gently so as not to disturb the air the structure of proteins.
Detachable round shape 24 cm, grease well with oil, sprinkle with semolina or coconut flakes. Thanks to a topping, the finished cake will not stick to the form after baking and it is easy to be out of it.
Pour the batter into the pan, bake at 180°C for at least one hour. The finished cake remove from the oven and leave to cool in the baking pan. And only when it becomes SOSM cold, unable to get it to shift to the dish.
Optionally, you can sprinkle the cake with a small amount of powdered sugar, but if the dessert is intended for use by people with diabetes, it is better not to do it. Just decorate the cake with fresh berries and serve.
Useful advice
Stevia - quite undemanding plant, so you can grow it yourself and then you won't depend on its deliveries in a trading network of your city.
Advice 2: Cheese cake with berries
Summer is the season of berries, which can be used to make various summer desserts. Cheese cake with berries is a great option for easy summer treats.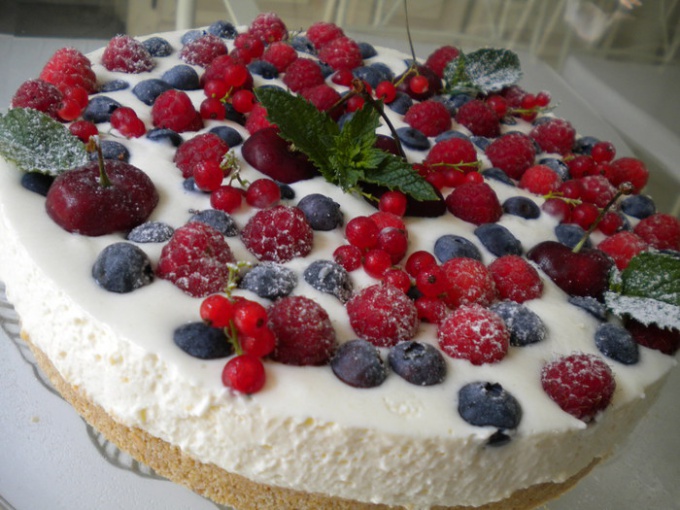 You will need
- flour (3 cups);
- butter (200 g);
- sugar (0.5 cups);
- soda (1 teaspoon);
- lemon juice or vinegar (1 tablespoon);
- eggs (4 PCs.);
- cottage cheese (500 g);
- berries (500 g).
Instruction
First you need to prepare the dough. For this chilled butter have leaves with a knife, mixing it with the sifted wheat flour. 1 teaspoon repaid soda in 1 tbsp. spoon of vinegar or lemon juice, then add to the mixture. All the ingredients are thoroughly triturated with your hands.
To prepare the filling, whisk eggs with half Cup sugar until education sturdy foam. Combine beaten eggs with cottage cheese (low-fat) and parasivam until smooth. Berries sort, wash and lightly dry with paper towels.
Small baking tray grease with butter, sprinkle it with flour, lay out the 3\4 part of the prepared dough evenly over the entire surface and pressing a hand. On the basis of the spread curd and berries on top and sprinkle with all the remaining batter. Put the pan in the oven, preheated to 170 degrees, and bake the cake for about 40 minutes.
The finished cheese cake can be sprinkled with powdered sugar and decorate with remaining berries.