You will need
- 1 kg of nonfat cottage cheese; 200 g cream cheese; - 5 eggs; - 180 g corn flour; - 2 teaspoons of baking powder; - 6 tbsp liquid stevia; - 50 ml of rum.
Instruction
Stevia is a relatively recently appeared in the sale of natural sweetener produced from the same plant, called different honey pot. Sweetness of stevia sugar exceeds 300 times. It is available in three forms – powder, tablets and liquid solution, which is very convenient to use when baking.
Wipe the curd through a sieve. Separate the yolks from the whites. Proteins put in the refrigerator, and the yolks mix with cottage cheese and cream cheese until a homogeneous air mass. Add in the liquid stevia and rum. Continuing to interfere, add spoon for spoon corn grits. In case of absence thereof, you can use normal wheat flour or even semolina. But that corn will give the future cake a pleasant yellow shade, and diet plan, it is also preferable derivatives of wheat.
Chilled whites beat with a mixer until the state of sturdy foam. Spoon for spoon type them in the prepared weight. Try stir very gently so as not to disturb the air the structure of proteins.
Detachable round shape 24 cm, grease well with oil, sprinkle with semolina or coconut flakes. Thanks to a topping, the finished cake will not stick to the form after baking and it is easy to be out of it.
Pour the batter into the pan, bake at 180°C for at least one hour. The finished cake remove from the oven and leave to cool in the baking pan. And only when it becomes SOSM cold, unable to get it to shift to the dish.
Optionally, you can sprinkle the cake with a small amount of powdered sugar, but if the dessert is intended for use by people with diabetes, it is better not to do it. Just decorate the cake with fresh berries and serve.
Useful advice
Stevia - quite undemanding plant, so you can grow it yourself and then you won't depend on its deliveries in a trading network of your city.
Advice 2: Cheese cake with berries
Summer is the season of berries, which can be used to make various summer desserts. Cheese cake with berries is a great option for easy summer treats.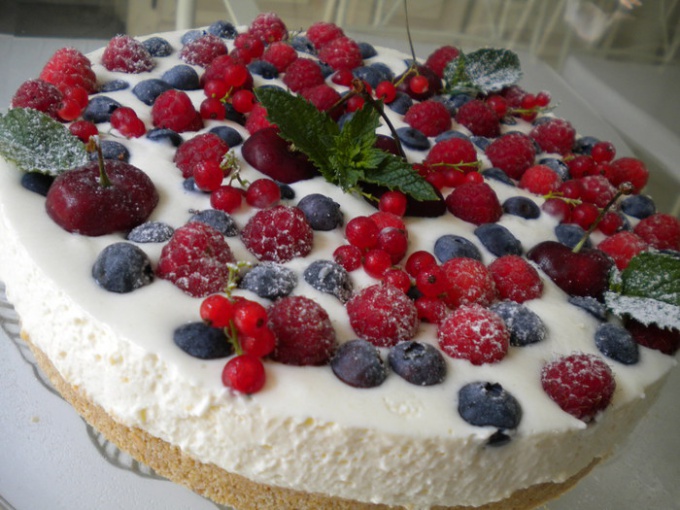 You will need
- flour (3 cups);
- butter (200 g);
- sugar (0.5 cups);
- soda (1 teaspoon);
- lemon juice or vinegar (1 tablespoon);
- eggs (4 PCs.);
- cottage cheese (500 g);
- berries (500 g).
Instruction
First you need to prepare the dough. For this chilled butter have leaves with a knife, mixing it with the sifted wheat flour. 1 teaspoon repaid soda in 1 tbsp. spoon of vinegar or lemon juice, then add to the mixture. All the ingredients are thoroughly triturated with your hands.
To prepare the filling, whisk eggs with half Cup sugar until education sturdy foam. Combine beaten eggs with cottage cheese (low-fat) and parasivam until smooth. Berries sort, wash and lightly dry with paper towels.
Small baking tray grease with butter, sprinkle it with flour, lay out the 3\4 part of the prepared dough evenly over the entire surface and pressing a hand. On the basis of the spread curd and berries on top and sprinkle with all the remaining batter. Put the pan in the oven, preheated to 170 degrees, and bake the cake for about 40 minutes.
The finished cheese cake can be sprinkled with powdered sugar and decorate with remaining berries.
Advice 3: Which cake to bake for a diabetic
Diabetes provides for the rejection of easily digestible carbohydrates contained in bread, sugar, cakes, jam etc. There are many recipes that can be an alternative to sweets and pastries, but also sweeten the lives of diabetics.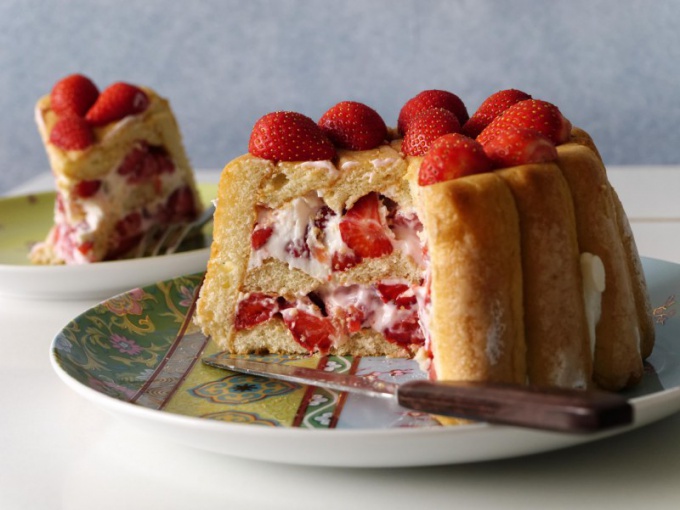 You will need
To prepare yogurt cake:
- 500 g low-fat cream;
- 500 ml drinking yoghurt;
- 200 g of cottage cheese;
- 3 tbsp. of gelatin;
- 2/3 Cup sugar substitute;
- vanilla (to taste);
- berries and fruit (to taste);
- gelatin.
To prepare the cake "Napoleon:
- 3 tbsp. flour;
- 1 glass of kefir;
- 250 g of margarine;
- 1 egg;
- 1 tsp of baking soda;
- 1 liter of milk;
- 1 tbsp of sugar;
- 2 tbsp of starch;
- 250 g of butter;
- fridge.
Instruction
To prepare yogurt cake whip the cream and leave on time. Mix cream cheese, sugar substitute and beat well, then mix with cream and drinking yoghurt. Pre-soak the gelatine and add to the cooked product.
Prepared the base for the cake, pour in a special form and put in the refrigerator for 3 hours. After yogurt cake completely hardens, garnish it on top of berries and fruit according to your taste.
Treat diabetic delicious cake "Napoleon". Mix the flour together with the baking soda, the flour and make a small funnel, pour it into the yogurt and izmeneny grated cold margarine, add egg.
Then roll out the dough in the form of a sausage loaf, cut into 10 or 12 pieces, roll each piece into a ball. Put the prepared pieces into the fridge for 30 minutes.
After the balls freeze slightly, roll out each ball into a small pancake with a thickness of 2-3 mm and put in the oven for baking. Pierce each cake with a fork so that it is not raised. One of the cakes can be fried harder in order to make crumbs.
Now prepare the cream for the cake. Boil the milk. Starch dissolve in a container of cold water. The milk begins to boil, stir in a spoonful of sugar and a thin stream pour the starch.
Cook the mixture until then, until the starch thickens. After hardening, remove from heat and leave on time to cool. Then mix thoroughly with soft butter. Cooked cream is cool.
Each cake miss cake prepared with cream, the top layer of cake, sprinkle crumbs. The "Napoleon" cake for diabetics ready.
Useful advice
Remember, people with diabetes can't eat carbohydrates because they are easily digested and quickly enter the stomach. The result of this eating will be the hyperglycemia that significantly degrade the human condition. However, diabetics can include all sorts of Goodies to cook which is absolutely not difficult.
Advice 4: How to bake a cake "Zebra"
If you have planned a small family celebration, in addition to all the delights on the festive table should be cake for tea. And even nicer and tastier for your family if you will bake it with your own hands. Because we all know that homemade cakes taste better. Recipes delicious cakes so much that sometimes I don't know what to stop. One member of the family wants chocolate, the other - on the contrary. And an excellent exit from this situation is to cook the cake "Zebra".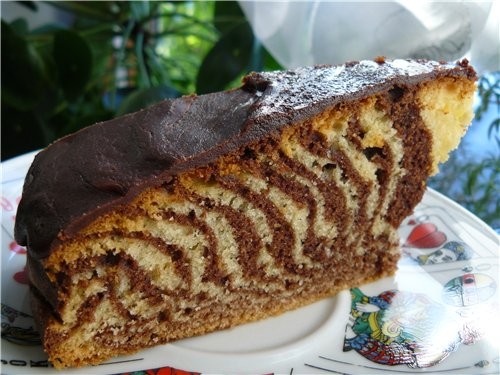 You will need
- 4 eggs;
- 2 tbsp of sugar;
- 1 sachet of vanilla sugar;
- 1 tsp of baking soda
slaked in 1-2 tbsp of vinegar;
- 1 tbsp of sour cream;
- 2 tbsp of flour;
- 4 tsp cocoa;
- 100 g shelled walnuts.
Cream:
- 1 tbsp of sour cream;
- 1 tbsp of sugar.
Glaze:
3 tablespoons of sugar;
3 tbsp Cocoa;
4 tbsp milk;
30-50 g of butter.
Instruction
Whisk the eggs with sugar and vanilla until smooth, white and fluffy foam. Add soda, slaked vinegar, and mix well.
In the mixture place sour cream and stir until the sugar is dissolved. Stirring constantly, add sifted through a fine sieve the flour, while kneading the dough it is necessary strictly in one direction.
Divide the dough into two parts. One part leave as is, and in the second add cocoa and stir until a uniform colour is obtained.
Turn the oven to warm. At this time, oil pre-prepared form for the cakeand butter.
Pour the batter into the middle of the forms: the white, then with cocoa and so on until the end. Then form a little shake from side to side so that the dough is distributed evenly.
Put the form in a preheated 200 degree oven and bake for 45 minutes, need to check readiness with a wooden stick or toothpick. Insert the wooden device in the cake, remove. If the wand is left dry, it is done. If there are still traces of the test, it is necessary to hold in the oven a little more time. Most importantly, the first 15 minutes the oven should not be opened.
Remove the finished workpiece and allow it to cool. Then cut it horizontally into 2-3 pieces, tastes better when cut into 3 layers. To do it in the following way: first, 1 cm deep cut with a knife around the perimeter. Then plug in the resulting hole thread, slowly and carefully zavazujete it to the end. With this method of splitting the cakes are smooth and not broken.
Prepare the cream:
Make sugar powder. Add thick cream and heavy cream. Whisk until thick and not flowing mass.
Received the cream liberally over each cake.
Prepare the glaze:
Mix sugar, cocoa, milk and cook over low heat 25 minutes. At the end add the butter and let it melt, and then stir.
To glaze the cake should still hot solution. On top sprinkle crushed nuts. Also the cake can be decorated with dried fruit such as pineapple or kiwi. Decoration can be done according to your taste.