Instruction
Consider the properties of individual colors. Blue and green are cold colors, creating perspective, evokes the feeling of rest and visually enlarge the space in a small area. Purple blends perfectly with the green background of the lawns, being concentrated in large numbers in one place, creates a somber mood. Yellow and pink colors visually reduce the area of the site. Life-affirming red in large volumes causes fatigue. White color creates a feeling of lightness.
Enter the color orange in the composition in a small amount, because for some people it can irritate. And blue, in small amounts reduces blood pressure, prolonged exposure produces a depressing effect. Do not use bright colors and their combinations around those objects and farm buildings, which should not be allocated on the site. They are best for accentuating zadeistvovat interesting design elements.
Develop a color scheme for the area, given the color scheme of your neighboring houses, pavements, garden furniture, fence and other structures. The first steps in landscape design start with using the monochromatic scheme in which there are different shades and tones of one color. To get a more vigorous mix, match colors that are opposite each other in the color wheel. This option is ideal for lovers of bold decisions, confident in your design talent.
Remember that in the regeneration of the site must be a balance, namely, the uniform distribution of visual activity: colors that are in sight with one hand should be balanced such intensity combinations with the other hand.
Advice 2 : Perennial flowers in landscaping
Using flowers in landscape design, it is important not to lose the sense of style and create a composition that will successfully complement each other and create the image originally intended. It is important to consider the conditions in which to grow flowers shady garden, rock garden and a hedge will require planting with different preferences.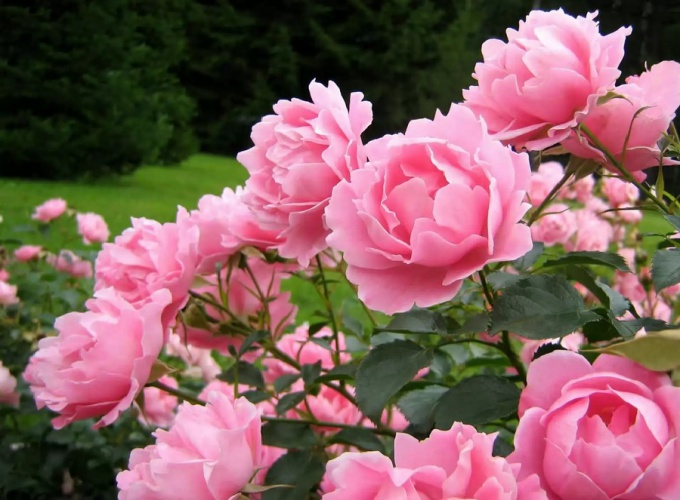 Plants shady garden
A shady garden will affect the choice of plants. Despite the fact that the flowers in landscaping is absolutely essential, in the shadows, unfortunately, can grow only a limited number of plants. These include dekorativnolistnye Hosta and ferns that captivate the look of chiseled foliage and unusual colours.
Thrive in the shade and graceful garden flowers lilies of the valley. However, planting this plant, you need to remember that under favorable conditions, the lilies are quite aggressive and can occupy large area, and the neighbors can not stand none of the plants – these lovely bells are very quarrelsome and poisonous.
Lungwort is a beautiful guest out of the woods feels great in the shady garden, its lush clumps bloom in the spring and enliven even the sad garden.
Plants ponds
Near the garden pond well will feel most garden plants. Among them are popular:
different types and varieties of garden iris and Siberian;
Badal;
daylillies;
the delphiniums.
Plants for the Alpine slides
The theme of the rock garden will be on your side no garden designer. This is the tool, which you can use to completely transform the garden, to make right emphasis on one of its corners and to mask unwanted items. In this case, the flowers in landscaping need, just need to choose them correctly.
For the Alpine slide suitable low-growing perennial flowers, accustomed to harsh conditions and rocky soils. It may be spring bulbs: tulips Greig, Kaufman, Muscari, Crocus, hazel, Bluebell.
After that lovely bloom of primroses, anemones. Then picks up the baton subulate Phlox, stonecrop, and then bloom and annuals: dwarf marigolds, petunias, snapdragons, begonias, verbena.
To create the desired background of stony hills planted in stunted pine shrubs, bloodroot, ageratum – these plants are perfectly combine the space and create a unified composition.
Climbing plants
This large group of plants is also noteworthy, which includes parthenocissus, climbing rose, clematis, hops. Perennial vines can decorate the gazebo, a relaxation area, the wall of the house or barn, to create a hedge and zoned space in the garden.
Climbing rose – Queen of the garden. Rose covered entrance arch, a veranda will conquer you with its wonderful views and the scent of even skeptical guests and will make fall in love with each of them.
Parthenocissus is a powerful climber, conquering with its carved leaves. It can help to create a cozy shade to decorate an old barn to make a hedge. Fall grapes girl becomes ruby red and is decorated with a garden on a background of yellow foliage up to the first frosts.
Clematis – thick wall covered with streaks of multi-colored buds, like no other plant is able to decorate the gazebo, relaxation area.
Using flowers in the landscape design, is to strive to plant as many different species of plants – this will lead to the fact that the style is completely lost and conceived stylish flower will look like a typical country garden. In creating the composition, it is important to consider the color, shape and flowering time of individual plants, so together they created a delicious image, which was originally intended.