Instruction
For residents of large cities have a great option is to enroll. Experienced teachers will help you to understand what the landscape design, recommend literature, the most gifted students will help with employment. Currently, there are a variety of courses lasting from several months to several years. Students take examinations and receive certificates. And if courses lasting a couple of months, are considered to be Amateur, then after two years you can safely go to get a job in a company engaged in landscape design.
If you do not wish to participate in the group, to pass examinations and compete with a dozen people, you can learn individually. For example, some authors of books on landscape design give individual lessons in this area. You will be able to make a schedule that is convenient for both of you, and all his attention will be dedicated to you.
In small towns it is difficult to find courses on this activity, so the science of landscape design you have to master yourself. On the Internet you can download lots of books and tutorials dedicated to different styles of decorating gardens. Sign up on the special forum, frequented by Amateurs and professionals in the field of landscape design – they will gladly tell you the required books for which they were trained.
In most cities there are companies engaged in landscape design. If you aspire to master this science, try to get a job in one of them. In small towns it's easy to do, because the institutions providing vocational education, is not there. A big plus with this is, if you've got a talent in drawing, you may go to children's art school, or even graduated from College. The knowledge that you will receive in practice, are much more important and useful courses and read books.
Advice 2: Spruce cottage: countryside vs superstition
To plant or not to plant a tree in a suburban area - that is the question. Superstitious people do not recommend, but landscape
design
ers vying suggest not to be afraid of any will, after all, conifers are able to add to plot color.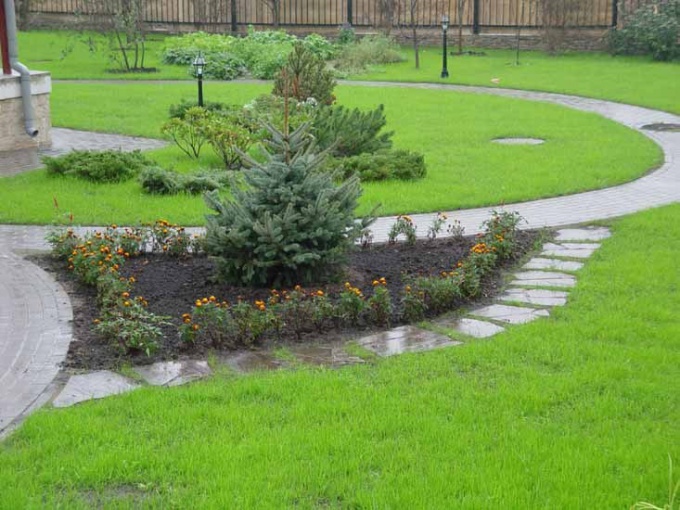 Why not plant spruce?
Fir is a female tree and, according to superstition, she is able to "survive" from the house of men. Our ancestors did not plant spruce near the house for fear that nothing will be born. However, by this logic, and birch, too, should not be planted, because it is a female tree. But no superstition about this no. Meanwhile, the same ancestors laid the spruce branches under the corners of the dwelling in its construction to protect the house from lightning during a thunderstorm.
Other superstition, it was under the tree hides the devil during a thunderstorm. Therefore, this tree is considered the dwelling place of the devil and expelled brownie. However, in Orthodoxy spruce is quite a respected tree because it saved Christ from the plague, for which he was honored to be evergreen.
Spruce and Feng Shui
According to the Oriental teachings, are the most useful flowering and fruit-bearing shrubs and trees. They attract the energy of life in the form of bees and birds, eventually becoming a powerful source of joy and spiritual growth. We ate at Feng Shui is able to pull the good energy to yourself. The worst option - a single fir tree in front of the house. In this case, the tree will be cut all the surrounding space of bad energy. If you cannot imagine your area without evergreen trees, stop the choice on the pine, not spruce. Feng Shui to a pine tree more supportive.
Opinion landscape designers
Skeptical designers believe that eating at their summer cottage, there is only one danger - the tree may collapse from strong winds because it has a shallow root system. However, this problem can be minimized by planting dwarf varieties of conifers. Spruce will intonate useful volatile throughout the site and its background colors will look even brighter - these are not all the arguments in favor of registration of fir in the country. To plant a tree on your land or not to plant - now the decision is yours!
Advice 3: Perennial flowers in landscaping
Using flowers in landscape design, it is important not to lose the sense of style and create a composition that will successfully complement each other and create the image originally intended. It is important to consider the conditions in which to grow flowers shady garden, rock garden and a hedge will require planting with different preferences.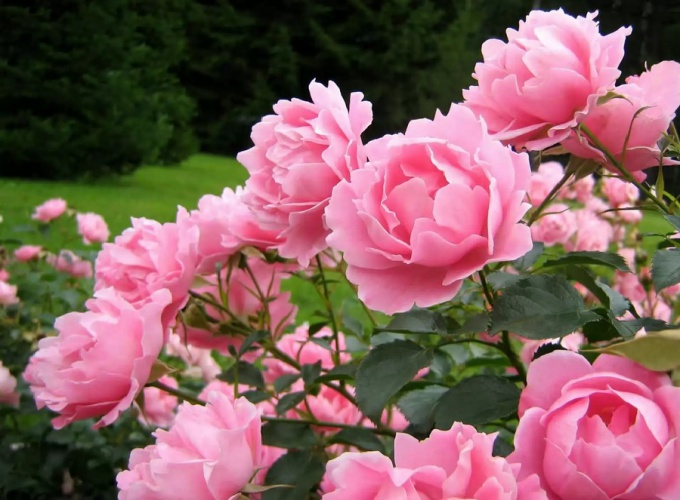 Plants shady garden
A shady garden will affect the choice of plants. Despite the fact that the flowers in landscaping is absolutely essential, in the shadows, unfortunately, can grow only a limited number of plants. These include dekorativnolistnye Hosta and ferns that captivate the look of chiseled foliage and unusual colours.
Thrive in the shade and graceful garden flowers lilies of the valley. However, planting this plant, you need to remember that under favorable conditions, the lilies are quite aggressive and can occupy large area, and the neighbors can not stand none of the plants – these lovely bells are very quarrelsome and poisonous.
Lungwort is a beautiful guest out of the woods feels great in the shady garden, its lush clumps bloom in the spring and enliven even the sad garden.
Plants ponds
Near the garden pond well will feel most garden plants. Among them are popular:
different types and varieties of garden iris and Siberian;
Badal;
daylillies;
the delphiniums.
Plants for the Alpine slides
The theme of the rock garden will be on your side no garden designer. This is the tool, which you can use to completely transform the garden, to make right emphasis on one of its corners and to mask unwanted items. In this case, the flowers in landscaping need, just need to choose them correctly.
For the Alpine slide suitable low-growing perennial flowers, accustomed to harsh conditions and rocky soils. It may be spring bulbs: tulips Greig, Kaufman, Muscari, Crocus, hazel, Bluebell.
After that lovely bloom of primroses, anemones. Then picks up the baton subulate Phlox, stonecrop, and then bloom and annuals: dwarf marigolds, petunias, snapdragons, begonias, verbena.
To create the desired background of stony hills planted in stunted pine shrubs, bloodroot, ageratum – these plants are perfectly combine the space and create a unified composition.
Climbing plants
This large group of plants is also noteworthy, which includes parthenocissus, climbing rose, clematis, hops. Perennial vines can decorate the gazebo, a relaxation area, the wall of the house or barn, to create a hedge and zoned space in the garden.
Climbing rose – Queen of the garden. Rose covered entrance arch, a veranda will conquer you with its wonderful views and the scent of even skeptical guests and will make fall in love with each of them.
Parthenocissus is a powerful climber, conquering with its carved leaves. It can help to create a cozy shade to decorate an old barn to make a hedge. Fall grapes girl becomes ruby red and is decorated with a garden on a background of yellow foliage up to the first frosts.
Clematis – thick wall covered with streaks of multi-colored buds, like no other plant is able to decorate the gazebo, relaxation area.
Using flowers in the landscape design, is to strive to plant as many different species of plants – this will lead to the fact that the style is completely lost and conceived stylish flower will look like a typical country garden. In creating the composition, it is important to consider the color, shape and flowering time of individual plants, so together they created a delicious image, which was originally intended.
Advice 4: Some helpful tips for beginners in landscape design
You have never done any landscaping, but decided to make your site beautiful and unusual? Not a problem! There are some tips, following which you will be able to carry out the idea.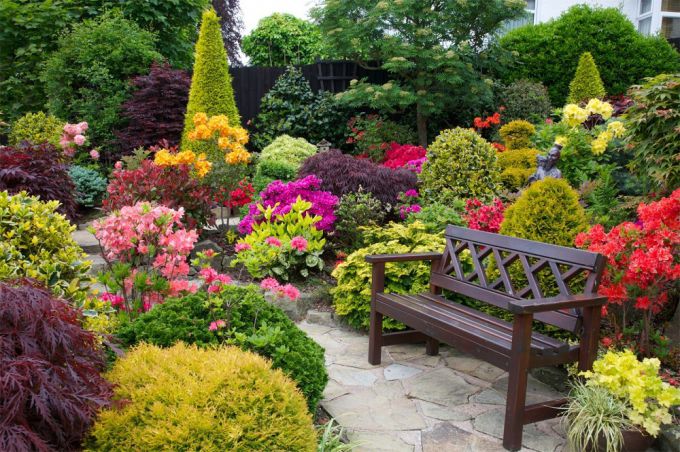 1. Think about your needs and desires. Where will play the children? What are you planning to grow in addition to the colors? Where the family will gather? Make a rough sketch of your own site, it will be a good start for the overall planning of the design. Don't try to make a master plan, just ideas.
With these ideas you can play how you like, it won't take much time, but it will give the result.
2. When planning, consider the factor of the sun and wind. Everything should be not only beautiful but also comfortable. Your project design should be based on how it behaves in different times of the day at least the sun.
3. If you have recently purchased a plot, spend there some time, and then proceed with landscape work. Remember that all your ideas must function properly for more than one season.
4. Proceed first to the not very difficult task. In many shows and magazines you can see stunning samples of landscape design, but there are professionals and with a team. You're in addition to the design is to have fun, enjoying the process and succeed. Start, for example, with small flower beds. Work when you have time and do not handle all at once. After all, it is possible to do step by step in small pieces. Otherwise you just burn yourselves out, tired, and the result will not be good.
5. Each design phase has a series of composite centres, and this rule must be considered in landscape design, those who are just starting to do this. This may be a sculptural sketch or stunning plant, a tree or a group of shrubs. More importantly, this Central object needs to attract attention.
6. Concentrate on visualization. This is one of the difficult points in design for beginners, however, it will give the ability to eliminate many errors. Objects on the plot should be different in size, shape and color. Solid compositions will add some objects from a different conceptual solutions. Don't be afraid to experiment even with the fact that you keep repeating. In the matter of landscape design does not need to be a conservative, be open to new ideas, tune positively and you will succeed.