You will need
3 egg whites;
3/4 Cup low-fat cream;
1/4 Cup sherry;
1 bunch fresh Basil;
salt and pepper to taste.
Instruction
Veal or lean pork mince twice. The meat will need to bring to a homogeneous mass, so it must be thoroughly crushed. Fresh Basil rinse under running water, separate the leaves from the stalk and finely chop them. Add in the mince, the resulting mass along with spices.
Whisk the egg whites with a mixer until thick dense foam, then gently introduce her to the cold mass of a spoon, stirring constantly so that the content remains homogeneous. Put your food processor on the lowest speed and not ceasing to interfere, add the minced meat and cream sherry.
The oven heat to 180 degrees. The meat mixture is put in a special form for baking, pre-lubricated with oil. To prepare the mousse you need in a water bath to get air and without a firm crust. Shape with the mousse, place in a deep baking pan filled with water about a quarter of the volume, and the entire structure is put into a hot oven.
The cooking time is roughly 45-50 minutes. Serve this mousse can be hot or cold, watering it on top of the sauce. This dish is great as a standalone dish or with a side dish of stewed vegetables, baked potatoes, salads, cereals.
Note
Of the remaining egg yolks will sauce for the mousse. To prepare it, melt in a pan butter, fry two tablespoons of flour until Golden brown, stirring constantly to avoid lumps. Pour in the cream sauce, add the spices and on low heat boil for another 10 minutes. Then remove the mixture from the heat, add the egg yolks diluted in a small amount of sauce, mix thoroughly.
Useful advice
Instead of sherry can you use a dry white wine.

Using a different set of spices and flavoring herbs and spices, you can make the mousse every time, new nuances of taste.
Advice 2 : How to cook meat fingers
Tasty and juicy meat dish – meat fingers. Meat dishes should be of the highest grade, fresh and preferably from a young animal. If pork is a bit stout if beef is red, although more still will fit the veal. The name of the dish got from the appearance, resembling fingers. Toppings for the meat of the fingers, you can invent and make a wide variety: vegetables and mushrooms, cheese and herbs, olives and fruits. Prerequisite – the breading to give the fingers shape and stay juicy.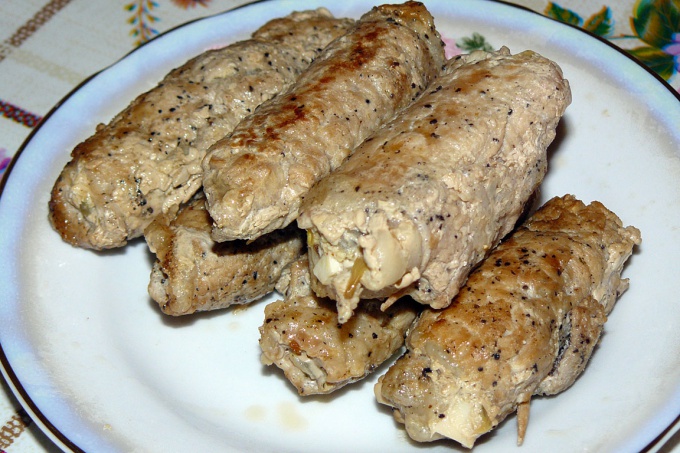 You will need
500-700 g pork tenderloin;

2 eggs;
150 g of breading.
For the filling with avocado:
½ Avocado;
1 clove of garlic;
1 egg;
1 tbsp mayonnaise;
1 teaspoon of lemon juice.
For the filling with mushrooms:
100 g mushrooms;
1 small onion;
50 g of bacon;
30 g of olives.
For a cheese and cucumber filling:
100 g of hard cheese;
100 g pickled cucumbers;
1 small onion;
black pepper;
salt;
vegetable oil for frying.
Instruction
Prepare the base for fingers. To do this, rinse the meat under cold running water and dry well with paper towel. Cut as chops. Meat is always cut across the muscle fibers, no thicker than 1 cm.
Grate the pieces of dry mustard and leave for 30-40 minutes in the refrigerator. Then fight off the meat as chops. Pepper and lightly salt.
Prepare the stuffing. To do this, cut it into two halves, remove the seed, one-half peel and slice into small pieces. The egg will cook, clean and also cut into small pieces or grate on a coarse grater. Garlic skip through the press and mix with mayonnaise, avocado and egg.
For stuffing mushrooms bacon should be cut into small pieces and fry in a frying pan. Mushrooms and onions finely chop, fry with the bacon. Let the mixture cool and add sliced olives. Mix well and pepper.
In the filling of pickled cucumbers and cheese cut cheese and cucumber into strips. Onion peel and cut into half rings. Put the onions in a colander and pour over boiling water. Lay out the ingredients parallel to each other.
Put the stuffing on meat and roll meat-based loaf. Fasten with toothpick, dip in egg and roll in breadcrumbs. Fry fingers on all sides in hot oil until tender 5-7 minutes.
Then place in a baking dish and put in a preheated 170 degree oven for 10-15 minutes. Before serving, remove the meat from the fingers of a toothpick.
Advice 3 : How to make fruit mousse
Delicious fruit mousse is the perfect dessert or a separate dish. The word "mousse" in French means "foam", so the fruit or berries whipped with a cooking whisk or blender. To consolidate the delicate textures used semolina or gelatin.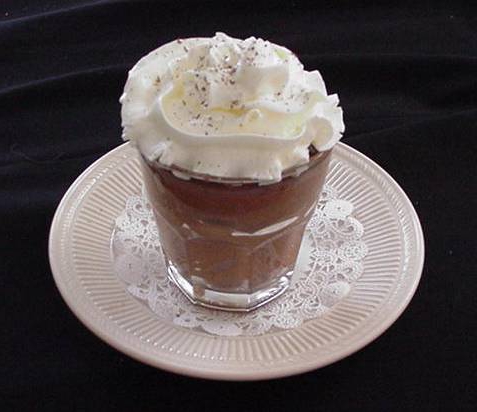 You will need
50 g of crushed fruit or fruit puree
1 teaspoon granulated sugar
1 tablespoon cream
1 tablespoon semolina
0.5 cups of water
Instruction
Thoroughly wash fruits, remove the pits and peel. To make fruit mousse, you'll need to cook a puree from the selected vegetables. Dip fruits in hot water and cook until tender. After that, drain the water from under the fruit in a separate saucepan, and fruit wipe through a sieve.
The water in which you cooked the fruit, bring to the boil and stir in semolina. Fruit mousse — delicate, airy dish, and you need to achieve ease and uniformity of all components. Remember that semolina quickly collapses into clumps, so pour grits in a thin stream, stirring constantly. Boil the resulting "porridge" for about 15 minutes. Then add sugar and again bring to a boil. Then the mass should be set aside from heat. In some cases, to consolidate the use of the gelatin solution. As a result, the dish takes on bright colors and translucency.
Cool your fruit mousse to room temperature, proceed to the main point — to create a delicious fruity foam. Pour into the prepared mass of fruit puree and whisk with blender until smooth. Then add the cream and again whisk your fruit mousse to increase volume twice. Let us remind that the skilled cooks at the churning of the dishes, put the container with the mixture in the cold, usually ice. Lower the pan into a bowl of cold water.
Before you put the mousse in portion kremanku, moisten the inside of the water. Top dessert you can decorate with chopped fruit or berries. As a rule, to secure consistency mousse of fruits placed for a while in the fridge.
This dish is very tasty and healthy as it contains vitamins, and dairy products. Fruit mousse suitable as treats for both adults and small children. To treat your baby mousse: already year.
Useful advice
Note that when whipping your mousse should increase in volume by nearly two times, therefore immediately take more capacity.