You will need
600-700 g of potatoes;
1 carrot;
1 onions;
1 parsley root;
½ Cup of tomato puree or 2 tablespoons tomato paste;
1 tablespoon of flour;
a few peas of fragrant pepper;
3 tablespoons vegetable oil;
salt to taste;
parsley.
Instruction
To cook a
stew
, take the carcass broiler. Its meat is prepared faster and is more tender than the meat of conventional chickens. Eviscerated carcass wash, be sure to separate from the lower part of the abdomen and viscera poultry fat, set it aside. Chop the chicken along the breast into two pieces, then separate the leg from the loin. In turn, the loin and the leg chop into smaller pieces.
Removed from the poultry fat will witopia in the pan. If you get a lot of drain into a separate bowl. Put in a pan with very hot fat, the chicken pieces and fry. Then sprinkle with flour and continue to fry for a few minutes.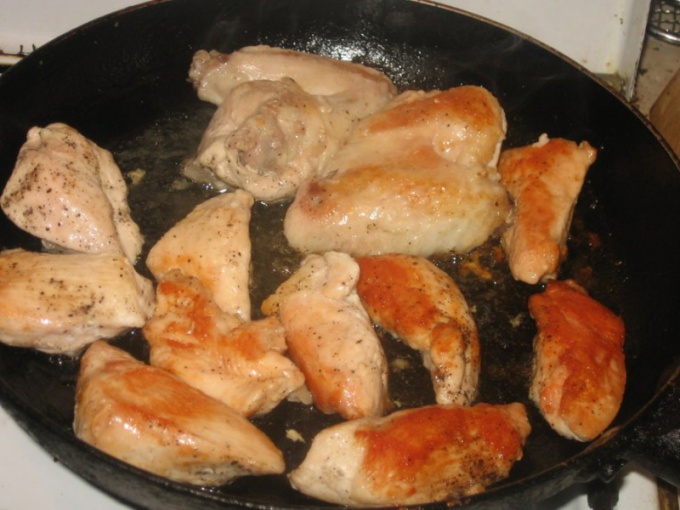 Prepare the vegetables for the stew. Potatoes, carrots and root parsley wash and clean. Then cut potatoes into slices, peeled onions and other root vegetables finely chop. Lightly fry the vegetables in the fat, where fried chicken. Slightly brown the potatoes on a separate pan with hot fat or vegetable oil.
Put the chicken pieces in a saucepan or a thick-walled pot, pour some hot boiling water (100-150 ml). The casserole cover, put on low heat and simmer for 15-20 minutes. Then add to the pan prepared vegetables, a few peas of fragrant pepper, Bay leaf, tomato puree or tomato paste, salt to taste. Braise stew until tender.
Before serving, remove Bay leaf. Put the chicken stew in the dish together with vegetables and formed during the braising sauce. On top sprinkle with chopped parsley.
Useful advice
Buying the chicken, you can determine its age by skin color and condition legs. The old birds rough skin yellow. The young – skin white and tender, and soft and flexible legs of birds are covered with small scales.