Instruction
Shoes may be cleaned with a conventional rubber brush. If you have a weak contamination, hold it over the steam, then clean with a brush. For tough dirt, use a special foam cleaner that is available in stores.
Buy a brush "Twist-Velour" and gently brush your nubuck. After the full cleansing let your shoes dry for about a day. Can handle the internal part of a special deodorant, because the shoes often becomes an unpleasant odor.
Strong pollution delete soapy water and a sponge. In the water add a few drops of ammonia: thus the effect will be much better. After this treatment can tint nubuck special sprays.
If the shoes was brilliant, clean it with gasoline or sprinkle talcum powder. A few hours thoroughly clean brush for nubuck. Use only one or the other. If you first wet with gasoline, and then cause the hoist, the white neudalimye spot will be guaranteed. Talcum powder sprinkle only dry shoes.
Color restore special liquid creams for leather, but before going outside, treat the shoes with water-repellent spray. With regular care of the material thing goes through more than one season and will not lose the original form.
Useful advice
If the pile is Packed, take fine sandpaper and gently RUB the problem spot.
Advice 2: How to clean nubuck
Nubuck leather, sanded on the front side (made from the skin of cattle). Protection and long-term integrity of the vehicles to ensure, first of all, using care water-repellent (for example, "Saphir", "Twist", "BAR").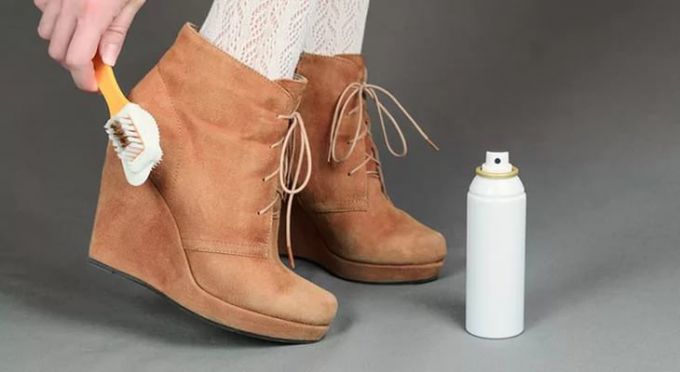 Instruction
If contamination occurred, we suggest you follow the instructions below for cleaning the vehicles.
There are several ways to clean leather at home:
Take 10% ammonia, dilute it four times with pure water and clean the product with a cotton swab, replacing it as needed.
Wipe the product with a cotton swab dampened with clean water or with the addition of a small amount of vinegar (a teaspoon per liter of water).
It is recommended to hold articles made of nubuck on the ferry and then to produce their special cleaning brush for nubuck.
Cleaning of vehicles with special products: shampoos, foams, cleaners, special brushes (for example, producers of the "TARRAGO", "Myself", "Bar", "Saphir").
First clean the dirt special triple brush for nubuck. Next, you need to use a foam cleaner of the above mentioned manufacturers. These funds will clean the product from different kinds of contaminants without causing harm to the texture of the material. Do not apply foam on the surface of the product. Means to be applied to a sponge or soft cloth and then gently clean the contaminated surface.
Then again, use a triple brush for nubuck. Further, for masking minor defects and scuffs on the surface of products, to refresh the colours and give the product the effect of "novelty", it should be a daily use cream, special caring and protective paint, or paint intended for vehicles. For example, the producers of "Salamander", "TARRAGO", "Myself", "Bar", "Saphir", "SALTON".
Shoes made of nubuck should be cleaned only in a dry form. For shoes of this skin are special brushes from different companies.
Special brush wipe shoes. Shoes will not only clean, but also rough. To do this all should be in a warm, dry place.
Advice 3: How to clean white shoes
Shoes white popular among fashionistas-not only in summer but in the cold season. But the light color makes it more susceptible to the effects of weather: sleet, rain and the dusty streets are able to turn the most beautiful shoes in the nondescript tattered shoes. Regular Shoe care will not be difficult, despite the easily soiled color, these shoes can last for years if it is cleaned at the slightest pollution.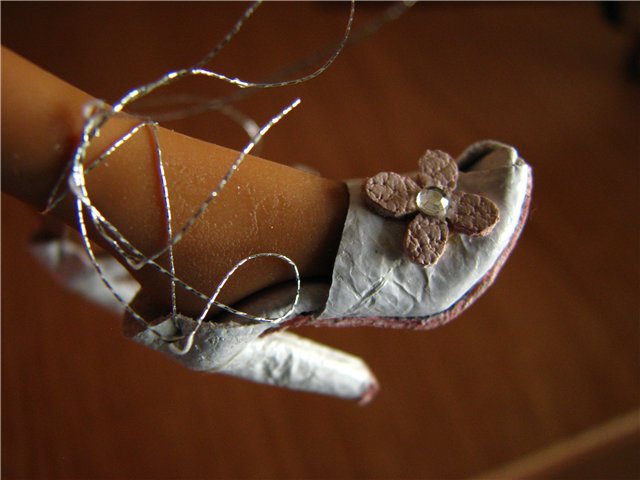 You will need
soft rag or sponge;
- foam detergent for cleaning shoes;
- crepe Shoe brush;
- one raw egg;
- 0.5 Cup of milk;
petrol and a little magnesia;
- for suede – a glass of warm water, hydrogen peroxide and ammonia.
Instruction
Clean shoes from street dirt. Do this every time you come into the room. Depending on the material from which made shoes, do one of the following:
for smooth skin use a soft cloth, it should be dry. Apply the foamy detergent on the rag, it will help keep the color of the shoes in the cleaning process;
- brushed white leather clean with a crepe brush, it will keep the texture of the fabric. If the brushes are not at hand will be, use the eraser for leather or a special sponge.
- white shoes of natural or embossed leather clean only by special means with special sponges for a textured surface;
- if shoes are suede, brush it over steam brush, specially provided for this material.
First try to clean the shoes gentle method, prepare a mixture for purification of natural products. Highlight of raw eggs protein shake and mix it with half glass of milk. The resulting mixture was put on a soft sponge and gentle circular movements wipe the surface of the product. In addition to cleaning, this procedure will keep for a long time the white color of the Shoe.
For removing old or stubborn stains, use gasoline. Pour a small amount into a separate container and add some powder magnesia. Dampen a soft cloth in the solution and wipe the shoes. If the stain is ingrained in the suede surface, mix one glass of warm water with one teaspoon of hydrogen peroxide and the same amount of ammonia. Clean the shoes, soak a cotton wool in this solution and gently clean the shoes. When the surface is dry, lift the pile eraser for suede.
Note
Do not use for cleaning white shoes bleach or other strong chemical agents. It may irreversibly change the color of the Shoe and remove some of the white paint from the surface.
Useful advice
Don't leave dirty white shoes for a long time. Remove ingrained in the fabric dirt will be harder than fresh. Buy and always carry a tool to clean white shoes in a compact package, and if the Shoe is very comfortable in bad weather, clean it as soon as will be able to stay long in the room.
Advice 4: Is it worth to buy shoes from nubuck?
Today in the Russian market you can find a large number of vehicles. Shoes from this material is attractive for its aristocratic, pleasant appearance and a soft color without the sparkle of light.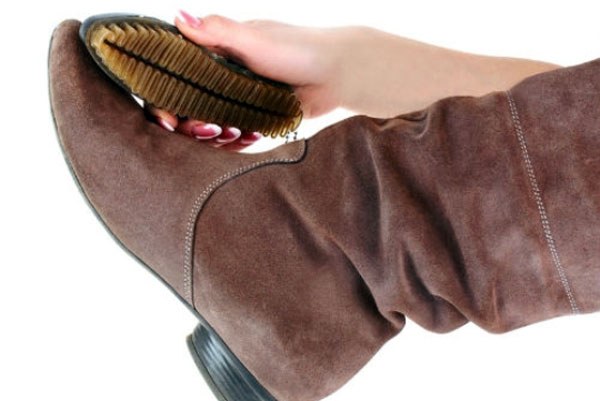 What is nubuck
Nubuck, in fact, is a leather with fine bristles, which in the manufacturing process is subjected to chrome tanning and polishing the front side by using sand or fine-grained sandpaper. The nubuck leather is very similar to suede, but he made of the skins of cattle. In addition to shoes, nubuck make cording upholstery. Great advantages of this material is amazing strength and durability. If the leather in the manufacture of coated, impregnated grease, the material becomes water-repellent properties.
Shoes from nubuck leather: pros and cons
The Shoe nubuck as products from any other material has its advantages and disadvantages. The benefits should include appearance. That's all the pros end. The main disadvantage nubuck shoes are choosy in terms of care, as well as quick contamination of the material. In order to clean the shoes from dirt and dust, you will need special brushes and tools to care for nubuck. Spring and autumn shoes nubuck wear is almost impossible – the product gets dirty easily, and when in contact with water loses its original appearance.
In winter, feet in shoes made of nubuck and will not be cold, and in summer sweat.
Tips for Shoe care nubuck
If you want, for as long as possible to maintain the appearance of nubuck shoes, you should fulfill some requirements. Immediately after the purchase of footwear you will need to buy paint in aerosol form for nubuck leather with a waterproof effect. With the help of this paint you will retain the original color of the Shoe nubuck as well as can conceal distressing material. After using the paint-aerosol spray is best to treat the shoes with a special water-repellent impregnation. So you're not much, but protect your shoes or boots from moisture, dirt, salt stains and dust.
In the winter time in the big cities, use of special reagents with which strew roads and sidewalks. These reagents are left on the shoes Beli terrible tracks, which is easily derived from nubuck. In order to get rid of such stains on nubuck shoes, use a sponge moistened with water.
With careful care and respect for all councils nubuck shoes will serve belief and truth not less than two to three seasons.
To clean nubuck shoes are only allowed in the dry state. If you need to get rid of dirt or dust on the shoes, you should apply a special brush. When walking in boots or shoes on the heels on a dirt road on the sole and the heel are often formed clumps of dirt. To remove them, you need to use a damp flannel cloth.
Please note
It is impossible to apply normal Shoe Polish on the vehicles. Otherwise, the shoes can lose the original look. Shoes of this material should not be stored wrapped in plastic bags.