You will need
spices
vegetable oil or tomato paste
Bay leaf
onion
glass jars with lids
Instruction
To prepare the canned fish products you need to stock up on fish (preferably not too large), onion, vegetable oil. You will also need salt, tomato paste, Bay leaf. Clean the fish, release it from the inside. Then the fish should be salt in this state to hold not less than nights.
Prepare a suitable sized glass jar (with a capacity of half a liter). Slice the onion rings. Place in jars onion, Bay leaf, tomato paste (about two tablespoons), pour the same amount of vegetable oil, if you decided to do a canned food in oil, not pasta.
Place the fish in the jars as tightly as possible. Then close their lids but not too tight, then banks should be put in the oven for sterilization. Instead of the oven you can use a regular stove or oven.
After such sterilization your canned food is almost ready. For longer storage roll up them accordingly. However, canned fish, thus prepared, can be used to eat immediately after manufacture.
But the way to make it at home sprats. Take small fish, rinse it. The scales should not be removed. You'll need enamelware, for example, pan, which should put the fish in rows. Slice rings of onion and place it on the bottom of the pan.
Salt should separate each layer of fish. Add pepper, Bay leaf, other spices to taste. Top pour one to two tablespoons of vegetable oil. Fish fill the entire pan, lay fish on top of another layer of onions. Left to pour into a saucepan half a glass of vinegar. Water is not required. Now we need to keep our culinary masterpiece at least three hours on low heat.
Cooked canned spread out on a pre-prepared banks, then they should be cool. Roll up banks is not necessary, it is quite suitable cover of polyethylene. Bon appetit!
Advice 2 : How to make IDE
Catch the IDE is very difficult because it is clever and very cautious fish. It is revered since the times of Ancient Rus. Dishes from IDE be very rich, and ways to cook a lot.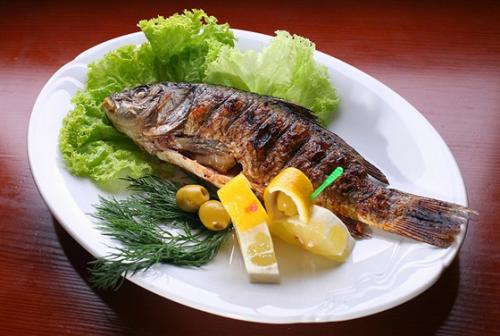 Instruction
In order to prepare a IDE with horseradish, polukilogrammovy take the fish, clean it from scales, gut and cut into pieces a La carte. Then grate the horseradish on a fine grater. In a saucepan, pour sunflower oil so that it cover the bottom. In a saucepan put 1/3 of the horseradish, the next layer put the sliced pieces of IDE. Sprinkle the first row fish with horseradish. Put exactly the same two of a number of fish, putting horseradish on each one. Add salt and vinegar to taste. Pour 500 grams of water in a saucepan and simmer the fish until soft for 20 minutes. Then pour part of the broth in a saucepan with a wide bottom, bring to a boil and add a tablespoon of flour. Carefully RUB it in oil, let writing a rolling boil and pour the sauce over the fish. Continue to simmer IDE for another 15 minutes.
If you want serve fried IDE, cook it in breadcrumbs. To do this, take IDE a medium size, remove the scales and gut. Rinse under cold running water and dry with a cloth. Sprinkle the fish with salt and pepper, roll in flour. Break in a bowl one egg, add to it 50 ml of milk and whisk. Soak the fish meat in the mixture and roll in 1/2 Cup crushed crackers. Heat the pan and pour into it 4 tablespoons of sunflower oil. IDE fry on one side for 15 minutes, then flip fish to other side and fry for the same amount of time. Serve with slices of lemon and garnish with parsley.
To bake IDE, take 500 grams of fillet and cut into small pieces. Good salt and pepper. Roll two tablespoons of flour. Fry in sunflower oil for 5 minutes. While the IDE is fried, scald with boiling water, two peppers and remove the skin. Slice the peppers into thin slices. Then peel one large onion and chop it as small as possible. In a separate pan saute the onion and pepper in sunflower oil. Add tablespoon of flour and continue to cook for another five minutes. Stir from time to time. Dilute sauté one Cup of boiling water, add salt to taste and bring to a boil. Take a skillet and grease it with sunflower oil, put the IDE and pour vegetable sauce. Bake in the oven for 30 minutes.
Advice 3 : How to cook fish zrazy
About the benefits of fish even children know, but the cooking thing is very complicated. But the following meatball recipe is so simple that this task can handle even a beginner. Pancakes turn out very tasty, juicy and rosy.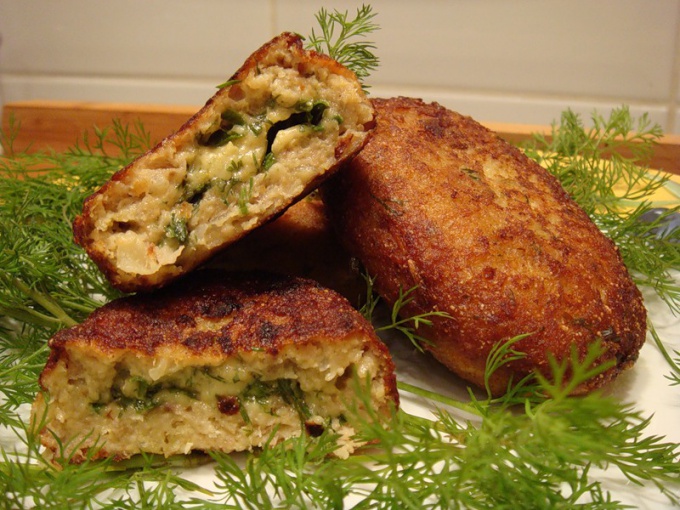 Ingredients:
500 g fish fillet (white fish)
50 g loaf
Milk
Egg
Breadcrumbs
Salt
Spices optional
Green peas
Bow
Preparation:
To prepare zrazy, we will need fillets of any white fish, it can be perch, hake, pike, Pollock, cod, etc. If you find fresh or chilled fillets is difficult, you can use frozen.
Onions clean, wash and finely chop. Next, fry the onion until, until it becomes transparent.
Boil water in a small saucepan, adding a little salt. Then put a pea, thawed it not worth it. Boil the peas for about 3 minutes. In order that the peas lost their bright green color and has not spread, immediately after cooking they need to rinse with cold water.
Stir the peas and onions in a blender until smooth. The stuffing is ready.
Prepare stuffing. With pieces of the loaf are cut off all the crust. Break the crumb into small pieces and pour the milk.
After the fillet is completely thawed, it should be dried with a paper towel on both sides. This manipulation will help to remove the excess water. Make the stuffing. You can use a meat grinder or food processor.
Add to the minced soaked bread. The pre-pressing out the excess milk. Also it is an egg, a little salt and pepper. Stir. The beef is ready.
Proceed to frying. Take a tablespoon and place on the palm a bit of meat. Form a pellet. In the center put some of the filling and cover with second layer of meat. The resulting zrazy coat both sides in breadcrumbs.
On a very hot pan of fried noodles for about 4 minutes on both sides. Then reduce the heat, cover and wait another 5 minutes. Zrazy ready.
Serve zrazy is possible with any side dish.