You will need
spices
vegetable oil or tomato paste
Bay leaf
onion
glass jars with lids
Instruction
To prepare the canned fish products you need to stock up on fish (preferably not too large), onion, vegetable oil. You will also need salt, tomato paste, Bay leaf. Clean the fish, release it from the inside. Then the fish should be salt in this state to hold not less than nights.
Prepare a suitable sized glass jar (with a capacity of half a liter). Slice the onion rings. Place in jars onion, Bay leaf, tomato paste (about two tablespoons), pour the same amount of vegetable oil, if you decided to do a canned food in oil, not pasta.
Place the fish in the jars as tightly as possible. Then close their lids but not too tight, then banks should be put in the oven for sterilization. Instead of the oven you can use a regular stove or oven.
After such sterilization your canned food is almost ready. For longer storage roll up them accordingly. However, canned fish, thus prepared, can be used to eat immediately after manufacture.
But the way to make it at home sprats. Take small fish, rinse it. The scales should not be removed. You'll need enamelware, for example, pan, which should put the fish in rows. Slice rings of onion and place it on the bottom of the pan.
Salt should separate each layer of fish. Add pepper, Bay leaf, other spices to taste. Top pour one to two tablespoons of vegetable oil. Fish fill the entire pan, lay fish on top of another layer of onions. Left to pour into a saucepan half a glass of vinegar. Water is not required. Now we need to keep our culinary masterpiece at least three hours on low heat.
Cooked canned spread out on a pre-prepared banks, then they should be cool. Roll up banks is not necessary, it is quite suitable cover of polyethylene. Bon appetit!
Advice 2 : How to prepare canned food at home
Canned food is prepared
at home
from any type of meat or
fish
. Depending on desire, this product can be prepared for long storage or quick eating. Homemade preserves taste qualities are not inferior to the factory defaults. They are easy to prepare, delicious and fragrant.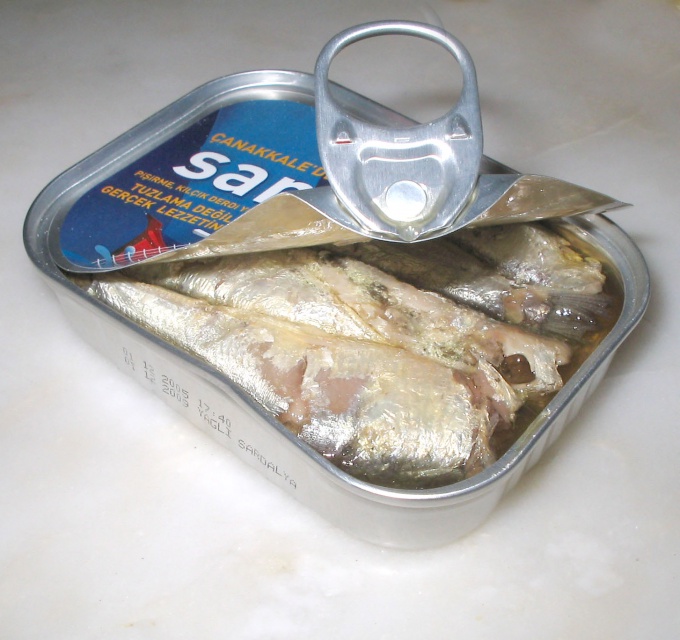 You will need
carrots 5 pieces
onion 5 pieces
3 tomatoes
tomato paste 100g
salt
pepper
2 tablespoons of 9% vinegar
2 cups cold water
tomato juice 100 ml
vegetable oil 50g.
Instruction
To prepare the canned fish at home, you need to prepare a pressure cooker, a saucepan with a thick bottom and a glass jar, which you need to pre-sterilize. Cans fit just perfectly clean dishes, you must follow the recipe and carefully monitor the cooking time.
The fish are thoroughly rinsed with cold water, remove head, scales and fins, cut the gills and remove the entrails. Rinse again and set aside. To prepare onions and carrots. Onions cut into thick slices, carrots to RUB on a large grater. Sauté the vegetables in vegetable oil until tender. Tomato paste diluted in two cups of water, add sea salt, black peppercorns and 2 tablespoons of 9% vinegar. To this mixture well add the processed tomatoes or tomato juice in the amount of 100 ml. Tomatoes scalded with boiling water, carefully remove the skin and cut into small pieces, you can RUB the pulp through a sieve, in this case, the initial product will be tomato seeds.
In a saucepan put layers, first to pour sunflower oil, put a layer of fish on top put a layer of carrots with onions, another layer of fish, another layer of carrots and onion so until then, until it will be filled ¾ full. Then, pour the mixture of tomato paste, vinegar, spices and, not bothering to close the lid. The fish is desirable to stack in neat rows, so she won't lose its shape, and the finished product looked beautiful.
If cooking in the oven, the cooking time canned food is 5-6 hours on low heat in a pressure cooker duration reduced to 2 hours.
After the time is up, readiness check canned food with a knife, small bones have completely dissolved. Remove the pan and put the resulting products on the banks. Roll up the lid and put in a cool place. These cans can be stored up to 6 months.
Note
To prepare canned fish from any fish, sea, lake, river. It could be a gudgeon, perch, roach, Dace and ruffe, and so on. As long as it was small and fresh.
Useful advice
Canned fish is most convenient to cook in the oven, since there is provided the desired temperature. During cooking in any case can not interfere with the contents of the pan to avoid damaging the fish.