Instruction
To clean gold jewelry should be about once a month. Then they will constantly delight you with its unique Shine. You can, of course, include rings, earrings, chains and other jewelry in the jewelry store. There is a service of cleaning them up. But it is easy to clean gold jewelry yourself.
The traditional way - rubbing a special paste, which is sold in the same jewelry stores. It is inexpensive, about 60-70 rubles. But you can do improvised methods. For example, put gold jewelry in a solution of soapy water or a detergent solution. If you wish, is to add a bit of mineral water, well it loosens the dirt.
Followed by 10-15 minutes to hold the jewelry in this solution, a little chat with them below the dirt away better. Then the jewels can be removed and cleaned with a brush with soft bristles. There is a special jewelry brush, but the fit and custom tooth. Now we have to dry the gold jewelry by wiping them with a soft flannel cloth.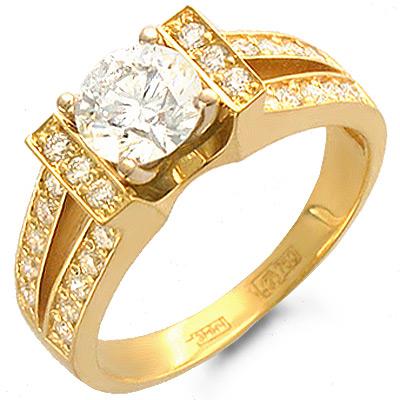 Gold jewelry with precious and semi-precious stones should be cleaned especially carefully. For example, if a stone is stuck, the product can not be dipped in water. Pearls, corals, turquoise and other soft stones in any case can not be cleaned in aggressive media, especially in ammonia. Zircons, citrines, cubic zirconias, on the contrary, can be safely dipped in a solution of ammonia (one part alcohol to six parts water) and they will be even brighter Shine.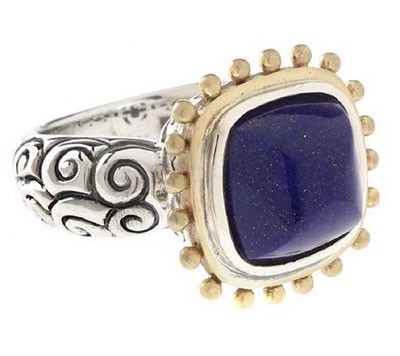 Versatile way to clean gold jewelry with stones - alcohol. The product with the stone should be dipped in alcohol, then wipe with a soft cloth dampened in soapy water. Then it is necessary to arrange the decorations to the remaining moisture evaporates or flows away, not absorbed into the basis.
Large transparent precious stones can be
cleaned
and so to light the match, when she literally second Pohorje, to repay it. Then break off phosphate head and the charred end of a match to wipe the stone.
Useful advice
To quickly clean your gold jewelry, it must be dipped in sweetened water and wipe. You can also RUB the product with lipstick and wipe with a cloth to Shine.
Advice 2 : How to clean jewelry
To jewelry
jewelry
long retain their beauty and Shine, they need to be cleaned regularly. Only it should be done correctly to avoid possible damage to
decorations
.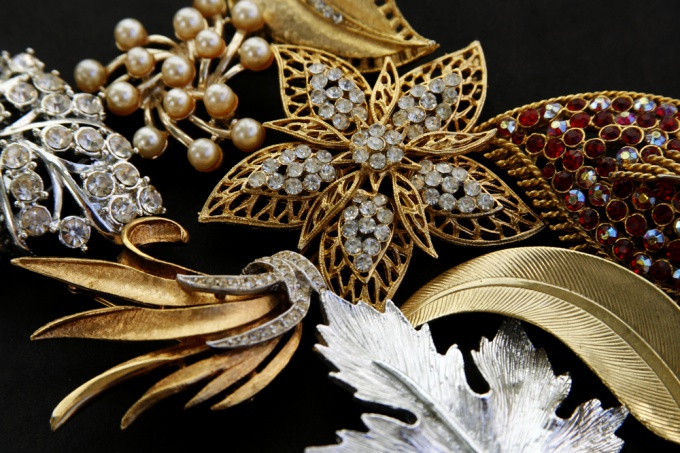 You will need
Dishwashing detergent
Baking soda
Tooth powder
Potato starch
Ammonia
Onion
Soft flannel cloth
Instruction
First and foremost, pay attention to the materials from which made decoration. Depending on what you want
to clean
– gold, silver, or the product with precious stones, different care for jewelry
jewelry
mi.
Cleaning gold ukrasheniya. Take regular dishwashing detergent and make a soapy solution at the rate of 1 teaspoon of detergent per Cup of warm water. Put the solution in Golden decorations for a few hours, then rinse them under cool running water. This method helps to clean gold jewelry jewelry from contamination.b. If jewelry made of gold is greatly darkened with time, chop the onion to a mushy state (on a grater or blender) and RUB this paste jewelry. Allow jewelryto soak for about two hours, and then rinse with cold water. The darkening should fade.with. Put the Shine back in dull gold decorationsm by using a solution of ammonia (1 teaspoon to 0.5 liters of water). Put the jewelry in the solution for 10-15 minutes, then rinse with cold water.
Cleaning silver izdeliya. For cleaning silverware, as in the case of jewellery, you can use a soapy solution and a solution of ammonia. But if the silver is blackened, then ammonia should be avoided.b. Silver jewelry is well cleaned with a toothbrush and tooth powder. Toothbrush thus it is better to use as smooth as possible. Instead of tooth powder you can try to clean the silver conventional toothpaste, but not having a bleaching effect.with. Heavily soiled silver jewelry may be cleaned with a soft cloth with a paste made from a mixture of baking soda and water (soda should be diluted to a mushy state). Use this method with caution because of the marked abrasive properties of the baking soda can scratch the jewelry.
Cleaning jewelry with kanyamibwa especially careful when cleaning jewelry, decorated with stones. Jewelry with precious stones like diamonds, sapphires, emeralds, rubies, and aquamarines, can be cleaned with soap and water. This method of cleaning is also suitable for jewelry with some semi-precious stones – beryls, topazes and quartz varieties (amethyst, rock crystal, agates, chalcedonies).Cleaning jewelry with stones of organic origin (amber, pearls, corals) should be especially sensitive. Amber and corals can be washed in warm soapy water, but not very strong. Then the decorations should immediately rinse under running water and dry. But prolonged contact of the pearl with water is not desirable, so it is better to clean with potato starch.
Advice 3 : How to clean gold and stones
Expensive jewelry in the process of operation, luster, consistency, and smoothness of its surface. Entering into a reaction with different substances of the environment, they don't look like the amount that was paid for them. Caught early defects are easily disposable, it is important to properly care for your rings, earrings, bracelets and necklaces.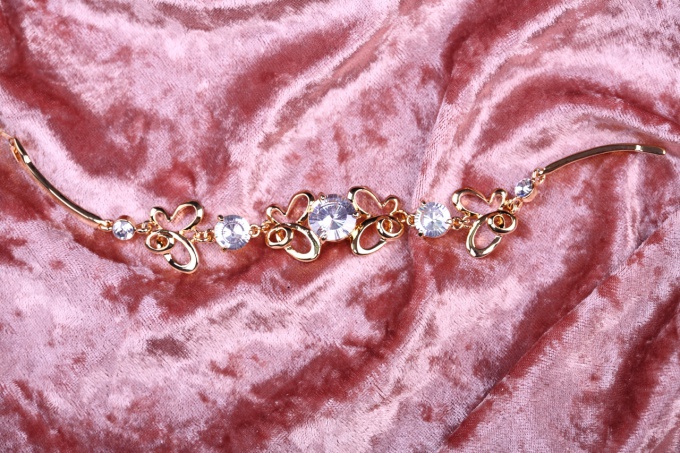 Instruction
Cleaning gold. To the gold quickly faded you should not wear it on myself all day. While working on the farm, bath, gold jewelry better off. Especially if you want to work with aggressive mediums (bleach) or abrasives. Clear gold from the RAID and return him to Shine in the following ways:- Dilute in a glass of water a spoonful of detergent and soak in it golde product is about half an hour;- Mix of ammonia, hydrogen peroxide and liquid detergent in equal proportions. This solution put the gold in 5 minutes. After rinse it under running water and towel dry. This method is suitable for removing heavy dirt. Avoid getting the solution on the skin and mucosa to cause burns;- For the night put the jewelry in a solution of sugar. Then rinse in clean water. This procedure will help to give the gold glitter, but the pollution will not deliver.
Cleaning the stones. Every time after wearing, jewelry with stones should be cleaned with a suede or flannel cloth. These wipes usually wipe the glasses, so you can buy them in the near optics.
Stones
with a hardness less than 5 on the Mohs scale, including
stones
of organic origin (coral, amber, pearls) need delicate handling. To clean them, you have the following compositions:- cleaning solution for the kitchen without abrasive or soapy water;- highly diluted ethyl alcohol with ammonia;- to wipe rubbing alcohol - sugar solution. Hard stones (diamonds, chrysolites, emeralds, aquamarines, sapphires) attract grease and dust by friction, they lose their luster. To return to its former greatness, enough to wipe the brush with soap and rinse with water. Be cleaning very fine abrasive compounds that do not are able to scratch the hard stone.
If jewellery is very dirty and you can't get rid of dirt, take them to a jewelry store. There they were cleaned in an ultrasonic bath, then be sure to apply a special mineral oil, which penetrates into the smallest cracks on the surface of the stone, and then it sparkles like new.
Advice 4 : How to clean pearls
To gently brush natural or cultured pearls, and jewelry of these precious stones do not need to exert much effort. Moreover, most conventional methods can not only damage the pearl, but also significantly reduce its cost. In fact, the thicker the nacre coating, the more expensive the pearl. And to scratch or even completely remove the layer of soft mother of pearl even the most delicate abrasive tool. So how to clean pearls?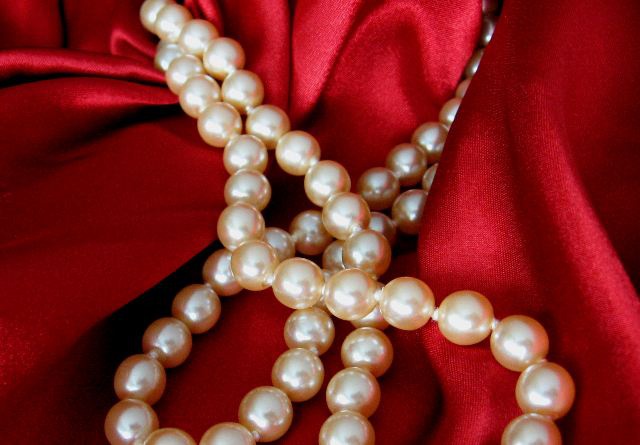 You will need
Soft cloth (a thin suede microfiber cloth)
Warm water
Cleanser without fragrances
Container
Olive oil of high purity
Instruction
Place a piece of jewelry with pearlsω on the interval a clean, soft, lint-free cloth, for example, on a special microfiber cloth I use to clean monitors and optics. Fit and fine suede fabric. If your product is a necklace or pearl beads, unbutton the clasp and pull it out full length.
Prepare a container with warm water in which you need to pre-dissolve one or two drops of gentle detergent. Never use products with ammonia, soda, bleaching substances. Best solution ordinary baby soap without fragrance.
Immerse the product in soap solution for a few minutes. Immersion and extraction keep the earrings for the "loop" or "stud", rings, pendants and brooches for the metal parts, and necklaces and beads for the clasp.
Put the product back on the fabric, cover it and slightly Pat. Leave the pearl with a wet cloth and wait until it is completely dry. When the towel or cloth will be dry, a piece of jewelry is ready to further wear. Do not wear pearlswhile it dries. Wet pearls attract dirt, which then would be very difficult to remove.
If jewelry is left noticeable traces of dirt, repeat the procedure again, starting with soaking in warm soap solution. Never clean pearls using sponges or toothbrushes.
To return the pearlshave luster, it can be wiped with a cloth, to which were applied just one drop of olive oil of high purity.
The rule is to wipe your pearls with a soft cloth each time after you wore it, because sebum can gradually eat away at the nacre, to make the coating softer and more friable.
Note
Clean the pearls with steam or ultrasound is a bad idea. Pearls will be hopelessly flawed.
Useful advice
You should not store pearl jewelry in one jewelry box with other jewelry as it is more hard metals and precious gems can scratch the nacre.


Wear jewellery with pearls after you took a shower, wearing makeup and perfume. Take off your pearls before you head to the pool, sauna, to do household chores. Avoid wearing pearl jewelry at the same time with a rough cloth with which the product may come into contact.
Advice 5 : How to clean a silver chain
Silver jewelry is no less noble than that made from other precious metals. However, unlike the latter, silver requires regular and quality care, otherwise, instead of glitter will dim the color with gray bloom, at which the chain will stain light clothes.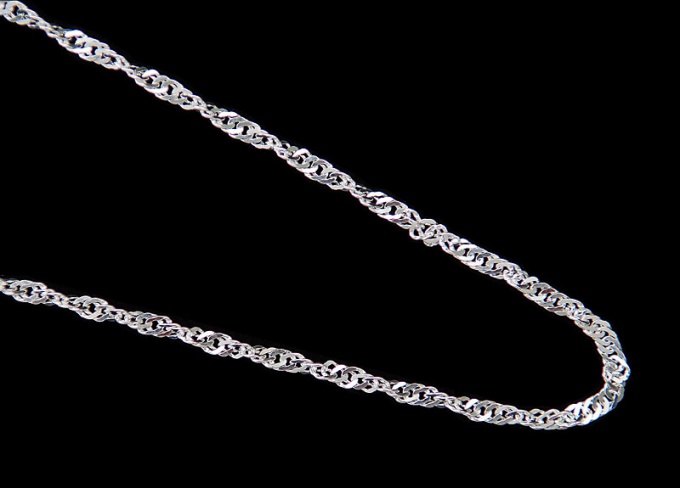 You will need
Lemon juice, alcohol, any detergent, soda
Instruction
Special problems with the way p
to clean
the chain
, does not arise. There are special industrial tools adapted for cleaning jewelry. But with the help of products that can be found in the kitchen of every housewife, to clean the jewelry is not too difficult. Silver oxidizes in contact with skin and cells then gets contaminated under the influence of dust and lose its appearance, becoming dull. No less aggressive effect on the silverware of the marine environment. So before heading out to sea, you may want to leave jewelry at home.
Cleaning silver at home possible, it would require only the usual cleanser, citric acid or freshly squeezed lemon juice and a little alcohol. Must be mixed in equal proportions any soap and lemon juice, adding a teaspoon of vodka or a few drops of alcohol. Lain in this part of the night, in the morning, a silver chain will look like new. Yet another method involves boiling the product in water, in which, in the proportion of 1 to 5, stirred citric acid.
Another way in which the cleaning of silver is quite possible, with the use of abrasive products. The most lenient one can be called ordinary baking soda. Using this tool, you can clean away the dirt from absolutely any product whether it is a chain or earrings, but netting decorating the way black will not clean. Among the extreme methods of purification of silver at home - boiling for 3-5 minutes in the drink called Coca-cola.
Useful advice
That chain is less oxidized, it is necessary regularly to wash with any soap under running water.
Advice 6 : How to clean gold earrings
Gold earrings tolerate exposure to adverse environmental factors. Therefore, they can be worn for many years and enjoy their beauty. But over time, the earrings become dirty and lose their original luster. To apply to the jewelry shop, try to allow the decoration in order.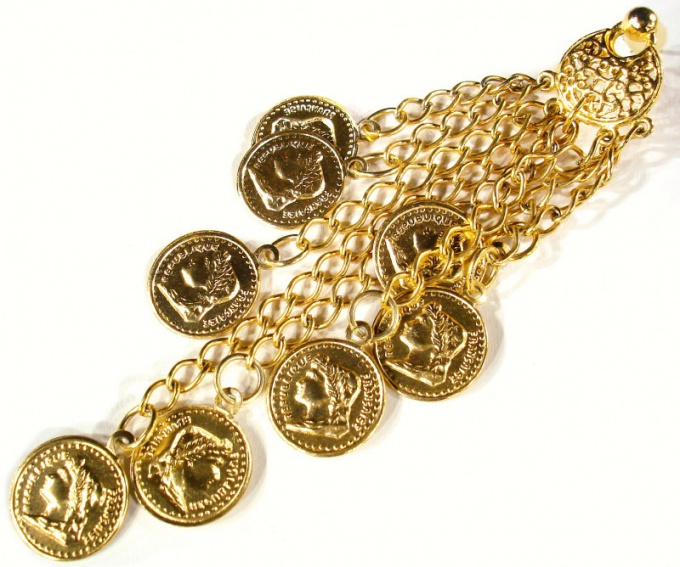 You will need
The ammonia, detergent, hydrogen peroxide, sugar, special agent for the purification of gold.
Instruction
Pour into a small bowl of warm water and add a few drops of ammonia. Submerge the gold in the resulting solution and leave for a few hours. In the morning rinse the product under running water and dry with a soft cloth such as flannel.
To clean gold earrings from spots with a soapy solution. Pour in a Cup of warm water. Add a small amount of shampoo or liquid soap. Soak earrings for 30-40 minutes. After this time, remove the decoration and clean with an old toothbrush. Then rinse in cool water. Pre-close the drain special plug or put a colander in the sink.
Mix equal proportions of ammonia and hydrogen peroxide. To the resulting solution drop earrings. Close the container lid, so the alcohol does not evaporate. After 1 hour, remove the jewelry and rinse with cool water. Wipe dry with a soft cloth.
To return your gold jewelry to its former luster, stir in 1 Cup warm water 1 tablespoon of sugar. Put the product into the solution and leave overnight. In the morning remove the earrings and Polish with a soft cloth.
Cover the bottom of a small saucepan with a thick cloth in several layers. Put earrings and cover with water. Add 1 teaspoon of liquid soap and baking soda. Put on fire and boil for 10-15 minutes. Then remove the earrings from the pan and rinse.
Pour into plastic or glass utensils wine vinegar. Dampen a sponge or old toothbrush and clean the earrings. If the product is very dirty, pre-soak in vinegar for 15-20 minutes.
In a jewelry store can buy a special tool for cleansing gold jewelry. It is composed of substances, which gently and effectively remove dirt. Before use, please read manual or consult the dealer.
Note
How to pick earrings as a gift. Earrings — a special theme for women, because it is earrings more focus on our face. Therefore, the brilliance of the stones or an array of metal earrings should not "override" our natural charm and appeal. Gold earrings without inserts are all.
Useful advice
Female ear with a beautiful earring is sweet and sexy and feminine image at the same time more charming. In our article we will talk about how to choose earrings depending on the shape of your face and ears, destination, model, type of clasp and will give you useful tips. Pusey – versatile earrings. They can be a good choice as a business suit for a business meeting (gold or silver Posey with light stone insert) and red carpet (Posey of platinum, gold with inlay of precious stones – diamond...
Advice 7 : How to clean coral
Corals are used not only for making jewelry but also for decorating aquariums. Gradually, they acquire a grayish hue. This happens due to the negative impact of water. To clean decoration elements by using various means, but do not get carried away, so as not to poison the inhabitants of the aquarium or not to spoil the coral.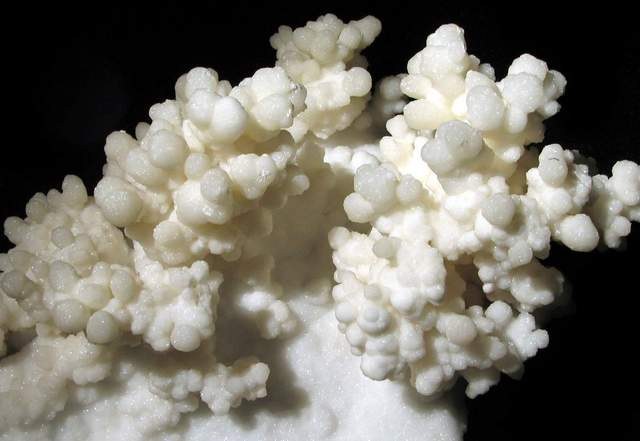 You will need
Sol;
soda;
- detergents;
- toothpaste;
soft cloth;
- wet wipes;
brush.
Instruction
Rinse with Maritime decoration once a week in clean water with non-aggressive detergent, for example, for washing dishes. Don't forget to rinse them in several waters to remove the foam. The regular processing of the corals will not be much blacker and covered by a permanent coating.
Gently remove the coral from the aquarium and rinse them under running water. Add a liter of boiling water 100 g salt (or sea food). The product will boil in salted water for 10-15 minutes. Rinse and place on clean towel to the liquid glass. But after boiling the coral may become more fragile, so keep this in mind and do not increase the time of heat treatment.
Dissolve in warm water, salt and soda, put it in the coral and leave for a day. Then carefully clean it with a soft brush. After this processing, the probability that a fish poison is incredibly small.
Clean the coral to the usual mint toothpaste and brush. If it is very dirty, do not rinse the pasta immediately – let it rest awhile. Rinse thoroughly under running water, can put in boiling water for a few minutes to be sure to remove cleaner residues.
If you have coral beads, earrings or
stone
is part of the decor of the room and not the aquarium, then you can take the help of a more serious and detergents, for example, chlorine. But it is only in the case that it is not coated, otherwise it'll just wear off. Brush the coral with a soft flannel cloth or a damp cloth.
Useful advice
As corals consist of skeletons of coral polyps, namely aragonite or calcite, they may not be cleaned completely. This is due to the fact that pollution penetrate deep into the structure of the coral.
Advice 8 : How much do you weigh gold chains
Gold does not leave anyone indifferent for many millennia. From-for it there are wars, destruction of families and entire cities. Gold chains are not only a decoration but also a sign of identity of the owner of a particular social group.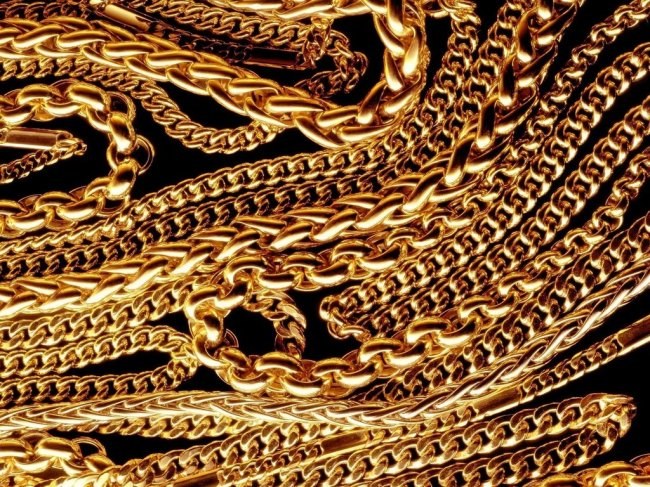 Gold chain is both simple and unique decoration. All variants of its execution is simply impossible to count – variety of weave and size, hollow and solid, long and short, with pendants or without them. Invariably only one thing – their unusual popularity, both among women and among men. Since ancient times, the contribution of funds in gold was considered a great investment, devoid of the risk of bankruptcy. The cost and weight of gold chains depends on their size, the composition of the starting material and method of manufacture.


What determines the weight of a gold chain

To give a definite answer to the question, how much do you weigh gold chains, impossible. In itself, this metal is quite heavy, but the weight of such products depends on many other factors and parameters.

The amount of wasted material, respectively, and the weight of the product is influenced by the method of weaving chains. The harder it is, the higher its weight. For example, a chain of simple links small size length 60 cm can be no more than 50 grams of weight. But a complex weave with tight fit wide gold strips (weaving "cone" or "Persian") increases the weight of the product twice, with the same length.

Quality alloy, so-called gold alloy, also influences its weight. The sample indicates the quantity of pure precious metal in the alloy composition from which made the product, and the quality of impurities affects its weight – the heavier, the additional metal, the more will weigh chain. But Supplement solid gold necessary, as it is naturally very soft and pliable to external influences. The chain of the purest gold to carry it would be impossible – it would collapse. Accordingly, the higher the fineness of gold, the material is softer, but at the same time, more expensive, and products with lower content of cherished metal is stronger and cheaper.


How to choose a gold chain

To choose the decoration only to its weight not in any case. Before going to the jewelry store you need to answer the questions: how often do you expect to wear the chain, whether it is to complement the pendant and if so, how? How much money will be spent on the purchase? Before you opt for a particular option, you need to verify its quality and strength. Many unscrupulous manufacturers and sellers can issue a pollinated gold metal for his clean. You need to inspect the joints between the elements of the clasp with links of chain, there can be not visible place.