You will need
spray paint
spray for cleaning
- Shoe
- velvet
- glycerin
- vaseline
- sponge
Instruction
The skin on the shoes longer retain marketability, take care of it after each wear. To do this, take a sponge or soft cloth soaked in clean water and wring well so she was barely wet. She wipe the leather surface of the Shoe. After that, dry the boots away from hot radiators and any other heat sources.
At any specialty Shoe store sells the means to care for shoes. They come in different consistency, including in the form of a spray. All you need is to spray it a few times on the leather surface and Polish it with a soft cloth or velvet. These funds will help to cope with strong dirt, returning the shoes look.
If leather shoes began to lose their Shine recently, regularly (at least 2 times a week) treat their surface water-repellent cream, the main purpose of which is to soften and prevent cracking. Give preference to European brands, which are more expensive than any other, but care more efficient. Cream should be applied only on dry boots.
To restore the color of leather shoes will help coloring tools, which can also be found in Shoe stores. With their help you update your aged shoes or boots, "refreshing" the main color or giving them a different hue. Pigments will mask the scratches and if the tool is really high quality, will protect the shoes from cracking. Before use, do not forget to read detailed instruction.
How to eliminate spots that can appear on shoes in the socks? Cut the onion in half and RUB her soiled areas or use onion juice soaked cotton swab. If the shoes start to fade, the regular application of glycerine or vaseline will help to restore the skin's surface. In addition, using glycerin to remove traces of mold that have emerged from the damp.
None of the methods did not produce the expected results? Contact companies that offer professional restoration of leather on shoes. This method will probably be the most effective, but only if the bad shoes you intend to wear more than one season, as this service will require certain financial costs.
Advice 2 : How to restore shoes
In Shoe stores you can find a variety of means on care of
footwear
, each of which is designed strictly for a particular material (natural or artificial
leather
, nubuck, suede, patent). It is a cream, wax, aerosols, special sponges and brushes. If you want to keep your shoes always in good form, it is necessary to use these special funds, as well as guided by certain rules.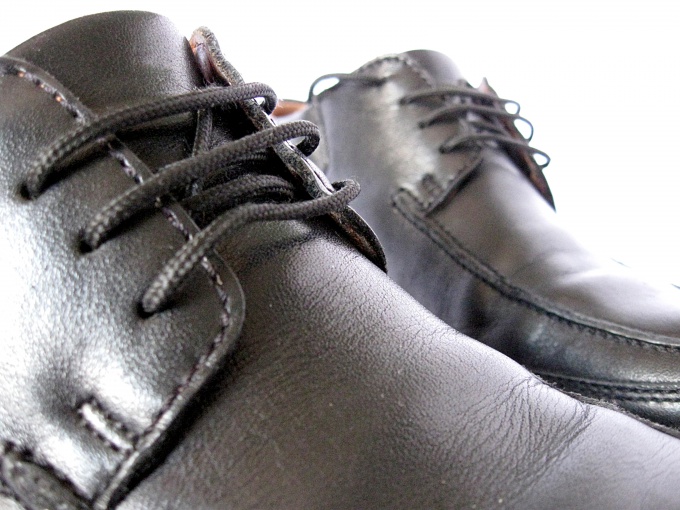 You will need
special care products for different materials, brushes, sponges, gasoline, ammonia
Instruction
Any shoes dry naturally, never put it near batteries and do not use the dryer. Otherwise, leather can harden or crack. Very wet shoes dry with the newspaper inside and put often change, newsprint is very absorbent. Oil cream shoes only after drying.
Patent leather shoes can be cleaned with a brush. To clean it of dirt, use a damp sponge or soft cloth. To return to the original lacquer boots, periodically apply with a sponge or swab on the surface of the Shoe glycerin or petroleum jelly, leave on for 10-15 minutes, then wipe off the excess.
If your shoes have stains, you can display them by rubbing with a cut onion or a swab moistened with petrol. Before this procedure, make sure in an inconspicuous area that the bow itself or the gasoline does not leave unwanted spots.
Shiny spots on suede shoes should be cleaned with a special rubber brush. If you don't have one, you can use a normal eraser. If the suede is very dirty, you can clean it with a brush dipped in a solution of warm soapy water with ammonia (1 tablespoon alcohol to 5 tablespoons of water), then washed with cold acidified water (1 teaspoon of vinegar per liter of water). Then hold the shoes over the steam to restore the texture of suede.
The genuine leather shoes can not be cleaned with gasoline or acetone. Strong pollution delete the first dry cloth, then wet. White shoes can be washed with a weak solution of washing powder.
Shoes made of artificial leather should be treated in the manner specified by the manufacturer. Usually artificial and synthetic leather wipe with a sponge or cloth, sports shoes are allowed to be washed in cold water.
Colorless sprays and creams for versatile shoes of any color, but using color tools, you can make invisible small scratches and cracked places.
Useful advice
It is best to have two pairs of shoes for the season - so you will allow each pair to rest and allow to dry