You will need
- glass/ceramic bowl;
- hot boiled water;
is the spoon.
Instruction
The number of dry henna, which is required for preparation of the dye mixture will depend on the length and thickness of tresses. Standard packing volume henna for hair dyeing at home – 80 g, but there are 125 g of a pack. Hair medium length - from chin to shoulder - will need two 80-gram packages of powder henna. If hair is very thick, get another pack as a reserve.
Pour the henna in a non-metallic bowl. Pour the powder in hot boiled water, pour it in a thin stream, stirring constantly, until a homogeneous slurry (the consistency of thick cream). Dissolve all lumps.
If you want to add hair a chestnut brown shade and add to the mixture a tablespoon of ground coffee. If desired add a fiery red glow instead of boiling dilute henna beet juice, heated to 60-70 o C. To achieve a rich red shade of hair can make the henna fresh infusion of chamomile and add to the mix a teaspoon of turmeric and paprika or ground the marigold flower.
If you want to intensify the effect and intensity of the color, to achieve maximum durability of henna, add a diluted mixture of half a teaspoon of citric acid (or juice of half a lemon) and the same amount of vinegar.
Try to dissolve the henna in hot whey. Final color is not affected, but it will give hair Shine and smoothness of silk.
Herbal diluted henna smell will not be so unpleasant if instead of boiling water to pour the paint in the green tea, add a few drops of aromatic oil.
If you are going to use only for medicinal purposes, give preference to white or henna add to the mix traditional chestnut henna 2-3 tablespoons of olive/sunflower oil. It will not allow the dye too to soak into the hair structure.
Advice 2 : How to prepare henna
Manufacturers and suppliers recommend a single method of making henna – it is listed on the packaging. In fact, during the use of this natural remedies for coloring and improvement of the hair was invented and tested many recipes. Properly prepared henna strengthen the hair and impart Shine and softness, dyed in rich shades – from Golden-red to dark brown.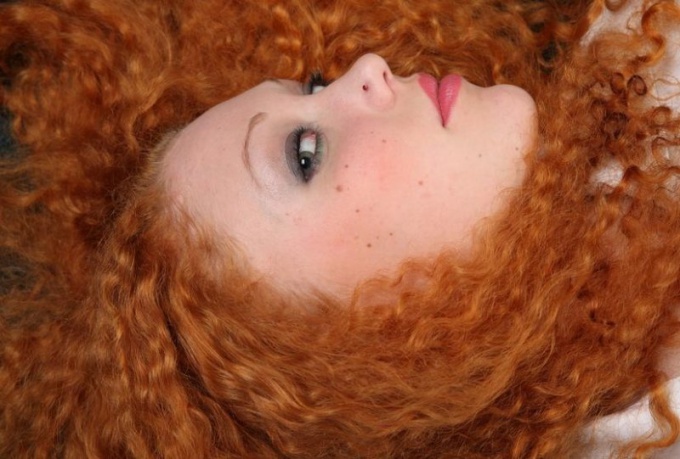 You will need
- henna powder;
- yogurt, buttermilk or yoghurt;
- lemon juice;
- the egg;
- cognac or rum;
- med.
Instruction
To prepare the henna the simplest way, stir it in hot water until the consistency of sour cream. Apply the resulting slurry on the hair after it has cooled to a comfortable temperature.
For oily hair, prepare the following composition. Dissolve 25 g of henna with hot water until the consistency of sour cream. Add to the resulting mush 1 egg yolk, 1 teaspoon of honey and 30 ml of cognac.
To revive dry, dull hair, mix henna with yogurt, natural yogurt or yogurt (25g of henna and 100 ml lactic acid). Add a few drops of oil solution of vitamin E. Let the mixture steep for 10-12 hours.
The pigment henna is most fully realized in an acidic environment. To get the result of staining a bright, saturated color, mix 50 grams of henna and 100 ml of lemon juice. Leave in a warm place for 10-12 hours. This recipe is more suitable for oily and normal hair.
To give hair a chocolate color, mix taken in equal proportion of henna powder and cocoa. Add hot water to the consistency of sour cream.
To give hair a richer color and flavor, add a paste of henna in a pinch of ground nutmeg, ginger powder, black pepper and cinnamon.
To paint the gray hair, add henna is another natural dye, Basma, in a ratio of 1/1. Brew strong black tea. Strain and pour the resulting infusion mixture.
Note
Even after brief contact henna with hair they can acquire a reddish hue.

For making use of henna ceramic or glassware.
Useful advice
When choosing henna note the date of manufacture. Shelf life of henna 24 months. The fresher it is, the more persistent will be the result of its impact.

The amount of henna and other components necessary for the preparation of a composition depends on the length and quality of hair.