Instruction
Buy in a stationery store thick notebook in a cage. The best fit is that the spring - it is easier to turn the pages. Also a good notebook with removable blocks. You can always add more leaves, also sells blocks with colored dividers, which is very convenient.
Stock up on colored markers, pencil, pen, ruler, eraser. Number the pages. Determine the required number of partitions. The right way to begin a book, like every meal, with appetizers and salads. The second section is usually dedicated to the first dishes, followed by main dishes and side dishes, then desserts and drinks. Scroll to a separate section under recipes for winter preparations, medicinal infusions and tinctures.
On the first page draw a table of measures of products, so it will always be at your fingertips. Each section of the book will make its own style and colours. On the first page stick a piece of colored paper in matching color. You will be easier to navigate the records.
Neatly rewrite your recipes, adhering to sections. Do not try to write in detail unless it is absolutely necessary. Use well-known abbreviations, such as: art glass, tbsp – tablespoon. Make marks next to especially favorite you or your household dishes. Record observations about the preparation or composition of food, its peculiarities.
At the end of the complete summary. Be sure to make a bookmark out of ribbon and attach it to the back cover. Decorate the cover of your cookbook as prompt fantasy. You can paste her pictures on the culinary theme, the colors of the fabrics or sequins and beads. You may also wish to issue each section, to take photos of those or other vegan dishes, put them in a book.
Advice 2: How to make a recipe book
A recipe book made with your own hands, is a wonderful way to preserve family traditions and pass them on from mother to daughter. To make a cookbook in various ways, with a little imagination.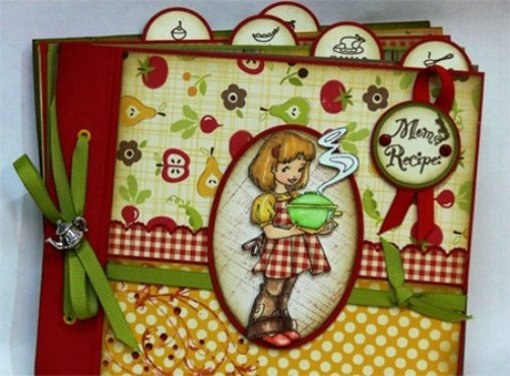 You will need
- scissors;
paper;
glue;
- background paper for scrapbooking;
- photos or pictures with the recipes;
- decoration for the pages at will.
- hole punch:
- satin ribbon.
Instruction
To make such a book, first collect all your favorite delicious recipes. If you have kept a family card, you are very lucky, because the old paper will give your book with the recipes for a particular style, which is to say comfort and memories. If you have such cards don't! Rewrite recipes with beautiful handwriting on fine paper, for this purpose you can use Kraft paper brown. Sort the recipes by categories, so that later you can create a book.
Choose photos or pictures for your cookbooks, pictures will make it lively and colorful. For example, the signature grandma's recipe can be accompanied with a photo next to the recipes for the Christmas table to draw a Christmas tree with glass balls. Use your imagination to the maximum. In advance think over, will you post the recipe and pictures on one page, or the pictures will be placed on the next page.
Using scissors, cut out pictures, drawings, give the necessary form cards with recipes. Take the background paper for scrapbooking and stick to it the necessary materials. Background paper you can use with different ornament, so your book with recipes will be even brighter and more attractive.
If the pages for scrapbooking no holes for fastening, make them with a hole punch. The pages in the book with the recipes was exactly bonded, before you make holes in them, mark with a ruler and pencil the same location on all sheets.
Decorate the pages of your cookbook with various decorative elements. You can use a liquid sequins, rhinestones, satin ribbons, labels in retro style, a variety of natural materials. Optionally, you can add to each entry the comments, interesting stories that are associated with a particular recipe, the chronology of the appearance of the dishes in your family.
Make a cover for your cookbook. It can be performed from a background sheet for scrapbooking or dense Kraft paper. Write the title of the book, decorate with a picture or photograph. Make the cover holes with the hole punch.
Connect all the book pages and cover with a thin satin ribbon or twine. A recipe book is ready!
Useful advice
Your cookbook can be absolutely any size, you may want to do it in the format of a family album.