Before you can create a Conservatory a classic look, you'll need to make a design with the glass elements and frame, equipped with watering systems, ventilation and heating. If you are not able to produce such detail, it is possible to seek help from professionals in this matter. Of course, if you have a great desire, we can arrange a winter garden in a small area with poor lighting.
Winter garden in modern homes is different from the classic version. It can represent only a small green area, filled with various plants. However, according to the canons of this green corner will not be a Conservatory, but it's not how much reduces its decorative qualities.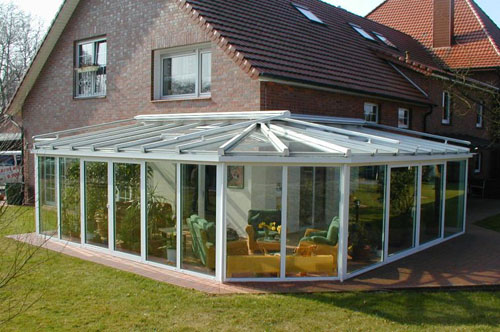 Many apartment owners have withdrawn under a winter garden balcony or loggia. In these areas almost all plants feel as comfortable as possible. But it is necessary to mention that the balcony should be well insulated, there should not be draughts and temperature changes, otherwise many heat-loving plants can die. For these purposes it is possible to use a separate heating system or to run it from the next room.
You should also carefully inspect the loggia on the presence of cracks, and if they are, it is necessary to close or seal them with special tools. The flooring of the balcony is also necessary to insulate. The best option for solving this problem is the use of technology "warm floor". Good lighting of the winter garden is one of the main conditions because of which the plants will feel good.
If your balcony or loggia is located on the Sunny side, the use of fitolamp can be reduced. Try to position plants so that shade was in a less lit area and the light closer to the sun. In General, for the selection of plants is best to seek help from a professional floral specialist.