In General, the trim in this style is not as difficult as it might seem at first glance. Japanese style, like any other, emphasizes a specific color scheme, decor and distinctive furnishings. In color is dominated by bright colors and their shades. Usually used beige and their shades. Perhaps the addition of the black color, but needs light Foundation.
Considering the interior, it is necessary to take only one main color. And to add the color and decoration of the interior, which ideally should have a color scheme, painted in shades of the main color. When decorating the premises should not dazzle. It will not give good effect. The ceiling in this style is usually a matte color.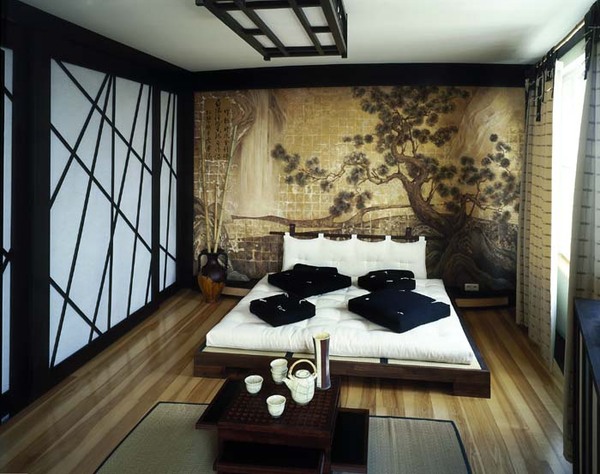 On the wall glued Wallpaper with traditional Japanese drawings, like Sakura, a samurai with a lance or similar options. For walls instead of Wallpaper is acceptable to use woven material or wooden fabric created from thin strips, again, decorated in bright colors. On the floor lies a tree or an imitation of it. The tone needs to be maintained in the colors used for the decoration of walls, can be a bit darker.
On the floor necessarily, if careless, you need to put a Mat or if the bedroom area is large, several mats. In terms of furniture interior is not very rich, rather it is simple and close to asceticism. This style should be low the platform bed, it is possible to use 2 bedside tables, wardrobe – compartment with recessed doors, like a screen.
Furniture without pictures — the best option, everything should be very simple and concise, and also do not forget about the observance of geometrical. The decor of this style is to use Japanese vases, ikebana in outdoor pots, possible live plants, sometimes used figures of Japanese idols. On the walls, as a rule, should be hanging various samurai daggers, swords and Katanas. The design uses the characters of the country described. Characters can be used for bedding, or just on the wall in the form of prints.