Many designers are designing the interior, noticed one peculiarity. It turns out that not only white ceiling increases the height of the room, but dark and the ceiling is a good performs the task. This is a great solution for a bedroom ceiling. After all, why do we need bedroom? Right to sleep. While dark colors are perfect for this function. Perfectly dark the ceiling looks in the bathroom. It looks very impressive and fascinating, especially if you play with light.
However, there are a number of conditions that must be true, that such a ceiling is not pressed, the inhabitants of these areas. First, the actual ceiling height shall exceed two and a half meters. Can be more but not less. Otherwise the room may be just a hole. Secondly, as it turned out, the cold tones on the ceiling to increase the height of the ceiling more efficiently than white. Such colors are graphite, gray, gray-blue and the more intense gray-blue color. But if it's glossy ceilings, then this is an absolute furor.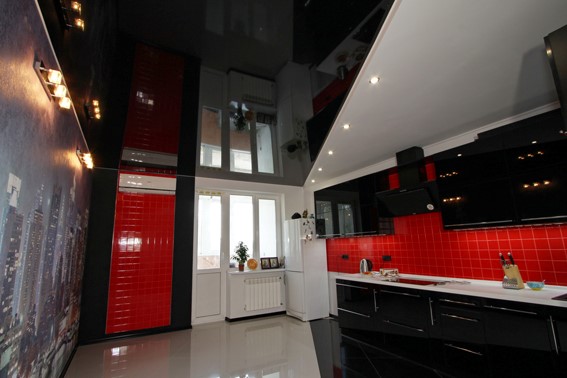 Brown is warm, so it is suitable for rooms with a ceiling height of about three meters. However, all shades of brown and chocolate makes the room more cozy. Therefore, this ceiling shade is so popular. To enhance the effect, you can make a light frame for the ceiling, and it here refers to the bunk surface. However, the walls in this case, should be light.
The dark ceiling always involves the white walls, but the floors can be dark. If the room faces the Sunny side and it has large Windows, then you can experiment with a darker shade on one wall. If the choice fell on the dark interior, furniture in this case should be only light, and the lighting in turn - a very good and versatile.