The types of belts
Any accessories of various. So, belts are of several types. The main of them is leather. Genuine leather not only looks expensive, it is of excellent quality. This belt will last for years. Usually they are given a warranty for three years.
Style casual long become prevalent in big cities. Belts in this style chooses mostly young people, tired of the formality and the classical framework. Picking up the belt to the jeans, don't forget about the variety of modern materials. They can be rubber, plastic, fabric. The key to this belt buckle. It can be small or massive. Sometimes it's just a matte square, and often the logo of the fashion brand. It is important that you choose a real brand or a belt or a badge with no apparent signs of fashion. After all, if this is an obvious fake, the belt looks ridiculous and cheap.
For lovers of sneakers and unusual t-shirts there are sports straps. They are typically made of fabric and may contain elements of sports brands. It is durable and practical accessory.
The combination of colors
Shade of the belt should be in harmony with other garments. For example it looks when it matches the color of the boots or shoes. The combination of the strap with the bag is also advantageous.
Leather belts can match the color of the watchband. This nuance is rarely observed, but careful people can see such commitment to excellence. The plaque on the belt sometimes is chosen for the metal dial.
To pick up the belt to the jeans, you need to remember about the main colors used. Classics are black and brown shades. In recent times the popularity of the red color. It looks vintage and makes the image brighter. Especially good this shade looks on blue and blue jeans. White belts, fashionable in the past decade, is no longer relevant.
Dark and light jeans can't be worn with one strap. Versatility is not always good. Remember that the dark belts is unacceptable to wear with jeans, bright colors, such as beige, cream, white. It's bad manners.
The choice of belt for jeans implies conformity to the size. Too long a belt will fit, as its end will be awkward to hang on a belt. Mesh sizes of belts from 36 starts and ends 52 number. They correspond to hip size is from 90 to 155 cm
Advice 2 : How to choose belt size
Belt is an essential accessory for both men and women's wardrobe. But if the belt is picked up incorrectly, it will dangle, to twist and spoil your appearance. How do you determine what
size ofa
belt do you need?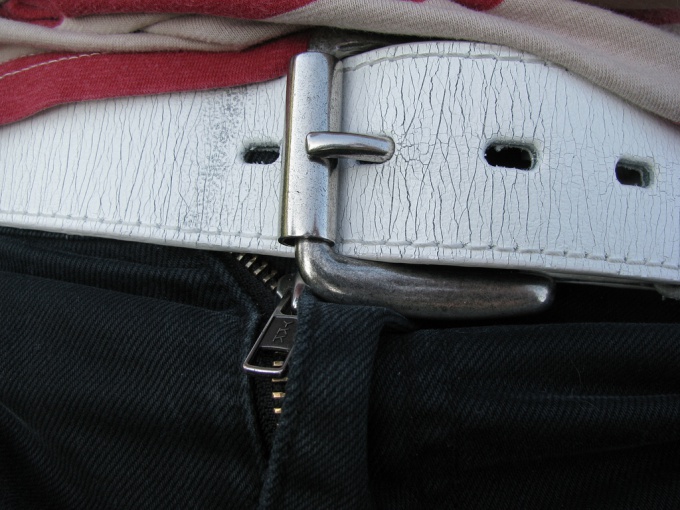 You will need
-the tape;
-old belt;
-size chart.
Instruction
Measure over clothing waist or hips, depending on how you are going to wear the belt. Knowledge of this quantity will be useful when shopping in malls, and when ordering clothes via the Internet or catalogs.
From different manufacturers may have their own labelling sizes. If you have already bought the belts this company, just see what number was printed on the old things.
Often in shops there is a table of correspondence sizes. Use it or ask the consultants, as determined by the size of the belts of a particular manufacturer. Similar plates found on the websites of online shops of clothing and accessories. In a regular boutique, you can just measure the belts, not even paying attention to the labeling. But with virtual shopping, you must exactly specify the size of the purchased product. In case of an error you will have to return or exchange the strap, and this additional expenditure of time and financial costs.
If the belt is of European manufacture, it can be applied size from 70 to 120 for adults and from 50 to 75 for children. Each number corresponds to your waist. Thus, the straps 70 sizes correspond to waist 66-74 cm; 80 – 76-84 cm; 90 – 86-94 cm; 100 – 96-104 cm; 110 – 106-114 cm; 120 – 116-124 cm Children's belts have the following mapping: 50 – waist 48-52 cm; 55 – 53-57 cm; 60 – 58-62 cm; 65 – 63-67 cm; 70 – 68-72 cm; 75 – 73-77 see
If belt size indicated by the letters, it is likely a thing of American manufacturing. Therefore, all values will be considered in inches. The letter S indicates that the length of the belt 32 to 34 inches. To convert this number to centimeters, multiply by 2.54. Will continue to go sizes M (36-38) L (40-42), XL (44-46). Can meet also denote XS or XXL.
Advice 3 : How to choose a showy male strap?
In answering this question, some representatives of a strong half of mankind can say: "What's the difference? And without him!" or "Braces". In fact this accessory is not only for convenience and to maintain the pant on the hips. It plays an important role in creating the image and elegance.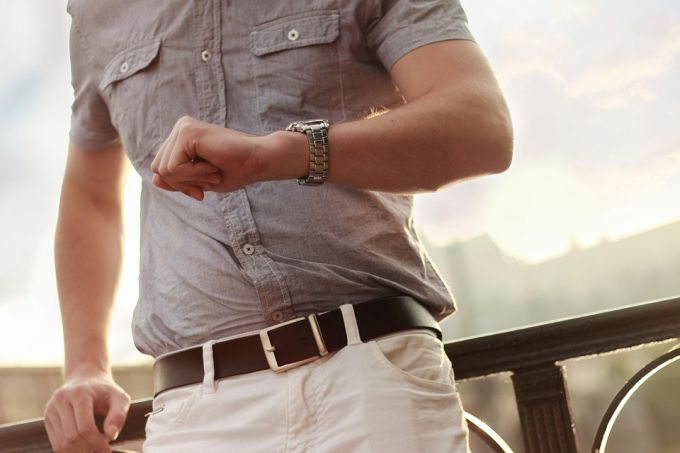 Remember two familiar rules: "black shoes – black belt, brown shoes brown belt, simple silver or other solid buckle is more preferable than with any inscription." From these rules emerges the image of a traditional men's belt. Classic colors – brown and black. The recommended material is leather. The buckle is of simple rectangular shape, silver color, less gold, small size.
What are the main parameters of selection of this important accessory?
1) it is Not necessary to wear expensive belt under ordinary pants on the contrary, cheap with an expensive suit. It looks sloppy. This does not mean that under the cheap clothes you have to wear a shabby old belt. On the contrary, for this part of the wardrobe to look after, to protect against cracks and scratches. And if the belt broke, to throw out.
2) Proper width. Children and young people can wear narrow belts, while older people prefer to wear the belt not already 5-6 centimeters.
3) Length. There exists a certain generally accepted standard. When waist men belt needs to be a balance of not more than 20 centimeters. But at least 10 cm Too short will create a visual completeness and spoil the overall appearance.
4) Material. It is better to choose leather. To distinguish the skin from the clever forgery, you should pay attention to the edge of the belt. Have unnatural edge will be processed and carefully curled.
5) Style. In fact, there are only two basic styles of straps – classic and casual design. The classical style is written just above in this article what is casual? It is an informal style that helps you Express your personality. This style involves an unusual shape as the belt and buckle, various colors and finishes.
Also on the market in recent times, there are bilateral straps. For example, one side black, the other brown (matte and the other glossy), with a removable and replaceable buckle. The preferred option is to have several belts and alternate them depending on the selection of clothing and visited the place.