The types of belts
Any accessories of various. So, belts are of several types. The main of them is leather. Genuine leather not only looks expensive, it is of excellent quality. This belt will last for years. Usually they are given a warranty for three years.
Style casual long become prevalent in big cities. Belts in this style chooses mostly young people, tired of the formality and the classical framework. Picking up the belt to the jeans, don't forget about the variety of modern materials. They can be rubber, plastic, fabric. The key to this belt buckle. It can be small or massive. Sometimes it's just a matte square, and often the logo of the fashion brand. It is important that you choose a real brand or a belt or a badge with no apparent signs of fashion. After all, if this is an obvious fake, the belt looks ridiculous and cheap.
For lovers of sneakers and unusual t-shirts there are sports straps. They are typically made of fabric and may contain elements of sports brands. It is durable and practical accessory.
The combination of colors
Shade of the belt should be in harmony with other garments. For example it looks when it matches the color of the boots or shoes. The combination of the strap with the bag is also advantageous.
Leather belts can match the color of the watchband. This nuance is rarely observed, but careful people can see such commitment to excellence. The plaque on the belt sometimes is chosen for the metal dial.
To pick up the belt to the jeans, you need to remember about the main colors used. Classics are black and brown shades. In recent times the popularity of the red color. It looks vintage and makes the image brighter. Especially good this shade looks on blue and blue jeans. White belts, fashionable in the past decade, is no longer relevant.
Dark and light jeans can't be worn with one strap. Versatility is not always good. Remember that the dark belts is unacceptable to wear with jeans, bright colors, such as beige, cream, white. It's bad manners.
The choice of belt for jeans implies conformity to the size. Too long a belt will fit, as its end will be awkward to hang on a belt. Mesh sizes of belts from 36 starts and ends 52 number. They correspond to hip size is from 90 to 155 cm
Advice 2: How to pick up a belt to the pants
Belt for trousers is a very important accessory for any man's wardrobe, so his choice should be taken seriously. There are several simple rules, following which you will always look stylish and respectable.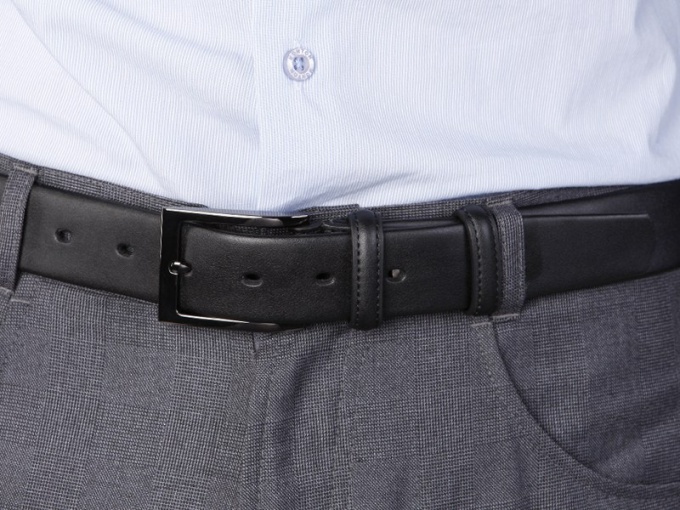 The types of belts


In the wardrobe of the modern man should have a few belts on all occasions.

Leather classic belt should be made from natural material of the highest quality. To the touch to be soft and have rounded lines, thanks to a special gasket. However, on the materials for gasket manufacturers often scrimp and put them in the place of genuine leather, elastic cardboard. This belt, unfortunately, very short-lived.

Belt made of quality leather, does not leave creases. It is advisable to purchase the belt which is stitched around the perimeter. Line, itself, should be perfect. Fused, the product will sooner or later have to flake.

Now many famous brands produce single-layer leather belts that are more practical than the two-layer gasket.

When buying a leather belt should be good to pull it to the ends. It should not stretch more than 1.5 – 2 see If he never stretches it to wear it will be very uncomfortable and tight.

The classic leather strap has a width of 4 or 5 cm Buckle it is made of plain material of good quality, which is in the process of socks is not erased and does not tarnish.

Strap – casual wear usually with jeans. It can be made of various materials: cloth, rubber, leather, artificial polymers. The buckle can be either the most unimaginable, shape and size. The width of the strap casual from 2-6 cm This belt cannot be worn with a strict business suit.

Universal straps fit trousers and jeans. Their width is about 3.5 cm


How to choose the belt color and style of the


The main rule that must be observed when choosing the color of the belt: it must harmonize with the shoes. Brown shoes and black belt cannot be worn.

A business suit is most suitable classic or a universal belt.

Canvas belt will look great with trousers made of corduroy, but it is not recommended to wear with a business suit.

Braided straps will look perfectly with clothes for leisure. However, you must ensure that the rough texture of the strap does not weigh down the fabric from which sewed the pants.

The correct belt must be buckled on the third hole. It is unacceptable to pierce in the finished product extra holes. If the belt is too long, it must shorten to normal length. No need to do this on their own – the result will not look aesthetically pleasing.

In a locked position the seat belt should be threaded through the first belt loops on the pants.

All accessories on the belt should be made of high quality materials.

The belt must be two loops. One is fixed near the buckle, and the second – on distance of the palm from the buckle.
Advice 3: How to choose belt size
Belt is an essential accessory for both men and women's wardrobe. But if the belt is picked up incorrectly, it will dangle, to twist and spoil your appearance. How do you determine what
size ofa
belt do you need?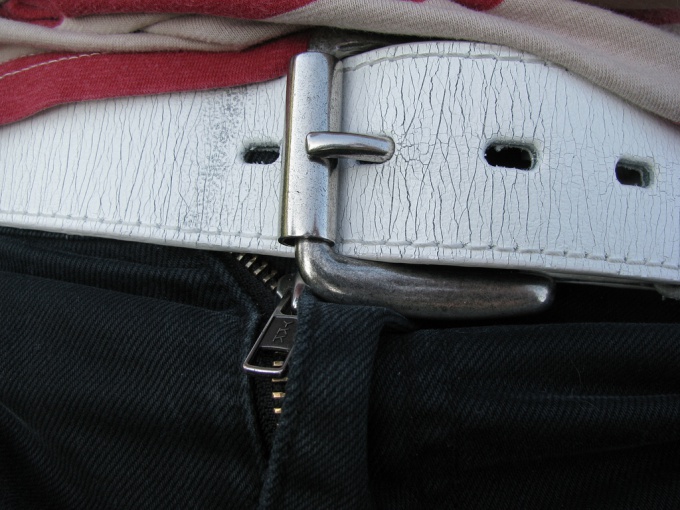 You will need
-the tape;
-old belt;
-size chart.
Instruction
Measure over clothing waist or hips, depending on how you are going to wear the belt. Knowledge of this quantity will be useful when shopping in malls, and when ordering clothes via the Internet or catalogs.
From different manufacturers may have their own labelling sizes. If you have already bought the belts this company, just see what number was printed on the old things.
Often in shops there is a table of correspondence sizes. Use it or ask the consultants, as determined by the size of the belts of a particular manufacturer. Similar plates found on the websites of online shops of clothing and accessories. In a regular boutique, you can just measure the belts, not even paying attention to the labeling. But with virtual shopping, you must exactly specify the size of the purchased product. In case of an error you will have to return or exchange the strap, and this additional expenditure of time and financial costs.
If the belt is of European manufacture, it can be applied size from 70 to 120 for adults and from 50 to 75 for children. Each number corresponds to your waist. Thus, the straps 70 sizes correspond to waist 66-74 cm; 80 – 76-84 cm; 90 – 86-94 cm; 100 – 96-104 cm; 110 – 106-114 cm; 120 – 116-124 cm Children's belts have the following mapping: 50 – waist 48-52 cm; 55 – 53-57 cm; 60 – 58-62 cm; 65 – 63-67 cm; 70 – 68-72 cm; 75 – 73-77 see
If belt size indicated by the letters, it is likely a thing of American manufacturing. Therefore, all values will be considered in inches. The letter S indicates that the length of the belt 32 to 34 inches. To convert this number to centimeters, multiply by 2.54. Will continue to go sizes M (36-38) L (40-42), XL (44-46). Can meet also denote XS or XXL.
Advice 4: How to pick up a shirt to jeans
Shirt combined with jeans is option for every day. There are certain rules, how to pick up a shirt to jeans. By following them you will look stylish and modern.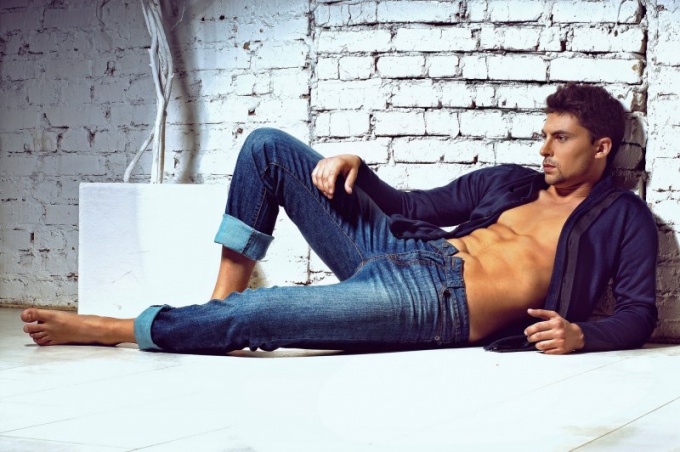 Advice for men
Well pick the color scheme
of the shirt
. Dark jeans are good in almost all colors. But with the light jeans look good white shirt. And if a business suit is matched only plain shirt, with jeans you can wear a shirt any prints and colors: stripe, polka dot and so on. As for styles, with jeans also look good different options: trousers, tucked in shirt, Polo-shirt and so on.
When selecting a shirt pay attention to its length. If you are going to tuck it inside the pants, choose a longer model with a straight hem. If your attention to attract shirt with rounded lower edges, it should be worn untucked. As a rule, shirt, trousers should be to the level of the pelvis. Too long lines may seem ridiculous to others.
Low boys and men it is best to tuck in your shirt in jeans: it makes the figure are proportional. While tall shirt untucked looks very sexy. If overweight you should not choose a shirt that fits very tightly. Better to buy a shirt of soft fabric, but she doesn't have to be lengthy. Also, remember that when a protruding stomach you'll look like a bell. So use a belt with jeans.
Recommendations for women
Women and girls should know that classic office shirts look much better with pants. Therefore, the selection of shirts to jeans you can show a maximum of fantasy. Shirt with colorful prints to wear trousers - it makes the image casual and natural. To skinny jeans pick a shirt in a checkered or flowered.
As men, dark jeans need to choose a dark shirt, and light jeans light. With wide jeans look good fitted shirt. In order not to violate the proportions of the figure, also note the length of the shirt. Full girls should give preference to shirts untucked. A common misconception that using a shirt and jeans it is impossible to create a festive look. Enough to choose jeans with a high waist, and for them to wear romantic shirts with ruffles or frill.
So, it is enough to know a few simple rules and you'll always be dressed beautifully and tastefully.