Instruction
So ordinary

This snake is the largest of the family colubrid. Snakes are widely spread on the territory of Russia. The length of this non-poisonous create sometimes can reach 1,5 m in the case of ordinary snakes range from 80 cm to 1 m. the Favorite habitat of these snakes – shore wetlands, lakes, rivers and ponds. Often, these harmless snakes be guests in small villages located in forest areas. Ordinary grass snake is easily recognized by its typical coloration: its back is dark gray or black. No drawings on it. Sides of the head are decorated with two oval orange or yellow spots. Abdomen ordinary snakes dirty-gray or light gray.
Poloz

These snakes are also considered harmless. Widely spread on the territory of the Russian Federation. In length they may exceed 2 m, are moving fast enough. Crawling snakes not only on land but also on the rocks, and even trees. The bite of this snake poses no danger to humans. However, it is quite painful. Curiously, the bite of a snake has all the signs of a snake bite: the person is observed, the dizziness, the pain and swelling. But do not be afraid. If it is a bite from the snake, everything will take place already after 3 days.
Copperhead common

This is another non-poisonous snake, which also lives on the territory of Russia. Copperhead snake is smooth and small. The length of her torso does not exceed 0,7 m. verdigris Painted in a brown or grayish color. Sometimes its coloring has a reddish tinge. Unfortunately, the Copperhead is often confused with venomous vipers, for which destroy. It should be noted that the head of ordinary Copperhead narrower than the Viper, and the flaps on the head (compared to the Viper) are larger. Additionally, the transition from the torso to the neck of the Copperhead is less visible than that of a Viper. The bite of a Copperhead can be poisonous to some small animals, but it is completely harmless to humans.
Brittle slow worm

These non-poisonous snakes can be found under stones, in forest clearings or in the grass. They are absolutely harmless to humans. These harmless snakes are destroying insects. Interestingly, these snakes actually belong to a family of lizards. Some of them even have small and underdeveloped limbs. Spread neoamerican in Western Asia, in Europe, in Scandinavia, in Russia.
Common clipsmake

It's tiny and non-poisonous snake. Externally, clipsmake resembles a huge earthworm. If you look at it carefully, then on the sides you can see two little black dots. It's her eyes. These eyes are hidden under the top layer of the skin. Apparently, hunting for ants in the dark does not require these creatures some visual skills. The whole body of clipsmake penetrated by blood vessels, which visibly circulates the blood. This is a very active and nimble creature that can only hurt the ants. Common clipsmake in Asia Minor, the Caucasus, Dagestan, etc.
Advice 2 : What snakes are found in Russia
Snakes are cold-blooded reptiles. They are distributed in almost every continent of the world. The only exception is Antarctica. In total, on the planet there are more than 3000 species of snakes. In Russia, their lives are not so much – only about 90 species, but among them are poisonous, and completely harmless to humans.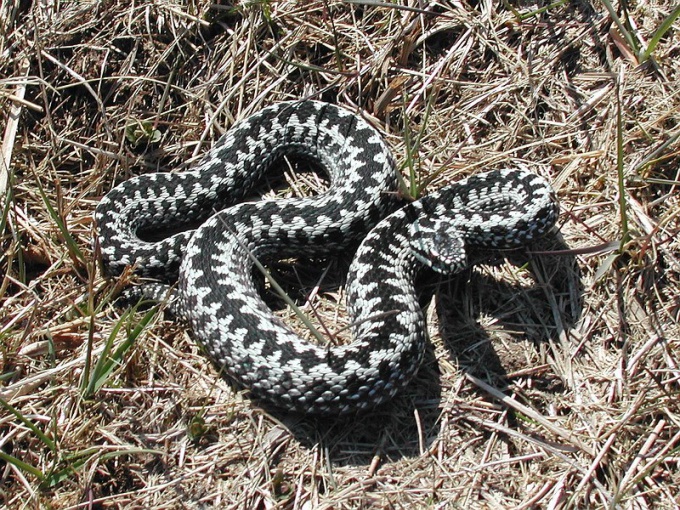 Instruction
Adder. This snake can be found in forest-steppe and forest zones of Russia: it lives in swamps, mixed forests, clearings, near rivers and lakes. The adder is most common in
Siberia
, the European part of Russia and in the far East (including Sakhalin island). This is a relatively small venomous snake. Usually the length of her torso no more than 75 cm, but in the North there may be instances up to 1 m. When meeting a person for the adder, as a rule, attempts to escape. If something threatens, she gets all defensive: hisses, threateningly evident. So no need to make any sudden movements when meeting with the Viper.
So ordinary. Harmless snakes often suffer from the person due to their resemblance to vipers. People who take snakes for snakes, deliberately destroy them. Snakes are widely distributed throughout the European part of Russia. With the exception of the polar regions. Ordinary snake can meet and in the far East, in Siberia and around lake Baikal. The length of this snake is 85-90 see the Usual habitat of snakes are the shores of flowing waters. Curiously, outside the Russian Federation (Ukraine and Belarus) villagers tame snakes in General. The fact that these harmless snakes are easy to contact with a person, being a great Mouser.
Copperhead ordinary. This non-venomous snake is widespread throughout Russia. Unfortunately, in recent years the number of these snakes is reduced, which is associated with the destruction of natural habitats. The Copperhead, like snakes, are often consumed, mixing with poisonous snakes. At length they reach no more than 70 cm. the Usual habitat of coronella – forests of Central Russia: these snakes live on the edges of coniferous, deciduous or mixed forests. Generally favorite places Copperhead – cutting, well-heated by the sun, the grass undergrowth. Rare to find these snakes in meadows and other open areas.
Gyurza. This snake is a relative of the Viper. They even belong to the same family, kadukova. Viper – a rather large and muscular snake, reaching a length of almost 1.5 m! She lives in southern Siberia. Its venom is highly valued and widely used in medicine. Gyurza – snake is very bold, but does not attack first, while it is not disturbed. If the meeting happened suddenly (for example, a snake came), it instantly attacked without warning!