What cards to pay online


The possibility of online transactions depends on the card type, namely its class. Difference between Visa and MasterCard in this case. Today in Russia the greatest distribution was received the following card types:

- electronic cards Visa Electron and MasterCard Maestro and Momentum;

- classic cards Visa Classic and MasterCard Standard;

- premium cards Gold and Platinum.

As a rule, in the framework of salary projects, the banks release the first two varieties of cards. While the premium cards are ordered by the users themselves when reaching a certain social status.

Classic cards Visa Classic and MasterCard Standard allow for a full range of banking transactions, including online purchases.

Maestro and Visa Electron are often free but have limited functionality - they both allow you to pay in stores and withdraw cash. But to pay for them on the Internet in most cases impossible. The fact that the mandatory online payment is the security code (CVC2). On the Maestro and Momentum it is not, which makes online purchases possible. Visa Electron cards are sometimes able to pay for purchases online. This option is set by the Bank individually.

There is another kind of Bank cards that are just intended for those who often makes purchases online. It's a virtual cards without physical media, but with a full set of necessary details for payment. In Sberbank the cost of annual maintenance is 60 rubles. per year, in some banks it is free, and designed for one-time online payments.

Many believe that a lack of cards (cards on which there is no name and surname of the user) cannot be paid online. But it is not. Importantly, the map contains CVV code (CVC2), and the data of the payer shall indicate the name and surname in Latin, as they are spelled out in the contract.


Safety measures when paying by credit card on the Internet


If your card allows you to pay online, don't forget about additional measures of caution. There are a number of simple rules of security for online payments:

- you should shop only at trusted sites, after referring to the reviews about shopping;

- check the web site often, scammers create copies of the online stores that are different by one letter or number;

- try to shop on sites that support secure connection (SSL certificate), it should begin with "https://";

- use virtual card;

- connect the service "SMS-informing", which will allow you to instantly react to attempts to pay by card.

Many banks offer to use additional protection in the form of 3-D Secure Protocol. When paying by card online, the user must enter a one-time numeric code from the SMS messages coming to your mobile phone. Otherwise, the transaction will remain unconfirmed.
Advice 2: What is a debit card
Today every minute is precious, and therefore it is impossible to do without such a necessary and reliable payment methods like plastic
cards
. No longer need to fill their wallets and pockets with cash, going on a trip or to visit your favorite relatives. The opening of a debit plastic card eliminates the need to have cash to yourself.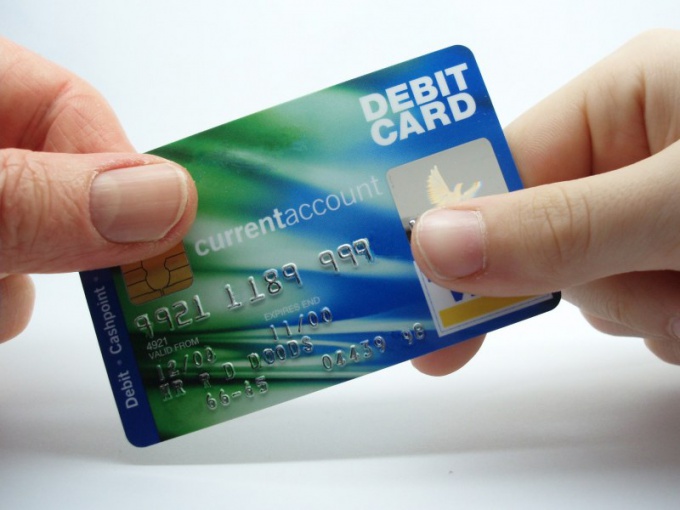 Not a map, and the purse
Debit card, in fact, is your electronic wallet where you can store any amount of your funds. And money are always protected – they will not disappear and will not be lost.
Debit (from the Latin. debet, which means "he must") – in this case, the amount of your own funds that are deposited to the Bank and to which you have direct access (i.e. these funds are not contributions or credit supply).
Externally, debit cards are no different from credit. The fundamental difference is that the money taken from a debit card to be spent from your personal - debit - Bank account. The balance on these cards should only be positive, and the operation of the debiting at the moment of paying by card in shop or, for example, the restaurant will only if you have enough money in the account.
However, there is a caveat, some banks offer debit (usually payroll) cards with overdraft, ie a small credit limit that you can use if to calculate not enough own funds.
Plus the use of debit cards is that the extra money will not be spent, and you will never will have to.
Use
With this card you can:
to make quick purchases on the Internet,
- buy traveler's checks,
to pay for various goods in supermarkets,
- queue and quickly get the cash in fast service at the cash
- pay receipts and invoices for utility and other services,
- to pay in any country of the world, not exchanging currencies.
Even the salary employers can quickly transfer to the card. In addition, banks and airlines are joint projects, through which you can get discounts when you use debit cards or cashback charge a certain percentage of the amount of your purchase refunded to your account).
Types of cards
Debit cards are different — some can be used worldwide (international map), while others only in their home country (local).
Any commercial Bank must provide its customers the opportunity to choose several types of cards on their choice.
To debit card easy. Bank cards are issued to individuals under 18 years of age, on the basis of the document proving the identity.
Decide to start to use cards, whether it is for travel or for purchases. Usually for international monetary transactions choose card payment systems Visa or MasterCard. Cards that appeal only to the borders of Russia have the inscription "valid only in Russia".
Each card has a personal PIN-code, withdrawals and payments are made only after input of the unique password. In case of a sudden loss or theft of your card must be reported immediately to the Bank all its blocking and subsequent recovery.
Advice 3: How to order the card of Sberbank
The savings Bank offers three types of cards - debit, credit, and special partnership. Each map has its own characteristics and advantages. All cards issued within the payment systems Visa, MasterCard and Maestro.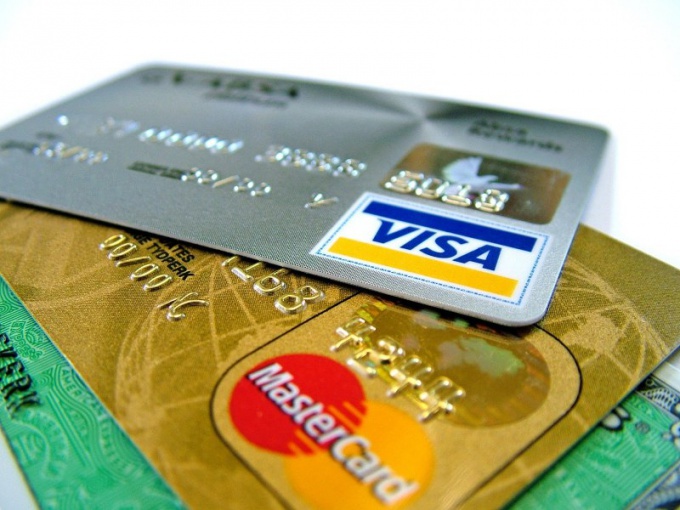 Types of cards in the savings Bank
The first thing to do before ordering the card, to determine the most appropriate type. To do this better, drawing on their own requirements to the functionality of the card and take into account how much annual maintenance.
Today the Sberbank offers a wide range of debit and credit Bank cards, which differ in functionality and cost of annual maintenance.
Unembossed cards Momentum, Visa Electron and Maestro (free service) - the basic card for cash withdrawals and purchases on the territory of Russia.
For credit cards Momentum, Visa Electron and Maestro cards the maximum credit limit is up to 150 thousand rubles, for other cards - up to 600 thousand.
Their main advantage is instant results, but abroad to use it will fail.
Classic cards Visa Classic and MasterCard Standard (annual maintenance cost: 750 p. per year) - the most common types of cards with the base set of functions. They allow you to make payments online and to pay by Bank transfer. This card is chipped, so you can use it whenever or wherever I travel abroad.
Electronic cards Visa Electron and MasterCard Maestro (a cost of annual maintenance: 300 Euro a year) are distinguished by a core set of services at minimum cost service, available in the framework of salary projects.
All the cards provide an opportunity of remote management of Bank accounts via the services "Mobile Bank" and "Sberbank Online"
Gold card (annual fee: 3000 Euro a year) — a status card with additional privileges. Such clients are provided with premium-class service.
Premium cards of "Sberbank Premier" Visa Platinum and MasterCard World Black Edition (the cost of services within the tariff plan "Sberbank Premier" - up to 5 cards - free) - a prestigious card with a high level of service.
For those who often makes the payment online and doing shopping on the Internet, you can order a virtual card without any physical media. The annual service fee is 60 rubles. per year.
If you want to get additional advantages from the use of the card, then you can register in the savings Bank the partner card. Using the card "donate life" everyone can contribute to charity. It helps to fight cancer every time you purchase.
For those who travel a lot, fit card "Aeroflot" of Visa Gold & Visa Classic, which allows you to earn miles when making a purchase. And when you make a card "MTS" MasterCard Gold & MasterCard Standard reward points "MTS Bonus", which can be exchanged for various goods and services.
How to get a credit card from Sberbank
To order a card in two ways - by filling in the questionnaire by personal visit to the Bank branch or make a request online on the website. By personal visit to the Bank should not forget to bring your passport. When the preliminary application for the credit card in addition to identity documents, you must provide an income statement and an additional document on a choice (INN, SNILS, rights, etc.) the Application will be considered by Sberbank 2 days.
To apply for your card online, you must visit the Bank's website www.sberbank.ru in section "individuals", select "Bank card", then "Debit" or "Credit." Beside each map you will see a link "Online application for issue of debit card". To make an application you must fill out the online form on the registration card. After that, one can only expect further information from the Bank.
Production of the card takes up to two weeks, after which it can be picked up at the Bank.