St. John's wort - a natural antidepressant
For the first time for the treatment of melancholy, St. John's wort was used by Nichols Culpeper in 1652. Most researchers believe that the mechanism of action of St. John's wort and preparations similar to synthetic antidepressants, that is, they influence metabolism, maintain normal level of mood (norepinephrine, serotonin and dopamine).
Unlike synthetic drugs, St. John's wort does not affect the rate of reaction, concentration and coordination.
Herbal antidepressant based on St. John's wort have a unique combination of efficiency and security. These drugs do not have such a number of contraindications and side effects like synthetic medications. Therefore they can be used for the treatment of depression in frail and elderly patients, and in patients whose work is connected with driving or dangerous machinery.
How to apply St. John's wort for depression
For the treatment of depression use the leaves and flowers of St. John's wort, they are collected and dried to prepare infusions or decoctions. For the broth, you need to pour 1-2 teaspoons of the flowers and grass St. John's wort 200 ml of boiling water, cover and leave for 10 minutes. Freshly brewed tea should be drunk morning and evening for 2-3 months. Antidepressant effect can occur no earlier than 3-4 weeks.
In powder St. John's wort is taken in a quantity of 2-4 grams three times a day for several weeks. In milder depressions can also make the products based on St. John's wort, for example, "Hilarium", "Negrustin". They improve mood, relieve anxiety, promote normalization of sleep.
It is not recommended to use the herb St. John's wort for pregnant women and children, people with immune system disorders.
When taking St. John's wort and drugs from him during the depression necessary to monitor the condition. For reviews in some cases, can occur following side effects: high blood pressure, allergic reactions on the skin (rash, itching, redness), tiredness or irritability (especially with prolonged use), nausea, vomiting, upset stomach, increased sensitivity to sunlight. Studies have shown that this herb may reduce the effectiveness of some synthetic drugs: contraceptives and medicines prescribed for heart disease.
Advice 2: How to brew and drink St. John's wort
St. John's wort is widely used in folk medicine, as it is considered one of the main medicinal herbs to cure many diseases. This plant is part of many herbal. At home you can prepare a decoction and infusion of Hypericum.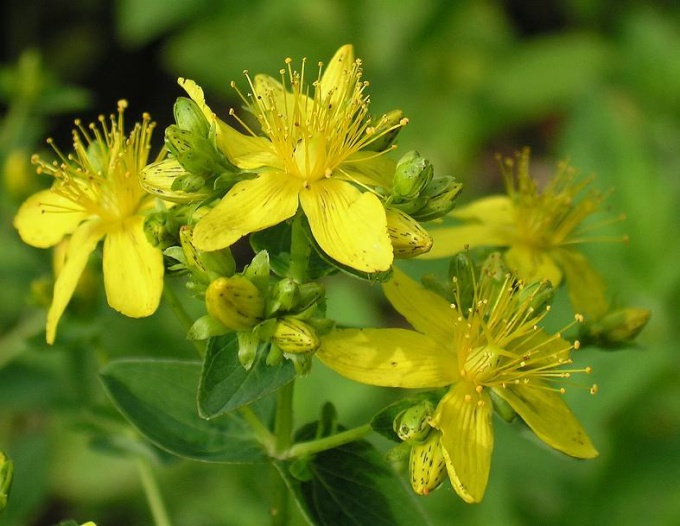 You will need
To prepare the decoction or infusion:
- 1 tbsp chopped herbs St. John's wort,
- 1 Cup of boiling water.
For the preparation of an alcohol tincture:
- 4 tbsp chopped fresh herbs St. John's wort;
- 200 ml of 40% alcohol or vodka.
Instruction
St. John's wort is used as astringent, anti-inflammatory, hemostatic, and tonic in hemoptysis, diarrhea, cough, liver, kidney and gastrointestinal tract, to eliminate uterine bleeding. It has antiseptic properties, it can be drugs such as "Novoimanin", "Imanin" has anti-inflammatory and antimicrobial action.
St. John's wort is used to treat septic wounds, severe burns, acute catarrh of the respiratory tract (with rhinitis, pharyngitis, sinusitis), abscesses, phlegmon, mastitis, ulcers, rheumatism, gout. This plant is used as diuretic and anthelmintic means, and also for depression.
To prepare an infusion of St. John's wort, pour of chopped raw materials with boiling water. Leave on for 30 minutes and take before meals to 0.25 tbsp 3-4 times a day. To prepare a decoction of St. John's wort, pour of chopped raw materials with boiling water, boil on low heat for about 15 minutes. Cool and strain. This amount should make 1 day in a few receptions. A decoction of the herb St. John's wort can rinse the skin with diathesis, tuberculosis, skin rashes, abscesses.
For making alcohol tinctures, pour the crushed fresh herb St. John's wort alcohol or vodka, put in a dark place for 2 weeks. After that strain. Keep an alcohol tincture of St. John's wort in a dark place. Take 3-4 times a day for about 40-50 drops. For rinsing the oral cavity or throat, dilute tincture of Hypericum boiled water (30-40 drops per ½ Cup water).
St. John's wort is contraindicated during pregnancy and lactation, hypertension. This plant has a mild toxic effect, and decoctions of it can take a long time. Adverse effects the use of St. John's wort include: discomfort in the liver area, the appearance of bitterness in the mouth, hives, cramps and intestinal pain.
After taking the decoction or infusion of St. John's wort, you need to refrain from tanning, as this plant enhances the skin's sensitivity to UV rays. With caution should take St. John's wort concurrently with antidepressants, as this may cause dizziness, headaches, confusion, appearance of anxiety. With care it is necessary to drink a decoction or infusion of Hypericum people who require anesthesia, as this medicinal plant can enhance or prolong the action of anesthetics.