You will need
- color palette;
- necessary knowledge about color combinations in various shades in the interior.
Instruction
Give preference to shades of orange and turquoise colors, they are beneficial to the appetite and give a charge of positive emotions.
Choose shades of blue or green, if you want to create a sense of natural atmosphere, plus they have soothing properties.
Countertops, made in bright colors, choose in the case when you want to visually enlarge the space. Combine them with cold shades of blue or purple colors, if your kitchen overlooks the Sunny side.
If the kitchen is on the North side, pick warm shades of beige or peach colorov.
Prefer shades of white, if you want to perform design of kitchen in classic style. Besides, the white color creates a pleasant feeling of cleanliness and freshness. Dilute the shades of white with splashes of other colors to the interior did not look sterile.
Choose countertop yellow colorand if you want to create emphasis and to attract attention. Soft shades of yellow colorand mood.
If you need to interpret tree species, choose countertops dark colors.
Note
It is not necessary to give preference to the black color of countertops as well as scratches and stains from water will be very noticeable on it. These tops are not too practical, require daily care and eventually need to call a wizard to carry out grinding.
Useful advice
Remember that the color of the countertops should be in harmony with the tone of the Wallpaper and furniture. Otherwise it will look in kitchen appliances. Cool colors tend to discourage the appetite, and warm, exciting. Bright colors are most popular and are the ideal choice in kitchen design classic style. The idea of the original design will make using the tops of exotic flowers with drawing all sorts of patterns.
Advice 2: How to choose color for kitchen
Kitchen
is not only a Bastion of traditional family values, but also a place where the hostess spends a lot of hours daily. And what will be the mood of the cook while cooking, depends on the quality and taste of the dishes. And this means that the space
the kitchen
has to create the mistress in a good mood to be cosy and comfortable. Equally important in any interior plays a
color
. How to choose
the color
of the kitchen
? There are a few rules.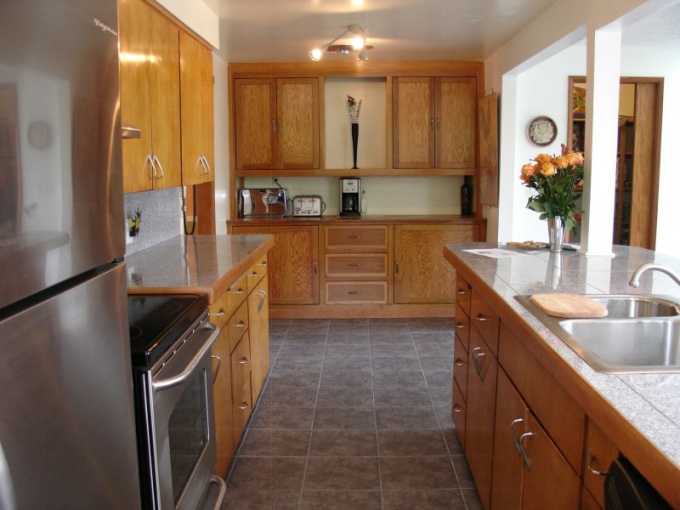 Instruction
All used colorand texture (furniture facades, accessories, walls, floors) should be well combined. The right colororiented combinations not found in nature – there is only good. But still, it is worth remembering that there are several types of compatibility colourov:- solid color (colorlike the gamma within the same color. If you decide to use this type of the compatibility, order kitchen furniture facades, for example, dark purple colorand gender and "apron" make a light purple tiles. Finally a little dilute purple palette with patches of another colorand, for example, a white top;- harmonious. Knowing the winning combination of colors, you can arrange the kitchen on the basis of them. For a good red color, AMI-companions are purple, orange, Golden yellow. Yellow goes well with orange, and the colorof th lime. Green color benefits from the proximity of green, the colorlime om or sea waves. The blue shade looks amazing with purple, as well as the colorof th sea waves. - the game of contrasts. Here are the colorsand opposites: black and white, blue and yellow, green and purple, and so on. Deciding to make the kitchen a contrasting colorAMI, you must be very careful with the selection of the combinations and dosage of each shade.
Of course, the most important factor in choosing the colorand cuisine is a taste of a family member, which most of the time spends in this room. But do not use too bright colorowou scheme. The bright colors have the property to stimulate the nervous system, so in a few days al the glittering facades of kitchen drawers will probably start to annoy the hostess.
Note also that using colorand easy to visually adjust the room and even give it new properties. For example, a white color visually enhances the space, gives it clarity and purity. Dark brown warm color brings to the room coziness, solidity and tradition, but makes it look smaller than it actually is. Kitchen in blue tones, looks cool, bright and spacious. For a small kitchen with Windows on the South or South-East – just what the doctor ordered. But green color is the color of nature. It creates a quiet and peaceful atmosphere in the room. However, it is not necessary to use in the kitchen green as the only color. It is better to shade it Golden, the colorof th wood or some other. And finally, the yellow color makes the kitchen warmer, brighter, adds the sun and good mood. Yellow color very suitable for use in small kitchen with Windows to the North or to the city yard, rather reminiscent of a stone well.
Advice 3: How to choose artificial stone for countertops
A kitchen countertop is a work surface, which not only must be carefully matched in size and shape, but be made of a durable, easily washable material. All these requirements can be artificial stone. His choice should be approached responsibly, paying attention to some points.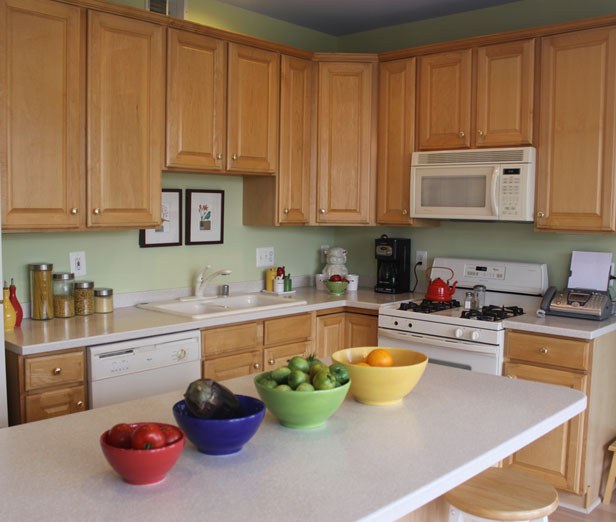 You will need
leaflets;
- computer with Internet access.
Instruction
Let's say you decide not to buy ready-made countertop, and make it to order. Before you implement your plan, read online
reviews
about the products of a particular company. Although most brands of artificial stone similar in their physical properties, but still there are differences that you should pay attention when choosing: price, colour range, warranty period, etc. For example, a finishing material Corian has a 10 year warranty and is distinguished by its high quality and price. More economical products Kerrock is as good as Corian, but it has limitations in color. Translucent stone brand Avonite is considered one of the best in this segment and is recommended for products with light.
Then decide what thickness material is suitable for you, because manufacturers produce sheets of different sizes: from 3 to 17 mm. for Example, if you want to make the countertop out of MDF and stone, stop the choice on 3 mm acrylic composite. Remember, however, this design does not tolerate moisture and over time, the deformation of the working surface. Ideal for the kitchen will be the countertops made of artificial stone with a thickness of 9-12 mm. This product is moisture resistant and durable, as it has a large margin to the thickness that gives you the opportunity for multiple polishes.
Click a color. Here everything is limited by your imagination and kitchen design, as manufacturers offer many different colors and patterns of artificial stone. Some companies in order can to "make" the necessary shade. Just remember that on light countertops scratches are less noticeable than in the dark.
Note
Check the final cost of the order at the first conversion, as many firms may have to pay after signing the contract, citing various reasons.
Useful advice
Before ordering countertops be sure to check the warranty period for the finished product, not an artificial stone.