Ladies with wide ankles better to abandon sandals, complemented by thin straps or decorated with fine decorative elements. Undesirable for such women to wear sandals with completely flat soles. But heels or wedges can markedly lift the foot and visually lengthen the Shin, the ankle will do much better than that. The perfect solution is and sandals with open-toe and closing the lower part of the ankle shaft.

Women with thin legs and narrow ankles too, you should avoid sandals on the platform. But shoes with heels, flip flops and open sandals, the upper part of which is a set of cross straps, will look great on slim legs perfectly.

If the base area of big toes you have unnecessarily exposed joints, the so-called "bones", choose sandals that completely covers the foot at the level of these protrusions, but leaves open toes and ankle. An ideal option for you would be and sandals with multiple cross straps can visually "break" the shape of the foot and make "bones" invisible. Open from flip flops to women with exposed joints on the legs should be abandoned.

Ladies with wide feet, as well as women with big size feet, you should look for sandals with heels or platform. Although fascination with a wide platform without a pronounced rise to the heel can lead to the opposite effect, visually making the foot wider. It is better to abandon shoes with square shape of the toe part, opting for a sandal with a triangular noses.

Some women are worried much, as it seems, ugly or irregular shape of their toes. If you enter one of them and did not want to put their fingers on the display, select summer slingbacks with semi-open toe, which will be visible only to the ends of the big and index toes. You can also pay attention to light openwork ballet flats, and summer shoes with open heel and closed toe
Advice 2: Can I wear sandals with stockings
There are many requirements that dictate us what tights to choose shoes in a particular situation. But the traditional rule to wear sandals without stockings seem out of date when fashion shows the designers boldly combine the finest leather straps with a dense opaque nylon.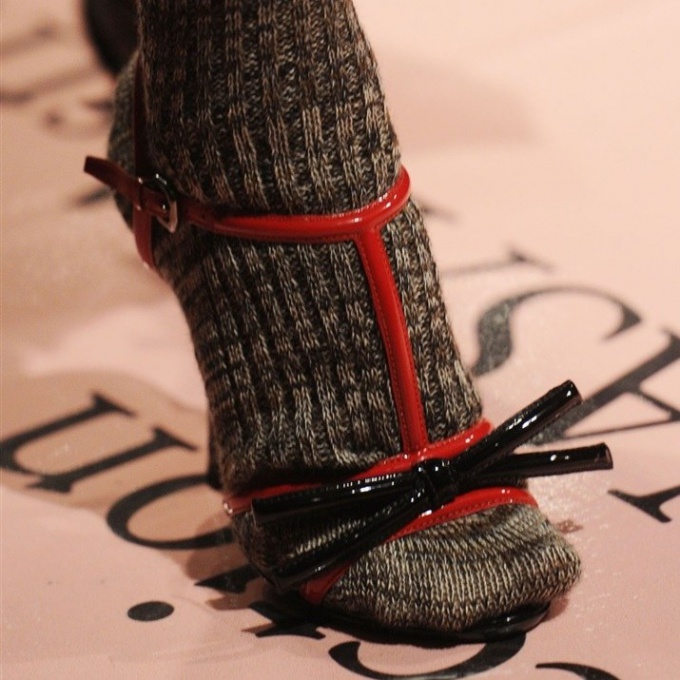 Sandals and pantyhose: classic approach

The name of this open Shoe formed from the phrase "bare feet" so from the outset it is emphasized that neither socks, nor socks, nor stockings in conjunction with her to put on. This rule is rigidly enforced by the women of the last century, which were used exclusively as sandals summer shoes during the holidays. This is understandable – ugly low-quality tights produced in the USSR, looked unsightly. Socks stocking was not knitted, but only jotted, and the nylon is not always a tight fit legs. Nowadays, you can find tights for all tastes – without seals mating on the fingers, as close to natural skin color, finest, like a spider web, but still most women don't wear them with sandals. The only exceptions are shoes with open toe is the model allows for both socks as stockings, and without, although many consider the first bad manners.

Stockings and open toe shoes: the modern concept

Fashion recent regularly defies tradition, so, increasingly, we seen it on the presentation of seasonal collections, you can see the combination of incompatible at first glance, accessories, shoes and clothing. Now no one is surprised that bright sandals worn with thick opaque stockings with contrasting or thick dark color, and sometimes even with fantasy and even a slouchy, open-knit tights. Let someone that seems out of place, but if this combination makes the image solid and bright, why not?

Can I wear pantyhose with sandals: comfortable compromise

Why is it that you can not wear sandals with pantyhose? Two main reasons. The first is that in the open areas of legs nylons exposed to the friction of the straps of the skin, which can be formed of unattractive hands. Fortunately, the producers of tights and stockings every year to improve the technology of manufacture of this essential women's item of clothing, so their strength can not be afraid. And the second reason is that even the most transparent nylon stretched onto the toes spoil the impression of the image, will forgive him. In that case, agile manufacturers of pantyhose invented a convenient and practical innovation models, with open fingers, they are toeless or in the French manner sans pointes. So if you are wearing sandals with stockings, let it be the right product made of nylon.
Advice 3: How to choose sandals to dress
Choose sandals for summer is not an easy task. Because you need them to match in color, shape and on the case to rest together. Stylists have developed a number of tips and advice how to choose the sandals under the dress.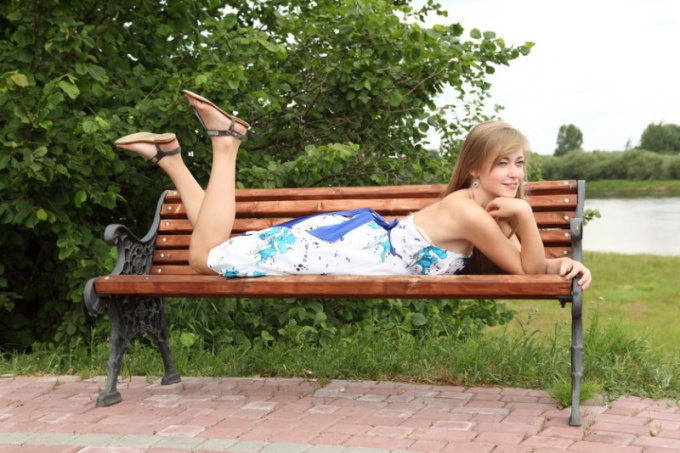 Instruction
Try to find sandals in the color of the dress. Shoes should complement the outfit. Thus, for example,
a white sundress
is best suited either white shoes or pastel tones - pink, light beige, gray, etc. Especially good if the color of the Shoe will overlap the shades to other accessories like bags.
When choosing shoes it is important to consider the length of the dress. If you wear it long, almost to the floor dress, it is best to opt for sandals. Moreover, the designers today offer a huge number of modern and stylish models. Your imagination has no limits - you can choose decorated with sequins, ribbons, feathers, stones sandals, to stay in simple models without unnecessary decoration.
Cocktail dress medium length looks good with sandals on a heel. Moreover, there is a great opportunity to show fashionable in the summer season, the design elements of heels. It is the heel of sandals is today becoming a Central part of the summer image. These embellished sandals can be different. Allowed bands and strings of ribbons, jewelry, shoes, stones, sequins etc. the Only thing to consider is what color of shoes should fit your entire image as a whole.
Sandals with stiletto and choose mostly for evening events, together with evening outfit. They visually make the legs slimmer, and allow you to "add" the growth of low women. However, you should take into account the fact that walking long in these shoes is not necessary - it is fraught with health problems.
The wedge is what makes the sandals very comfortable. Moreover, such shoes is perfect for any clothing - how to air short
dress
to long with a full skirt.
Bright sandals under the dress, you can buy only when feet have nice pedicure and waxing. Bright shoes instantly draws the eye. So everything has to be perfect.
Useful advice
In addition to the fashion trends in the selection of sandals keep in mind their convenience. According to statistics summer women move much more than in the cold season. Therefore, the convenience of footwear option is important. And if you want to wear with a cocktail dress sandals, this would also be appropriate. Just you need to choose a model that will fit the occasion and to your clothes.