You will need
- used electric motor.
- sheet tin;
drilling machine;
- angle grinder;
- emery;
- chisel;
- the file;
- bench vise;
- fastening elements;
- pieces of wood or Board.
Instruction
Pick up used motor of suitable size. Will fit a small engine capacity of 300-800 watts. Disassemble the unit, separating the rotor from the stator. The stator is leave unchanged.
On a drill press make the body of the rotor holes with a diameter of 8-10 mm and a depth of 6-7 mm. Distance between them should be equal to 10-15 mm. Position of individual holes along the axis of the rotor by inclined lines, from top to bottom.
Drilled holes connect the grooves with a minimum width of 5 mm and a depth of 3-4 mm. Do the grooves with angle grinder, pre-securing the rotor in a vise plumbing. In the lower part of the rotor, which subsequently will leave the ground product, the grooves form as thoroughly as possible and gently, making them slightly less depth.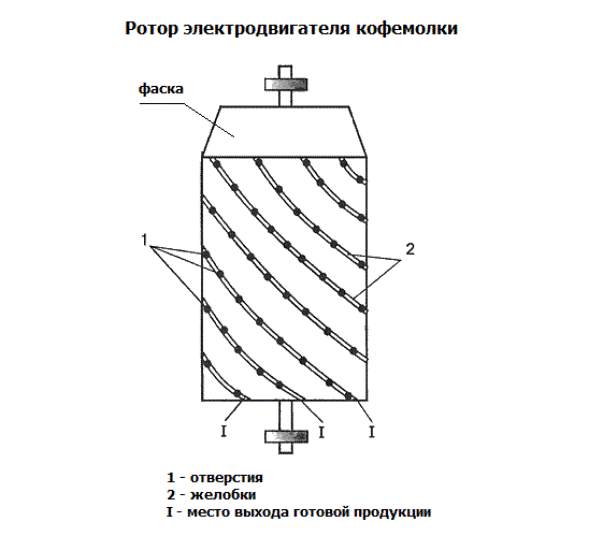 From the top of the rotor using a wheel grinder remove a chamfer with a height of about 15 mm and a depth of 7-8 mm.
Insert the rotor in the stator of the motor. In the upper and lower covers of the stator do with the help of a drill or chisel holes for filling with coffee beans and ground coffee output.
Sheet sheet fabricate the hopper, the size of which will be determined by the dimensions of the motor. Secure the hopper on top of grinder.
On the motor shaft, it's almost become a manual mill, attach the handle to give the rotor rotational motion. The design of the handle can be arbitrary. Attach the handle to the rotor with a pin connection or bolt.
The collected design screw to the Board, in which the pre-hole for the exit of ground coffee. Now the Board can be put between two chairs or stools. Under the grinder, install the upside-down bucket and another small container, which will drop the finished product.
Try the grinder in order to choose the optimal mode of grinding. It is recommended to grind the beans, making 3-5 turns of the crank clockwise and then 2-3 turns in the opposite direction. This helps to prevent clogging of the grooves.
Useful advice
Try to regularly clean the rotor. Coffee beans fill the hopper in small portions, to avoid clogging of the working body of the grinder.