Petersburg is famous for spectacular architecture, because just walking and contemplating the stone "pictures", you can set the desired romantic mood. Pre-learn the history of some buildings and sculptures, for example, how and why were the cats on Malaya Sadovaya street. Slowly walking past interesting houses, put your head high and tell the girl exciting stories, and who knows, maybe one of those moments you are waiting for the first kiss.After the walk go to one of the many cafés located on the Central streets of St. Petersburg — Nevsky prospect and the adjoining streets. The format of the cafe is very diverse, you can order cakes and coffee to pizza with beer, so select the institution in which the girl will feel comfortable. And certainly make her a surprise, for example, order a cappuccino, the surface of which ask them to draw a heart or make a nice inscription.In addition to the usual cafes in
St. Petersburg
there are more interesting places such as cafes on the rooftops, coffee shops in bookstores. The last option will appeal to girls more sophisticated warehouse, which is not only pleasing warm decor and delicious food, but also the discovery of new knowledge through books and lectures. Perhaps your date at the bookstore cafe will not be the most secluded, but your girl will be interested in spending time with you, and this is important.As for sunsets, it is a sight in St. Petersburg is truly exciting. To see how the sun disappears behind the horizon, go to the banks of the Neva, or, if your girl is brave and adventurous natures, climb on the roof somewhere in the center. However, this entertainment is unsafe, so be careful and give preference to equipped observation points.Bridges are another attraction of the city, to enjoy where you do not get tired even by the locals. In St. Petersburg a lot of bridges because you can make your walk a kind of adventure and challenge to find as many bridges. When they reached the legendary Semimetal, count them all and make wishes. And don't forget to bring your camera, because your joyful smile and eyes on the background of St. Petersburg's beauty should remain not only in memory.If your girl is not timid and loves the fun, take her to some bar, of which the city every year more and more. That there is a "Coyote Ugly", where visitors are allowed to organize dances on the bar counter.On the field of Mars in the summer can be placed freely on the cozy grass. Bring some blankets, light food and drinks, a laptop with a romantic movie and enjoy watching it. At the end of this unusual picture show outdoors tell his beloved something important, she will appreciate it.
Advice 2 : Where to go in St. Petersburg with a girl
St.
Petersburg is perhaps the most romantic city in Russia, perfect for meetings and confessions. Original cafes, restaurants, Hiking, views of the city from the river is only a small part of the real date.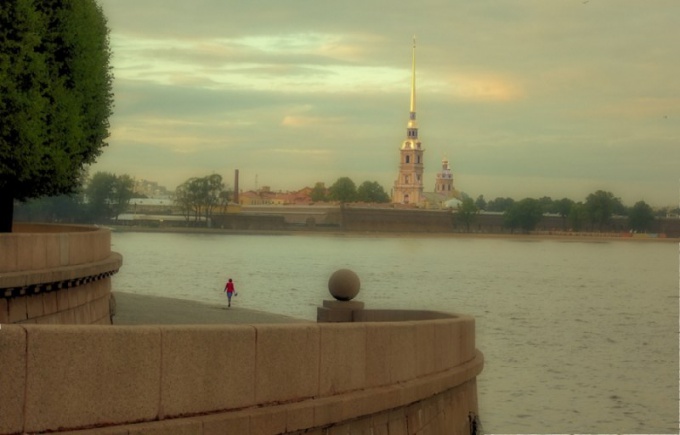 Instruction
The best option for Dating in any city in the world where the potential bad weather, is a cozy cafe. Before selecting the institution where you are going to invite a girl, you need to know her tastes. The largest selection of institutions is, on Nevsky prospect, there are dozens of Italian, Japanese and Mexican restaurants. If you want to impress a girl reduced her to an unusual place, think about the restaurant Dans Le Noir. Here you can experience incredible new sensations after dinner in complete darkness. If this option is too extreme for you, you can go to one of the many art-cafe Petersburg. Very atmospheric and interesting place can be called the art-cafe "Sunduk" or a "traveling Bag for a pregnant spy". The only thing to consider, a network of institutions are usually much cheaper than more restaurants and cafes.
If you are fans of active entertainment, visit a water Park. There you can swim in the pools, ride steep hills, relax in the Jacuzzi or visit the Spa. This, incidentally, is a great way to see the girl without makeup and in a swimsuit. Of course, you can just walk around the city, good architecture Peter and his bridges quickly set up a romantic mood. River walk by boat or tram – way to see Saint Petersburg from a different point of view. In the heat of this trip will be refreshing, but in other weather needs to warm up.
Fans of art and knowledge is likely to find interesting exhibitions, tours and museums. We are not talking about the jewel of St. Petersburg's Hermitage Museum, the city has many other notable places. The project "Floors" provides visitors the opportunity to see the most interesting examples of modern art, wax Museum – take pictures with the "celebrities", the Museum of circus art lovers of the circus. Thing is that your tastes coincide, to go for a girl quite uninteresting for the Museum is almost guaranteed to start an argument. Better to find a compromise.
Well, if your girl is a fan of the movie, the most obvious option of Dating is to go to the cinema. It is desirable, however, to know in advance what movies you prefer your fiancee and your movie night will be unforgettable.