You will need
hydrogen peroxide;
- bleach;
- potassium permanganate;
- alcohol;
ammonia solution 10%;
- white alcohol;
detergent Vanish;
- olive or sunflower oil;
- a means for washing dishes;
- ascorbic acid;
- vinegar.
Instruction
Hydrogen peroxide is perfectly removes stains from the green stuff, but only on white fabrics. For color, choose a different way or make a weak solution of bleach, wipe the contamination several times. The white cloth you can clean away stains and using bleach. If the material is cotton, try get the stain with a weak solution of potassium permanganate or moisten a cotton pad with alcohol and wipe dry spot.
Deduce the spots of green stuff and using ammonia solution 10%. For this purpose a piece of cotton dip it into the solution, squeeze lightly and wipe the stain. Leave for a few minutes, and then wash the thing in warm water with the powder. This way you can get the stain out using water, diluted white spirit.
Known for its properties to clear different pollution detergent Vanish. It is effective in the fight against green spots. However, once Vanish Zelenka will not bring – you will need to repeat the procedure several times.
The old stain from the green stuff to bring more difficult, but try to do it still stands. Pour on a little olive or sunflower oil and leave the clothes for three to four hours. After you treat the spot with any detergent (e.g., detergent) and wash after 10-12 hours of product.
Today the range of stain removers is quite wide. Ask the shop tool that can take the spot of green fodder, and treat them the fabric according to the instructions. If the stain is fresh, try to get rid of it thoroughly wash clothes. Avoid aggressive cleaning products are used for processing clothes and glossy surfaces, not to damage them more. Before washing you can hold the fabric in a solution of ascorbic acid.
Take a little vinegar 7% and apply on the top spot, tucked under the waterproof cloth or plain paper. The vinegar should dissolve the brilliant green completely. And only after that wash the product. If the stain has formed on the floor, furniture, or plastic, then print it with any product containing alcohol (vodka, Cologne or alcohol). For 10 minutes apply on the stain and then soaked in alcohol hard sponge treat it again.
Advice 2 : How to remove spots of green fodder
Zelenka is a popular antiseptic. However, when using it often accidental stains on clothing and surrounding objects. To remove spots of green fodder, use one of the following methods, and you will effortlessly be return love original appearance.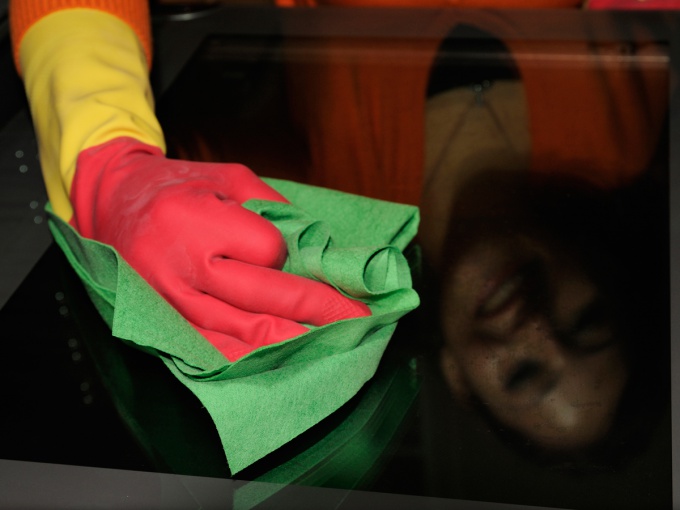 Instruction
To remove spots of green stuff on the fabric, use one of the stain removers available in the free market. These synthetic products have a wide range of actions and help you in combat most of the problem spots. On the package of any stain remover you will find detailed instructions on how to use it.
Smooth, flat surface (linoleum, leather wipe with a cotton swab dipped in alcohol, acetone or liquid varnish remover. To clear spots of green stuff on polished furniture will help ordinary pencil eraser. Before to use it with a cloth to remove the surface excess fluids.
If green paint stained carpet, upholstered furniture, apply on the stain a solution of 10% ammonia. This method is suitable for the removal of brilliant green with wooden panels.
Clothes made from cotton fabrics soak in a weak solution of potassium permanganate. For some tissue spots of green fodder can be removed by repeated washings with a conventional detergent.
Put on the spot in baking soda and pour a weak solution of vinegar. What happened a chemical reaction to make a spot of green stuff to disappear.
Dilute a small amount of starch with water, apply the resulting paste to the stain and leave for a couple of hours. Then wash it as usual.
Note
Do not use soda and vinegar for fabrics with pattern.
When working with acetone, use rubber gloves to protect your hands.
Useful advice
The sooner you start to remove spots of green fodder, the faster and more effectively cope with them. Old stain to bring more difficult.
Advice 3 : How to get the green paint from clothes
No one is immune from stains on clothes. One wrong move, and insidious stain on your favorite dress or pants. What to do, how to get this stain out, especially if it's from the green stuff?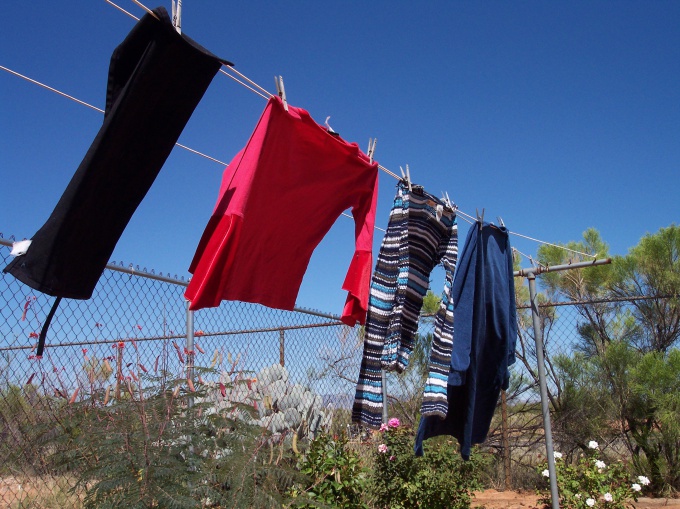 You will need
Hydrogen peroxide, acetone, 10% ammonia, bleach, washing powder, hot water, washing machine.
Instruction
If you have just spilled the green paint on the clothes and the stain is fresh, take a few drops of hydrogen peroxide and pokupaite on the spot. Wait a few minutes until the disappearance of pollution, then wash the clothes in hot water with detergent.If the fabric is rough – for example, denim, try wiping the stain with a sponge or cotton soaked in undiluted acetone. Then the thing should be thoroughly washed.
The spots of green stuff on coloured delicate fabrics well displayed with the help of modern stain remover: Vanish Oxi Action. Pour a capful of this tool on the green, leave it for half an hour, then wash the thing when the temperature 60Сº with the addition of the same medium.
Copes with spots of green fodder and regular bleach Russian production, but there is one "but": first, they spoil the structure of the tissue, making it thinner, and secondly, together with the green fodder they can eat and the main color of clothing. Besides, the white color things can become yellowish.
Therefore, it is better to use bleach on the white things.
You can try the 10% solution of ammonia: pour it on the stain, wait five minutes, then carefully wash the clothes.
In the case of long-standing spots of green stuff on light fabrics use bleach "5 plus Bio – Active" - water stain on top and sprinkle with a little bleach, leave the thing for 10 minutes, then wash it in hot water with detergent.
For denim there is a bleach of the same series: "Bio-Aktiv", which also copes with a variety of stains, including, and with spots of green fodder. It is possible that the stain is not removed immediately after one washing, after the first cleaning, it may be a little pale, and in the subsequent washing will disappear altogether.
If you have tried all possible remedies, and nothing helped in the fight against the stain of green fodder, remains a radical method of getting rid of it: using special dyes paint the thing green. In some cases, this is a good way of solving a seemingly unsolvable situation.
Note
Acetone and alcohol can ruin the color of some colored fabrics, e.g., fabrics of acetate silk. And bleach can be used only for the treatment of white things.
Useful advice
After cleaning any vehicle on the clothes did not appear stains or the so-called ghosting, the tissue around the spots to moisten or sprinkle starch.
Advice 4 : How to wash off stains of green fodder
Not always
spot
from
the green stuff
you can wash with regular soap, so this type of pollution is considered to be stubborn. If multiple washing is not dealt with a stain, try to fix it using traditional methods.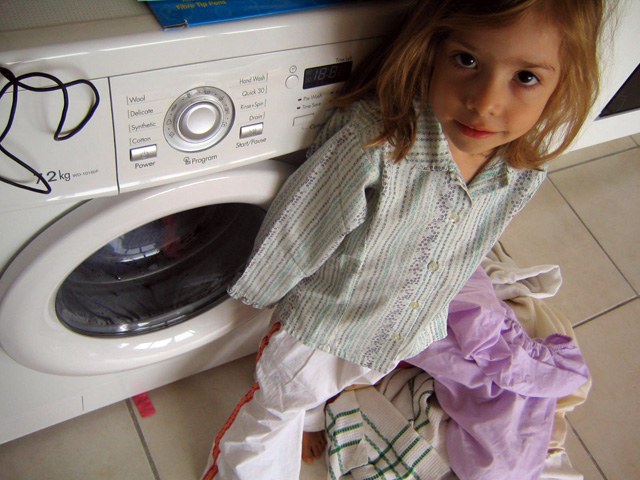 You will need
- washing powder
- stain remover
hydrogen peroxide
- rubbing alcohol
- ammonia
- starch
- cotton pads
Instruction
To begin wash soiled thing with applying stain remover without chlorine. But before that, carefully read the information that is usually written on the label of any clothing: the use of stain remover is highly undesirable. Special cautions if not, pour a small amount onto a dry spot, wait as much time as directed, then wash the thing in the usual way, add a little of the stain remover in the washing machine.
If you wash the green spot failed, help 3% hydrogen peroxide. To do this, or use it moistened with a cotton pad or pour a little peroxide on the stain. If the stain is fresh, it will disappear after a few seconds. After that wash the product in the usual way.
To get rid of the stain with rubbing alcohol. But remember that acetate fabrics it can not be used, as it can damage the color of fabric. Soak in it a cotton swab, and carefully buff the dirty place. Perhaps, to eliminate the green stuff from the clothing will take several swabs. After this procedure, don't forget to wash soiled thing.
On the same analogy it is possible to use ammonia. Take 1 Cup of water and dissolve in it half a teaspoon of ammonia. Then try to RUB the stain moistened with a cotton pad, and then send the thing in the wash.
Wet the stain with water and liberally sprinkle it with starch. Then brush off the starch and repeat the procedure again until then, until all residue will begin to disappear. Then wash the product by adding to the powder a small amount of stain remover. To wash the stain of green fodder will be much easier if it is fresh. If it is "painted" on clothing for several hours or days, it would require the repetition of any of these methods.