You will need
- wooden barrel;
- wooden stick;
- lime;
- ash;
water;
- caustic soda (sodium hydroxide);
- goat's milk;
- formic acid/acetic;
- hydrogen peroxide;
- iodine.
Instruction
To prepare the alkaline solution, it is necessary to extinguish 1 kg of lime. Then take 6 kg of ash, put in a barrel and mix gently with spiegasti lime. In a barrel with lime and ash need to add 10 liters of cold water and again mix well. In covered the barrel of the mortar should be 24 hours, during this time, it is necessary to mix thoroughly 3-4 times. Please note that the barrel must be made of wood. To use for disinfection can only defend the upper layer of the alkaline solution.
You can prepare a lye of caustic soda, but it will be more toxic than the one made of ash. For the disinfection of frequently used technical sodium hydroxide (caustic soda). To prepare 2% disinfectant solution, take 2 parts of sodium hydroxide to 98 parts of water. For the 10% solution you need to take 10 parts of sodium hydroxide and dissolve them in 90 parts of water. To defend the need for at least two days.
To decontaminate honeycomb, it is better to use an alkaline solution prepared by using goat milk. Need to pre-freeze the milk. Then add frozen milk lye from consumption of 1 to 1. Depending on why you are treatment to prevent or fight a specific disease, there are different types of disinfection SOT. For example, when dealing with the American grilcom honeycomb irrigate with a solution of 2% hydrogen peroxide and 1% of formic acid, which can also be replaced by acetate, and then treated with 5% solution odnoklavishnogo of iodine, kept for 24 hours and washed with water.
If you want to disinfect work tools or Sotogrande, Zimovniki, beekeeping houses, better suited soap-soda alkaline solution. For its preparation take 2% soda ash and mix it with a soap solution temperature of at least 300C. Once you have added in soap solution soda ash, you should mix everything with a wooden stick. For preparation of soap solutionrequired to obtain septic alkali, you need to take 1 bucket of water and dissolving it in 1.5 ml of soap (liquid) and 200 grams of household (pieces) of soap. Please note: soap used in the preparation of the soap solutionshould not have any fragrances.
Advice 2 : How to prepare aqueous solution of propolis
Propolis is a gummy substance produced by honey bees. It can be considered a gift of nature, as it helps in fighting many diseases. Propolis contains amino acids, vitamins, calcium, magnesium, zinc, selenium, iron and other trace elements. For internal use aqueous solution of propolis, cook that is not difficult.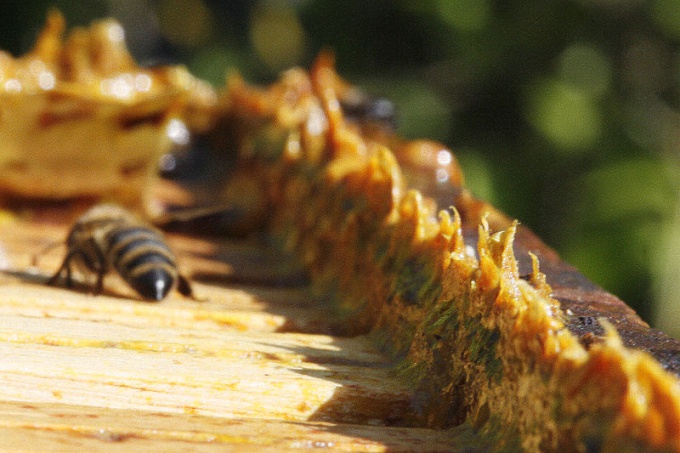 You will need
10 (50) grams of propolis;

100 milliliters of water.
Instruction
Before preparation of the solutionand the propolis, put in the freezer refrigerator. After a while it becomes brittle, and it can easily be rubbed on a grater.
The first method of preparing an aqueous solutionand propolis. Boil water, pour into a thermos. Add 10 grams of crushed propolis, then close the cover. A day of water solution of propolis is ready for use.
There is another method for preparing an aqueous solutionand propolis. 10 grams of crushed propolis pour in a Cup of warm water. Heat the mixture on a water bath to 80 degrees (not higher), stirring constantly. At the same temperature the solution is hold for 15-20 minutes, stirring on a water bath. The received mix to filter and pour in a container of dark or opaque glass, store solution in the refrigerator. Such a water solution can be stored for a week.
There is another method of preparing the solutionand it can be stored in the refrigerator for 2.5-3 months without adding any preservatives. For its preparation take 50 grams of crushed propolis, pour it with warm water and simmer under the lid on the water bath for one hour, stirring occasionally. Thereafter, the mixture, strain and pour in a jar of dark glass.
Water solution of propolisprepared with the above methods, has a brown color and a pleasant smell. It can give the residue, so it before use to stir.
The aqueous solution can be prepared from the residues of propolisthat remain after preparing an alcohol solution. These residues cover with water in a ratio of 1:2. Heat in a water bath to 80 degrees, constantly stir for 10 minutes. Then filter and pour in a jar of dark glass. Such a water solution of propolis is a yellowish-brown color and a pleasant smell. You can keep it in the refrigerator for 2 - 3 months, after this period, the bactericidal effectiveness of the solutionand is lost.
Advice 3 : How to prepare a solution for soap bubbles
Let flying through the air, shimmering soap bubbles – a favorite pastime of children. The day a child could easily use the whole bottle. A late evening run to the supermarket for a new one, it is convenient to be able to prepare a solution for soap bubbles at home.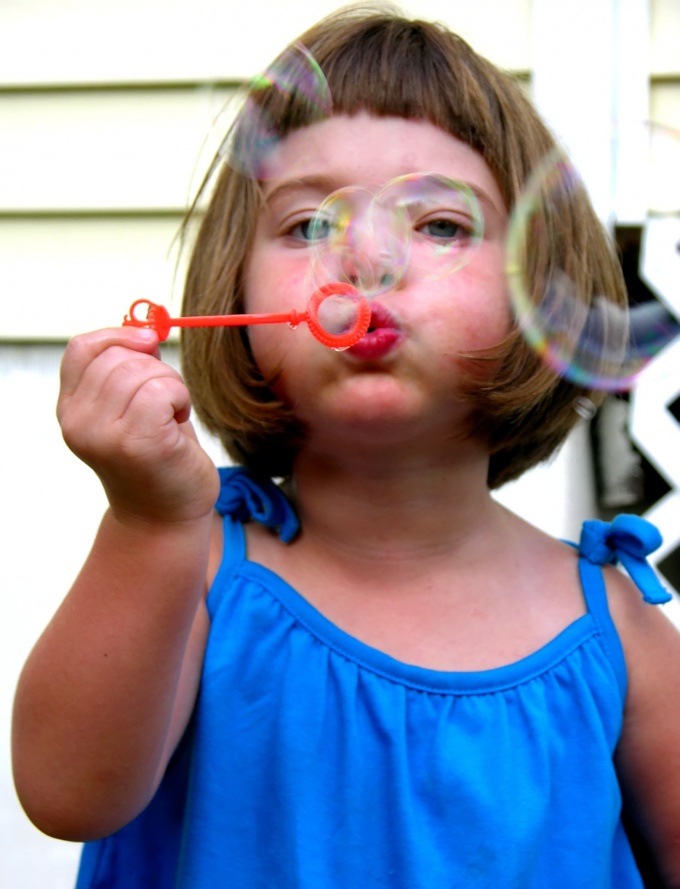 You will need
- dishwashing detergent (liquid and powder)
shower gel
- Laundry soap
- glycerin
- sugar
- ammonia
- water.
Instruction
Often children and trying to make a solution for soap bubbles themselves, harassing the bottles of shampoos and Soaps. Bubbles from a fluid to inflate and burst badly, failing to reach the ground. In order to create a real solution for soap bubbles, you must know some little tricks.
The easiest way is as follows. Take 200 grams of dishwashing detergent (do not use a tool that is poured in the dishwasher), add 600 ml cold water and 100 grams of glycerin. Due to the content of glycerol in the solutione of the wall of the soap bubbles are strong, and the bubble, respectively, long-lived.
Take 600 ml of hot water, add to it 300 grams of glycerin, 20 drops of ammonia and stir into the liquid 50 grams of any powdered dishwashing detergent. The resulting mixture should be mixed thoroughly and leave to steep for two to three days. Over time, strain the liquid and place in fridge for 12 hours. Your solution for blowing soap bubbles ready.
Take a piece of soap and grate it on a grater. Received soap flakes (you should get about four tablespoons) add about 400 ml of water and the solutioniteration over a slow fire. In the resulting mass add 200 grams of glycerol and 2 teaspoons of sugar. Wait until the sugar is completely the solutionwill be carried out in the liquid, and then mix. Your solution ready.
If your home is a shower gel that you do not intend to use, you can use it to prepare the solutionand to blow soap bubbles. Take the gel and dilute it with water in equal proportions. To the resulting solutionat add one to two teaspoons of sugar. So the bubbles came out more durable, can add glycerin. Would make a great liquid for soap bubbles.
Advice 4 : How to cook salmon ROE
Very healthy dish – salmon milt, which is a testes of fish. However, not everyone knows how to cook salmon milt, whereas in practice it requires no special skills and prolonged time, so the forces of any owner.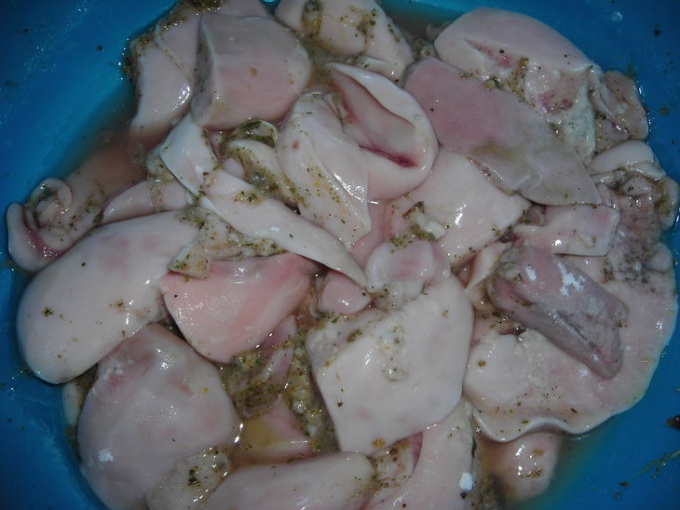 You will need
eggs 2 pieces,
mineral water 30 grams
flour,
vegetable oil,
salt,
spices
the soy sauce.
Instruction
Milk before cooking should be thawed and rinsed. The size of the milk depends on how big was the fish from which they were removed, so if they seem too large, cut them into portions. To improve the taste of the pre-ROE marinate in mixture of soy sauce, black pepper and dried herbs 1.5-2 hours.
Then prepare the batter for which you whisk the eggs with mineral water. You can use regular water, but on the basis of the aerated batter is more delicate. Whisk it until smooth with a mixer or a regular fork, then add salt and flour. The amount of flour should be such that the consistency of the batter was reminiscent of thick cream. If it is too liquid, it will flow with milk before roasting, not forming a crust. Overly thick batter does not spread, but ready he has a very dry taste.
Before how to cook salmon ROE, put on the fire pan, pour vegetable oil and heat it to high temperatures. Each milk dip it in the batter and place in hot oil. If the pan is hot enough, the batter will simply melt. Fry over high heat on one side, turn over ROE to the other side. Then reduce the heat and cook the dish for 10-15 minutes until tender.
Note
Dishes made from salmon ROE is useful because of its content. They practically do not have in their composition of carbs, while are in their fatty acids essential for healthy functioning of the body. Data omega – 3 acids have a beneficial effect on the cardiovascular system and profilaktirujut the occurrence of heart attacks, strokes and atherosclerosis. However, for all its usefulness, milt considered to be highly allergenic, so children up to three years to give them is not worth it.
Advice 5 : How to prepare a solution for nebulizer
Effective treatment of bronchopulmonary diseases is inhalation therapy. The procedure is carried out with a nebulizer, much more effective than traditional steam inhalation over a pot.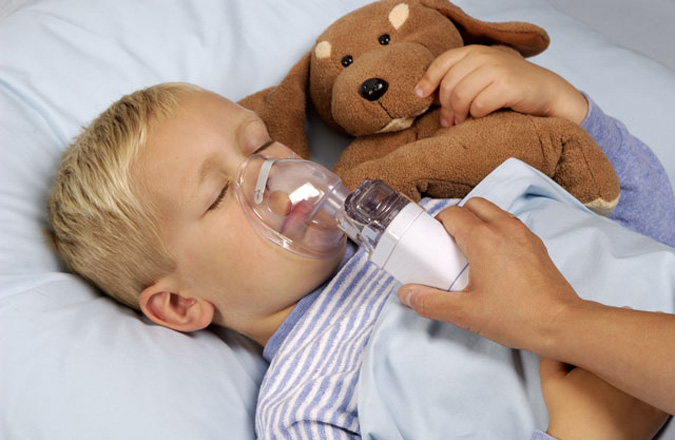 Instruction
In cases involving a violation othozdenia patients, use mucolytic agent. The most popular and effective drugs on the basis of Ambroxol ("Ambrobene", "Mucosolvan") and acetylcysteine ("NAC", "Fluimucil").. Dilute the drug solution for injection or inhaled) saline solution in a ratio of 1:1.
A single dosage of Ambroxol:
- children up to 2 years - 1 ml;

- children 2-6 years - 2 ml;

- children over 6 years and adults - 3 ml.
A single dose of acetylcysteine:

- children 2-6 years - 1 ml;

- children 6-12 years - 2 ml;

- children over 12 years and adults - 3 ml.
Carry out the procedure 1-2 times a day.
In inflammatory diseases of the respiratory system prepare a mixture of herbal remedies. If you use "Rotokan", mix 1 ml with 40 ml of saline. Tincture of propolis or eucalyptus add to the physiological solution in the ratio of 1:20. Use for inhalation with a nebulizer 3 ml of the prepared solution three times a day.
If you are assigned to antimicrobial or antibacterial drugs, prepare them in the following manner:
- 1% solution Dioksidina for injection dilute with saline at a ratio of 1:4 (Dioxidine 0.5 percent - in the ratio 1:2);

- 1 ml of alcoholic extract of chlorophyllipt mix with 10 ml of saline solution;

- 1 tablet furatsilina dissolve in 100 ml of normal saline.
In cases of emergency, for example, in croup, bronchospasm or laryngeal edema, mix 0.5 ml of EPI (children under 2 years of age - 0.25 ml) with 3 ml of saline. Carry out the procedure only once and only with the permission of doctor, as this tool has many side effects and contraindications.
Note
When cooking liquid for nebulizer can not use any solvents, except the physiological solution.

If after treatment in inhaler medication do not use it again next time.
Advice 6 : How to make mortar for bricklaying
Brick is a versatile and most popular construction material. He is known to mankind since time immemorial. But that brick building delighted its strength, durability and insulating qualities, the required quality
mortar
for
masonry
. Properly prepared
mortar
for
laying
brick
is durable and elastic, since it needs to withstand not only compression and displacement, but also on the gap. Knowing certain rules, to make it easy.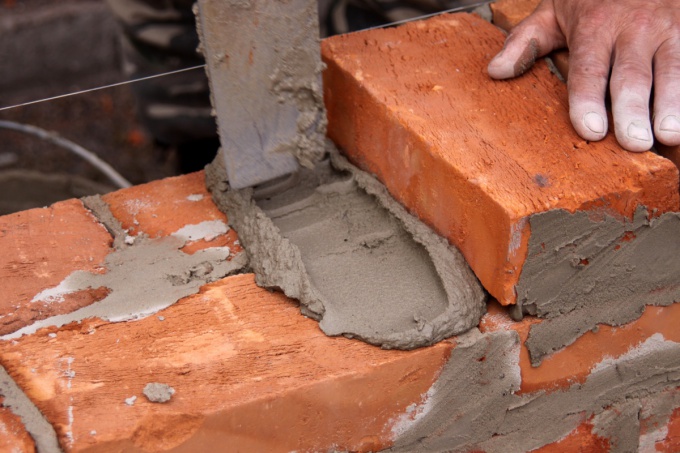 You will need
- cement;
- sand;
- slaked lime;
- water.
Instruction
Cook required for the solutionand components: cement, hydrated lime, sand and water. Cement is the binding link solution. Lime gives mortarthe fluidity, elasticity and allows it to fill all the holes and cavities of masonry. The sand in the mortar is added as a filler for volume, as well as to avoid heavy rainfall. It is best to solutiona suitable fine mortar sand, but you can use white.
Mix dry ingredients solution. The universal solution consists of 1 part cement, 4-6 parts sand and 1 part lime. Before you add water, dry ingredients of the mortarand should be carefully move between them. For plasticity the solutionand in him, instead of lime, you can add clay or some washing powder.
If necessary, use ready mix. If you have to put a brick in cold weather, use a mixture with a plasticizer. He creates a solutione tiny bubbles that reduce the risk of cracking mortarand solidification in the cold. The ready mixture can not add sand all the components there are already mixed in the right proportions. The way the mixture is more convenient, but also more expensive.
Mix the dry mixture with water. In just a few hours ready solution becomes unusable, so it needs to do as much as you can spend 1.5-2 hours. Take the required amount of dry mix and add pure tap water. Stir the mixture with a shovel, chopping movements on a sheet of plywood or wide shallow container. Water is better to add gradually until the mixture will not become like melted butter – the solution should be easy to slide a shovel and keep the form if make a hole. If the water in the mixture too much – secure the solution a dry mixture, and dry the solution is dilute with water. It is necessary that the masonry is well seized. If in the process, the solution began to dry out – add water and thoroughly mix it.
Useful advice
Versatile solution can be used to work in those cases where the future building will not be affected by strong winds and heavy rains. In unfavorable natural conditions requires a solution with a high content of cement.
Using ready mix, adding sand and water, follow the manufacturer's instructions.
Advice 7 : How to make isotonic solution
If the human body to enter a large amount of hypertonic
solution
, due to the significant difference in the values of osmotic pressure on opposite sides of the cell membranes of cells will dehydrate. In the case of introducing a large amount of hypotonic
solution
the opposite will happen: the cells begin to swell and can rupture. Therefore, injected into the body isotonic solution, an osmotic pressure equal to osmotic pressure of blood, lymph and intercellular juice. How to prepare an isotonic solution?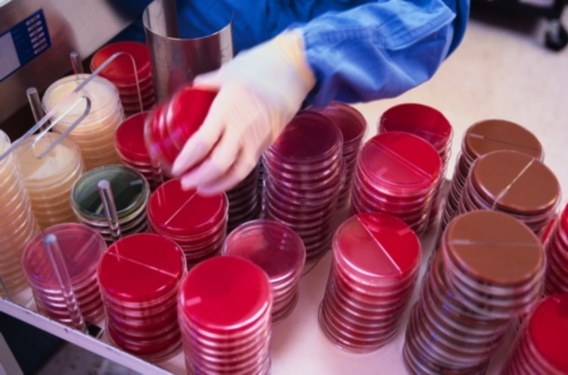 Instruction
For example, to you the task: to prepare an isotonic solution of glucose. This substance is very often used for intravenous injection. Start with, let's recall the formula of glucose: is c6h12o6. Using it, calculate it molecular weight: 180. Therefore, the molar mass of glucose must be equal to 180 g/mol. Also remember that glucose is not an electrolyte.
Next you will help the rule you want to remember. Upon dissolution of 1 mol of any nonelectrolyte in 22.4 liters of a liquid having a temperature of 0 degrees, there is a pressure equal to 1 ATM. Accordingly, as is easy to understand, to create pressure equal to 7.4 ATM, the volume of liquid in which is dissolved 1 mol of a nonelectrolyte, must also be at 7.4 times less. That is to 22.4/7.4 V = 3,03 liters (or approximately 3 liters).
Be aware that these calculations are valid for temperatures equal to 0. Because the human body temperature normally is around 36,6–36,7 degrees, should be amended. Let the temperature of the person (to ease calculations) will be accepted as 37 degrees, then take the solute on a share 37/273 less (approximately by 13.55% less, given that 273 degrees Kelvin correspond to 0 degrees Celsius). In other words, it is necessary to take 0,8645 of the estimated amount of the substance.
So long as you need mol of any nonelectrolyte, to get 1 liter of isotonic solution with the above amendments? Calculate: 1*0,8645/3,03 = 0,2853. Rounded accept this value for a is 0.29.
So, how much glucose you need to prepare 1 liter of isotonic solution? Perform elementary calculations: 0,29* 180 = 52.2 grams. Or, if you consider to use the concept of mass fraction, the concentration of glucose will be of 5.22%.
Useful advice
The increased osmotic pressure under normal conditions is equal to 7.4 ATM.
Advice 8 : How to prepare a solution of specified concentration
Concentration is the value which characterizes the quantitative composition of the solution. According to the rules of IUPAC solute concentration is the ratio of the mass of the dissolved substance, or its quantity to the volume of the solution (g/l, mol/g), i.e. the ratio of the inhomogeneous quantities. Sometimes it is necessary to prepare a solution of specified concentration. How to do it?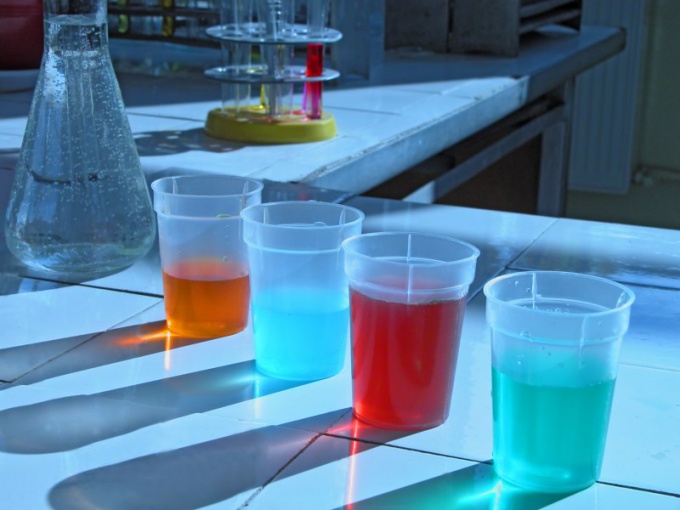 Instruction
If there are two solution, one concentration and the other with percent, to prepare V ml of a solution of a given concentration of b (provided that b is less and no more), take x milliliters of a percent solution and (V – x) ml with a percent solution. Given that a>b>c, write down the equation, from which we find x: ax+s•(V – x)= bV, then x = V•(b-c)/(a-c).
If you take with for 0, the previous equation takes the form x = V•b/a, ml. making the appropriate substitutions and solve this equation. So you get the proportions in which you need to take the original solutions, for the preparation of a solution of a given concentration.
For dilution of concentrated solutions use the rule of mixing. For example, for the preparation of the b percentage of the solution take two of the solution with the concentrations of a and C per cent, provided that a>b
Record the condition and the result. First, write the concentration of the prepared solution (b) and diagonally upward to the right of this value, write one of the answers that refers to a% of the solution obtained by difference between the specified concentrations (b-C), and from above downward to the right, record the second response (a-b) related to the% solution. Get the answers you need to record in the appropriate solutions, i.e., opposite to x and y.
For clarity, to get from 30% (x – R-R with conc. and%) and 15% (p-p y with conc. with%) a solution of 20%(b), follow the steps described above: 20-15=5 and 30-20=10. Thus, for preparing 20% solution mix 5 parts of 30% R-RA and 10 parts of 15% R-RA. The result is 15 parts 20% R-RA.
Advice 9 : How to make alkaline water
Alkaline water (popularly referred to as the "water of life") - very soft, light liquid with an alkaline taste. It has immunostimulating, antioxidant properties, normalizes metabolic processes in the body, regenerates tissues and improves circulation in them. Actively uses alkaline water at reduced pressure, lack of appetite, allergies. It is well heals wounds and burns.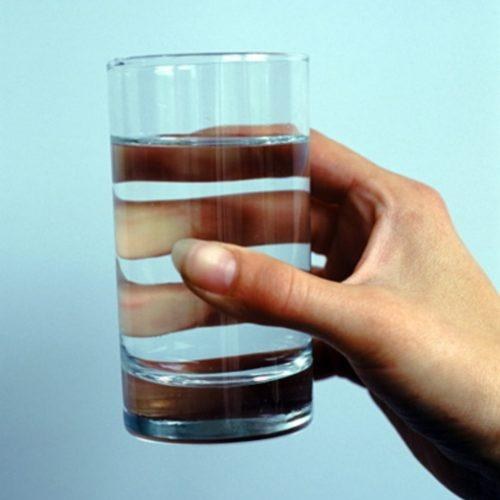 You will need
- pure water;
- snow;
- ash;
- shells from raw eggs.
Instruction
The most versatile and optimum for the treatment is considered to be the melt water. To obtain go outside and gather snow in the basin. Take the capacity to the house where after the melt formed by the fluid. However, this method is more suitable for people living in the villages.
In the contaminated soot and gasoline snow is good nothing will come of it. Therefore, melt water is prepared in a different way. Pour in a pot of clean water and place in freezer. Keep it in the fridge until then, until it formed a thin ice plate. Discard and drain the water and continue to freeze.
During freezing of the liquid impurities are collected in one place and easy to see. Therefore, when the water is separated into pure ice and a cloudy solution containing concentrated salts, the latter must be drained. The remaining ice - pure melt water, its structure is very similar to the one that is in the human body. Properties of melt water after thawing persist for 10-12 hours, so treatments can be done for the day.
For the preparation of alkaline water there is another way. We are talking about water infused with the ashes. To do this, pour the ashes into a linen bag and lightly rinse with cold water. Will insist on clean water for the remaining ash, after which strain it and dilute to a nice taste. The ash water is actively used for washing wounds, when sweating, animal bites and illnesses of the nervous system. The solution is useful to treat hair to maintain their beauty and health. Especially useful ash birch.
In the villages often use another type of alkaline liquid - lime water. To obtain thoroughly wash and crush the shell from a raw egg. Fill it with water and insist day. This water popular recipes drink women during pregnancy if there is insufficient calcium in your body, which are the building material for bones child. Lime water well watered plants. To stand such a solution long can. If you store it in the fridge, then the lifetime of the water can be extended to 2-3 days.