You need to learn how to pick the right clothes. Know what to hide and what to show. Special attention should be paid to underwear. There are now a wide selection of spanx that will immediately make the visual correction of your figure. As for the tights, choose a dark matte color, but never take mother-of-pearl or glitter, they look really thicken legs.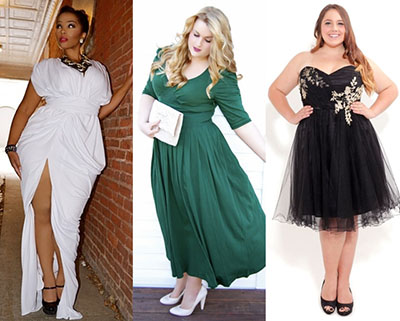 First and foremost, pay attention to the color of the fabric, it is better to choose monochrome models. Try with care to match the dresses with big colors and big patterns. Looks very good strip, but only vertical, it visually makes you slimmer. You can also combine two colors in one product, but sure it should be a dark and light shade. Do not take bodycon dresses, they hide their weaknesses is simply impossible. But no need to choose much balkonnye models, as they will make you even more. Looks very good in full female dress under the chest, flared hem, like knee length and floor length.
If you have large hands, choose a dress with three quarter sleeve. Girl with lush Breasts, you are lucky to have something to focus. To be sure you dress with a deep neckline. Believe me, when a man will see your business card, more than that, he doesn't notice. You should pay attention to the accessories. It's all kinds of handkerchiefs, headbands, brooches, necklaces, belts. But this one needs to be careful, do not wear all at once on yourself. The accessory should only accentuate your outfit and not to occupy a commanding position.
And don't you dare give up on yourself, if your figure is full. In the end, it is possible to order a dress for tailoring, where will all customize it according to your body. Everything is possible, it would be only your desire to change your style in a better way to feel feminine. Because dress has always been the standard of femininity.