First recipe: classic fried egg. This delicious scrambled eggs like both adults and children. How to make fried eggs so that the yolks are not blurred? For this much heat the pan, carefully crack the egg in half and the yolk overflow, separate it from the protein. First pour in the pan the protein, and then - very carefully so as not to break the thin shell, the yolk. Cover eggs with a lid and fry 2-3 minutes, until they begin to squarcini.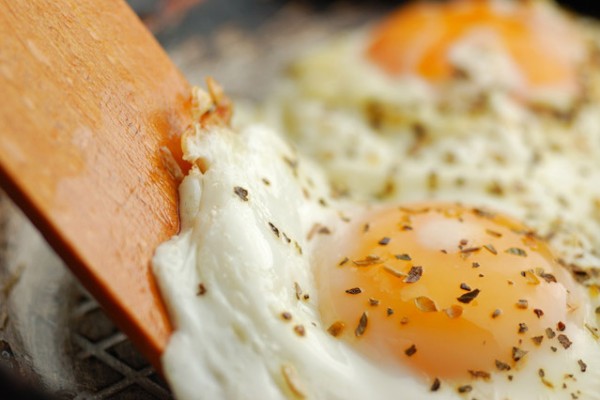 Second recipe: Italian eggs with cheese and tomatoes. Slice one tomato and some greens. Fry the tomato slices and greens with finely chopped onions (1-2 minutes). Add 2 eggs, cook for another minute. Sprinkle grated cheese on the eggs and close the pan with a lid. Cook for another minute until the cheese melts.
Third recipe: scrambled eggs in Russian. Very high calorie dish suitable for those who love a hearty Breakfast. In a pan melt a little fat in it and fry the boiled potatoes until Golden brown. Add eggs, stir and cook for 2-3 minutes. Before serving the dish, decorate with greens.
The fourth recipe: easy fried eggs in Thai with shrimp and chili pepper. Cold boiled shrimp, with the remainder of the evening, morning, not tasty. And if you fry them with eggs to create an original and quite delicious dish. In a pan fry the peeled shrimp (1-2 minute), add soy sauce and chilli and break two eggs. Stir and cook for 1-2 minutes. Before serving you can sprinkle on top a handful of sprouted soy beans, if any.
Fifth recipe: the American scrambled eggs with toast and bacon. This is traditionally eaten for Breakfast, many families in the United States. Thinly sliced strips of bacon fry in a pan for a minute and remove. In the remaining fat break two eggs. Cook eggs for 2-3 minutes. Toast them in the toaster bread. On a plate lay out 2 slices of bacon, a fried egg, ketchup and some French toast.