Chicken kebab in any case can not be pickled with vinegar the meat will become tough and dry. Goes best with chicken sour cream, mayonnaise, mineral water, yogurt, soy sauce, honey, grass. The most delicious kebabs you get if you use a marinade of these ingredients in various combinations.
Option 1: chicken wings with honey, soy sauce and spices.
In the med it is best to marinate the wings. There's not a lot of meat, it quickly becomes impregnated with sauce and tapecase, it becomes incredibly delicious. 2 kg chicken wings need to take 3 tablespoons of honey and 3 tbsp of soy sauce. Stir in a Cup and pour the mixture on the wings. Thoroughly coat wings with sauce. You can add pepper, Basil and other seasonings to taste. Below the chicken is marinated within an hour. Fry the wings better on the grill, 3-5 minutes per side.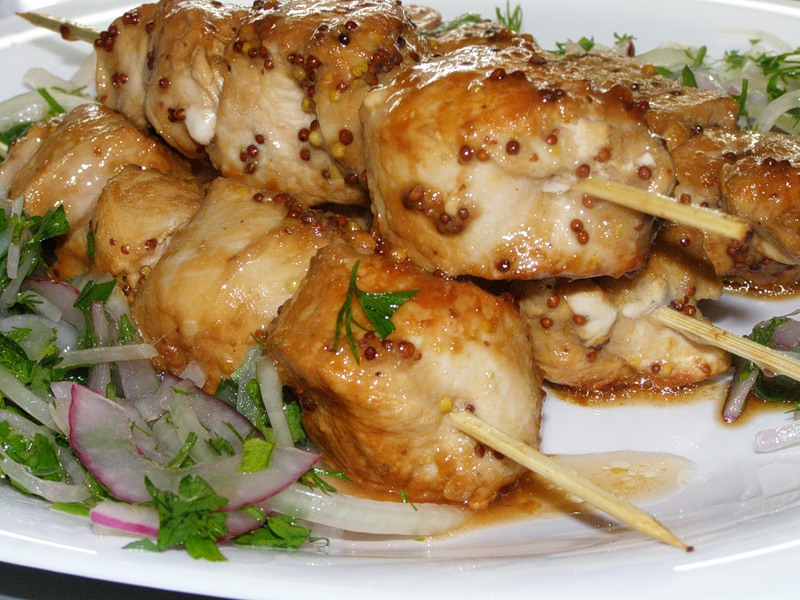 Option 2: chicken kebabs in cream with soy sauce and dill.
Pickling kebab, personally, I never use salt. Because the meat gets tougher. But soy sauce is no such effect. Besides, it gives a very nice flavour and the chicken and pork.
To cook chicken kebabs in sour cream, mix 200 g of milk (instead of sour cream you can use yogurt, yogurt, yogurt) and 3 tbsp of soy sauce. Add chopped dill, parsley, spices to taste. 2 kg chicken legs or Breasts should marinate in this sauce from two to five hours. These skewers can be fried as on skewers and on the grill.
Option 3: chicken kebabs in mayonnaise and ketchup.
I don't really like synthetic sauces, preferring natural products. However, it so happens, for example, in the country that barbecue you want, and the right ingredients for marinade no. Here you will be able to get the ketchup and mayonnaise. Marinated in this mixture, the chicken will be very juicy and tasty. To prepare the skewers, just pour into a bowl with the chopped chicken pieces evenly with mayonnaise and ketchup. Nothing more to add should not be, all spices and salt is in the sauces. Mix. Barbecue is marinated for 2-3 hours, then it can fry.