Denim dress for every day
To create a casual look, fit denim dress in almost any style: slim, sundress, tunic dress. Particularly impressive and original look of the model with large pockets or rope ties. Such dresses look self-sufficient, but they can be combined with bright clothes, such as knit tops, t-shirts and thin sweaters. In cold seasons perfectly complement this set of solid tights and a biker jacket, which in the cold can replace a stylish cropped jacket.
Denim dress goes well with light things, as well as those that have bright prints, because denim is so versatile material that looks great in a set with almost any things.
Denim dresses are perfectly combined with a variety of hats: berets, caps and even elegant wide-brimmed hats. When you create an everyday look don't forget about bags. Suitable three-dimensional model made of suede, leather or fabric, and miniature handbags-postulancy.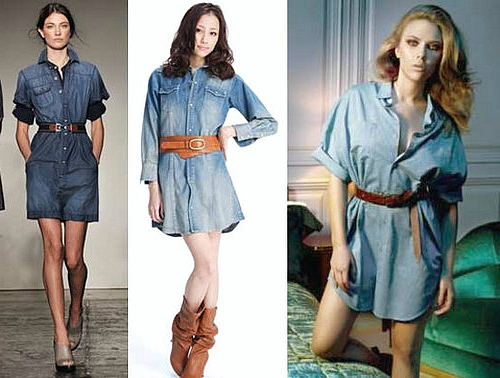 Denim dress for work
Despite its apparent simplicity, the dress of denim fabric is quite suitable as clothing for the office. Of course, the style of this dress should not be too frivolous, because a dress code at work should still be. As office dress will fit strict model with tapered or straight hem. The top of these dresses can have a collar or be stitched like men's shirts. A good option could be a model with shoulder straps and a fitted bodice. Harmoniously complement the image of the cardigan and heels.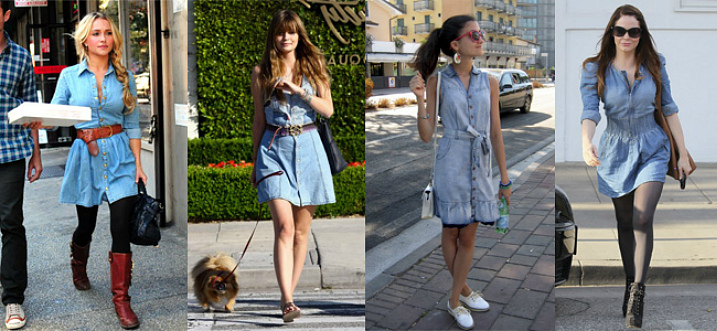 When choosing dresses for the office, it is very important that its color differed from the classic shades of denim, for example, was light gray or black. Such denim dresses look best in the kit with the classic jackets and simple accessories.
Denim dress for the evening
For a party or even the release of suitable dresses from Denia, stitched in the manner of classic cocktail dresses. Of course, in regular stores to find similar models is almost impossible, but they can be made to order.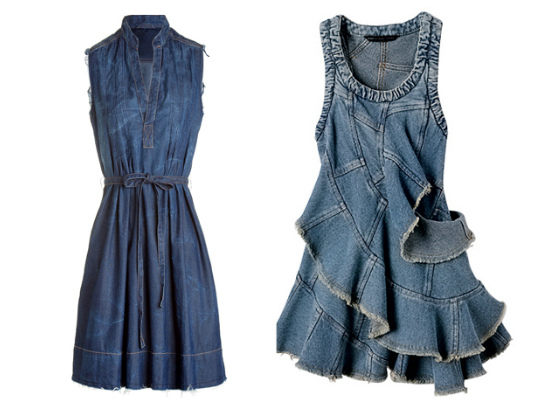 Very elegant and dressy look denim dress with an asymmetrical cut detail, full skirt, models with a rigid bodice, sewed in the manner of a corset. To emphasize the waistline, you can complement the outfit with a wide belt of leather. In General, denim dresses look great together with leather things, such as jacket, coat, bag. To make the image more feminine, to set in formal style, should choose shoes or sandals with heels.