Instruction
Facial mask is one of the most common cosmetic procedures. It is different actions: rejuvenating, nourishing, cleansing, etc. depending on the result you want to achieve, when it is applied, it is necessary to choose time for it.
Some women, trying to save time, make the mask when doing household chores - when cooking, cleaning, etc. In fact, the skin should be completely relaxed to get the best effect, otherwise the result may not be very noticeable. So we should try to provide for themselves for 15-20 minutes a couple of times a week in order to lie.
You should not do mask every day, except for light fruit or vegetable. Also, if you have an Allergy to some product, don't use it as an ingredient for beauty treatments, otherwise, instead of fresh skin, you can get angioedema.
It is believed that the mask should be done according to human biorhythms. According to this theory, the morning you can do any treatments with the skin, closer to lunch - matting, which removes excess oil: clay, protein, etc., in the daytime it is better to refrain from any cosmetic manipulations, and in the evening - a cleansing and nourishing. Of course, this is not a panacea, and it all depends on the individual characteristics of each person.
It is also worth to focus on what is in itself the mask. Many people like to use different oils to nourish the skin - it's better to do tonight, although leaving them on all night, causing instead of cream, you can create a "greenhouse effect", which causes the formation of acne, various inflammations, etc. Better to either use low-fat oil: almond, etc., or to off before bedtime.
In the morning are refreshing invigorating mask that gives the skin a fresh, rested appearance. Perfect mask using cucumber juice, lemon, aloe, you can also make them on the basis of black or green tea. Some people in the morning wipe the skin with ice cubes, adding to the water for freeze herbal decoction of chamomile, succession, etc., as well as juice of fruit or vegetables. However, keep in mind that the ice is not for everyone, and those who have spider veins on the face, is indeed to give up, because it may worsen the condition. Not worth frozen ice to use for the skin around the eyes because it can hurt.
In hot weather it is not necessary to reload the skin extra masks and tools, as this will interfere with her normal breathing, it is better to do thermal water. No need to go out immediately after the procedure, especially in the cold and wind. And cosmetics after the mask should not be used, it is necessary to wait at least half an hour. In connection with these limitations, not everyone has the time in the morning procedure, so the most common use of masks in the evening.
Advice 2 : What face mask useful at night
Night is the best time to restore the skin after a long day of work. Face masks at night face perfectly nourish and enrich the skin with essential trace elements, to soothe inflammation.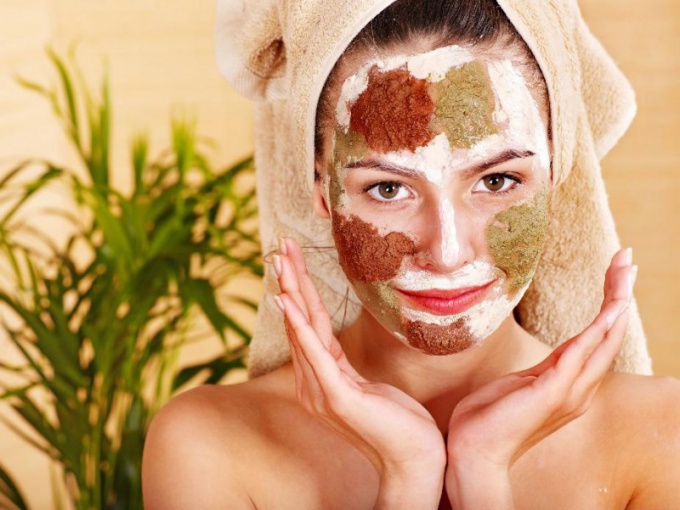 You will need
Yogurt, white clay, lemon juice, honey, banana.
Instruction
Yogurt mask is one of the best options for the night. Her secret of rejuvenation lies in the chemical composition. Retinol helps collagen synthesis in cells and EUMETSAT the aging process of the skin. Thiamine helps relieve inflammation and soothe irritated skin. Riboflavin wrinkles. Folic acid protects against harmful environmental factors. Pyridoxine treats problem skin, acne and blackheads. Vitamin E makes your skin radiant and restores the complexion. To prepare the mask for oily skin take low-fat yogurt. And for dry skin use yogurt with a high content of fat.
The mask of yogurt and green tea prepare: mix a tablespoon pounded green tea with three tablespoons of yogurt, add a teaspoon of flour and olive oil. Apply the mask evenly on face and leave overnight. By morning the skin becomes soft, fresh and wrinkles smoothed. Also at night it is convenient to use a mask of yogurt and cottage cheese. To do this, mix three tablespoons of yogurt with one spoon fat cottage cheese. This is particularly useful mask for dry skin.
For oily skin make a honey mask. Take two tablespoons of yogurt, mix protein and a teaspoon of liquid honey. Another option mask for oily skin - herbal. Take in equal amounts of sage, chamomile and calendula, herbs pour a glass of boiling water and leave for half an hour. After that, mix three tablespoons of yogurt with the same amount of the herbal infusion. In order for the mask kept on the face, add a little flour (a tablespoon). Mask for oily skin, tighten pores, reduce wrinkles, make the skin smooth.
To effectively combat pimples make a mask out of clay for the night. Dissolve white clay in green tea (tablespoon), add to the mix 10 drops of lemon juice. A night mask can be very dry skin, so in the morning be sure to prepare a moisturizing cream. To get rid of acne, do the following procedure: take the soap, wet it and RUB it on your spots. And in the morning as it should rinse with warm water. Soap over night dries pimples and helps to get rid of them.
For normal skincare, prepare at night, a mixture of natural honey and banana. Apply the paste on the face in a thin layer, so it does not stain linen. In the morning rinse with warm water. Skin will be incredibly soft and fresh.
Note
For dry skin add to mask any oil: olive, apricot, jojoba, almond and so on.
Useful advice
For recovery and power use in masks egg yolk.