You will need
- moisturizer;
- makeup base;
- liquid concealer;
- loose powder;
- corrector;
- blush or face powder color sun;
- lip balm;
- eyebrow powder;
- mascara;
- a set of brushes, sponges and applicators.
Instruction
For discreet makeup choose products in a natural palette. Professional makeup artists use several shades - this approach allows you to gently lighten or darken areas of the face. For example, a dark tone will accentuate cheekbones and hide the "floated" the chin, and the light will give the face a glow. Convenient to use liquid Foundation with light reflecting particles and transparent loose powder. Don't forget about the creamy concealer, which will hide small defects of the skin.
Give up the bright blush, eyeshadow, and color mascara. Your choice - beige-brown palette for eyes and bright pink blush. For the red blush can be replaced with a powder of tan - it is well to emphasize the cheekbones, but not will look like a bright spot. Black ink creates a too dramatic way. Replace it with dark brown or black. These funds will soften the look and is perfect for daytime makeup.
Before a session make-up well clean and moisturize the face. On the skin cosmetics will form a thin, even layer, as if merging with it. Do not use oily creams to hydrate better to use tonics, emulsions or gels are water-based.
If the skin is uneven, it is better to use under makeup. It hides pores, gives you a gloss. Choose a liquid or gel-like medium with a slight matte and illuminating effect. Spread on top of liquid Foundation. Act like a sponge, as if driving the tone into the skin. This method will help you to securely hide skin defects, the coating will be invisible. Bruising under the eyes, age spots and traces of pimples hide with beige corrector. Gently hammer it with your fingertips, achieving full stealth. Fix makeup loose translucent powder in the color of the skin.
On the convex part of the cheeks put a thin layer of pale pink blush or powder color tan. Blend tool fluffy round brush, moving to the temples and lower jaw.
Paint lips matte beige-pink lipstick or put them on a transparent balm. The last option is suitable only for those, whose lips are by nature vivid color. Do not let the outline with a pencil. To lipstick went softer, spread it with a finger using a gentle tapping motion.
Be sure to fill in eyebrows - they give the face a well-groomed appearance. Visivite the hairs, preserving the natural pattern of arcs. Slightly emphasize eyebrow taupe or dark beige shadows. Instead of shadows you can use a colored wax or very soft pencil with applicator. Don't make the eyebrows too dark, they visually add you ten years. Upper eyelids to emphasize beige, cream or taupe shadows. The final touch is the lengthening mascara of gray or chocolate color.
Advice 2: What to do pimple on upper eyelid
Pimple on upper eyelid is a serious problem. He brings not only cosmetic unattractiveness of the face, but is dangerous to health. All actions for the treatment of pimple needs to be literate, so as not to provoke further proliferation.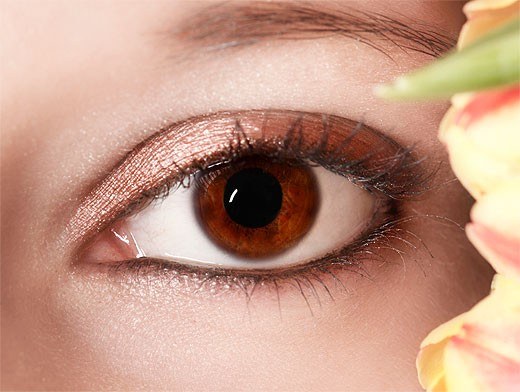 Facial skin requires thorough care. Even observing all the rules of hygiene, it is possible to deal with acne. Their treatment is different and depends on the location. Pimples on the upper eyelid require special treatment, as they are on very thin tissue and surrounding brain. It is therefore important to stop the infection and not allow it to spread inland.


What better to do


It is necessary to dry the inflamed pimple. Come to the aid of physiotherapy. Darsonvalization and quartz treatments are directed only at small portion of a closed century, which formed the pimple. They will help to reduce inflammation, kill bacteria even inside the skin will be preventing the spread of disease.

You can use ointments with antibacterial and anti-inflammatory action. Pimple on upper eyelid should be gently smear a thin layer. Better to put an auxiliary means, for example, with a cotton swab. If ointment to apply with your fingers, then be sure to pre-wash your hands thoroughly.

For speedy recovery and prevention of recurrence it is possible to take restorative medication. Good work complex vitamins and immunomodulators. For the treatment of acne on the face is often used autohemotherapy, it helps to fight bacteria that are already in the body. In severe cases, resort to a short course of antibiotics. Century have good blood supply, so the effect is noticeable in a short time.

If there is a need to go outside, you can paint over the pimple on upper eyelid dry shadows. Pick the color darker and to hide the disease. It is better to avoid drafts and areas with a high concentration of dust.

To clean and maintain the surface of the affected century, you can use the tonic, which is tested and does not cause allergies. Wipe with a light touch in the direction from the outer corner to the nose.


What not to do


Pimple on upper eyelid - not just a cosmetic defect, and inflammation. In any case it is impossible to squeeze. When squeezing the tissues violated the integrity of blood vessels, infection spreads rapidly in the lymph flow to the next area. The inflammation may reach the meninges.

Do not use compresses. The moist surface will only worsen the situation - there are "kissing" pimples, when one is opposite another, then the whole area becomes inflamed eyelids.

If you recall the methods from the folk medicine, it is appropriate to use harmless methods, such as spin modulo pimple or wave from the eyes cross. Better to do nothing, hoping for all the healing power of the immune system than to moisten a pimple upper eyelid decoctions and infusions. Be careful if the pimple is not more than 5 days, consult a doctor.