You will need
- 250 ml of water
- 10 teaspoons of salt
Instruction
Make a saline solution. To do this, take 250 ml of water and stir in 10 teaspoons of salt. Dip in a solution of amber, if it will surface, it means that you have purchased is not counterfeit. Modern resin and plastic different from amber higher density, so they will sink to the bottom.
Try to determine the authenticity of amber using the method of heating. Take a small sample of the product. Place in a closed test tube and heat. With the appearance of a sharp synthetic smell, you know that you have purchased plastic products. The strong aroma will indicate that the item is made of resin. Real amber gives smell of pine needles.
Sometimes when buying amber jewelry can be purchased dug. Copal is a young amber, whose age is counted not in millions, but hundreds of thousands of years. Also digging can be prepared from the resins of contemporary trees. To distinguish from the real Copal amber drip drop of alcohol in the product and apply finger. If the surface is dry – amber sticky – digging. In the absence of alcohol, use acetone: pour the product and leave for 3 seconds. Then wipe a drop if you have the spot dug.
Use the method of static electricity. It is most common when you choose amber jewelry. RUB amber, it needs to acquire negatively charged properties and begin to pull the various pieces, such as paper. However, many plastics have the same properties, but if the product is not "alectrosaurus", then it's fake.
Notice of inclusion (inclusion) in the amber products in the form of plants or insects. Genuine amber wings of flies exposed and the imitations, the flies caught on sticky tape, already dead is filled with resin or plastic. Funny look in the product group of insects that just won't be able to get it, either by habitat or age.
Advice 2: How to identify natural amber
Amber is a very popular stone for use in jewelry. The Sunny color of this stone creates a good mood, it is believed that
amber
has healing properties.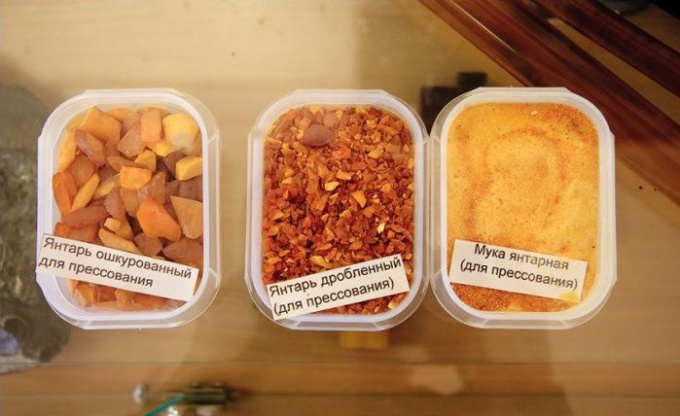 Instruction
Fakes do not possess the properties of amber, but successfully imitating its appearance, occur very often. To distinguish natural amber in color, form and transparency. Amber is of three types: opaque (this includes foam and bone amber), translucent (in this category amber there are concentrations of voids, giving a cloud of turbidity) and completely transparent. Forge with equal success all three categories.
If natural amber is to RUB pure wool, it will get electrified. exactly and will attract pieces of thread, dust, paper. With fake the effect will be much weaker. Simulation can be defined with the help of saline solution, but this method is only suitable for loose amber. Stone put in a salt solution, the fake will sink, while amber rests on the surface. Determine the authenticity, by using the magnifying glass, the power needs to be at least tenfold. Wavy formation that appears when the sintering of the particles, are fake. Thus it is possible to distinguish amber from various types of polymers and plastics.
Much more difficult is to distinguish amber from Copal, with which they are similar in color and form. The Kopal call used in the manufacture of varnishes fossil resin. When heated, the smell of digging unpleasant, and amber highlights like the clove flavor. Copal melts more easily and is not electrified by friction. In essence he is an immature resin and its composition is identical to natural amber, but it is very soft, the dent it can leave sometimes even with a fingernail. If you put on a stone a drop of alcohol and the surface becomes sticky is dug. The Kopal stains from acetone, amber no. If digging is treated in an autoclave, it acquires all the properties of natural amber and to distinguish a fake is even more difficult.
Pressed amber is another common alternative to amber. The product is obtained by processing small pieces of amber with amber flour adding color. At a temperature of 200-250oC and high pressure amber melts and becomes a homogeneous mass, retaining virtually all of the properties of amber. The microscope experts note the changing shape of the bubbles and overall character structure, now resembling a mosaic or a patchwork quilt. This amber, in contrast to the natural, softened under the influence of ether - the surface becomes sticky. It is believed that after heating special natural sequence and polarity of the molecules is lost, and it is characterized by the ability to cure many diseases.