Instruction
A small amount of glycerin (about 1 teaspoon) can be added to regular shampoo, and it is better to cook your own. You need to make a decoction of chamomile or calendula (200 ml), add 2 tablespoons of soap shavings, good to dissolve and then pour 1 spoon of glycerin. Great shampoo ready!
Using glycerin is easy to make a mask for damaged and dry hair, this 1 egg yolk whipped with a spoon of glycerin and Apple cider vinegar, and then the mixture is added to castor or burdock oil (about 2 tablespoons). Kept this mask for about 30 minutes, enough of the course 8 procedures regularly, up to two times a week.

For oily hair, it is necessary in equal proportions to mix the vodka and glycerin, then RUB into the roots and wash off after 15 minutes.
If your hair is normal or oily, the mask is prepared from 2 yolks, 1 spoon of glycerin and 3 drops of essential citrus oil. Stays on the hair for 30 minutes.
To make a mask for dry facial skin or hands, you will need 1 tablespoon of glycerin and honey, 3 tablespoons of warm water and a bit of oat flour to obtain a viscous consistency. Apply for 20 minutes.

To cleanse and moisturize oily skin, a small amount of glycerin is added to a regular clay mask, after which the mixture is held for 12 minutes and washed off with cold water.
You can easily prepare a moisturizer for body, mix glycerin and rose water in equal amounts, although depending on the individual characteristics of the skin the proportions can be changed.
Mix the glycerin with vaseline, will be able to easily overcome skin dryness.
Glycerin can be added to liquid soap and to forget about dry hands after washing.
Useful advice
Glycerin is able to retain moisture, so is often added to skin cream and hair masks and can be used in pure form. It is absorbed instantly, have to wait a few minutes, but then appears on the skin extra moisturizing the film, which also helps to heal scratches and inflammation. Hair mask with glycerin will help against dryness and breakage, eliminates dandruff and itching, makes them thick and ensure rapid growth.
Advice 2 : How to use glycerin for cosmetic purposes at home
Glycerin is included in many cosmetics as an emollient and moisturizing component, but the beauty of it lies also in the fact that the substance can be easily purchased at the pharmacy. This allows the use of glycerin in cosmetics at home.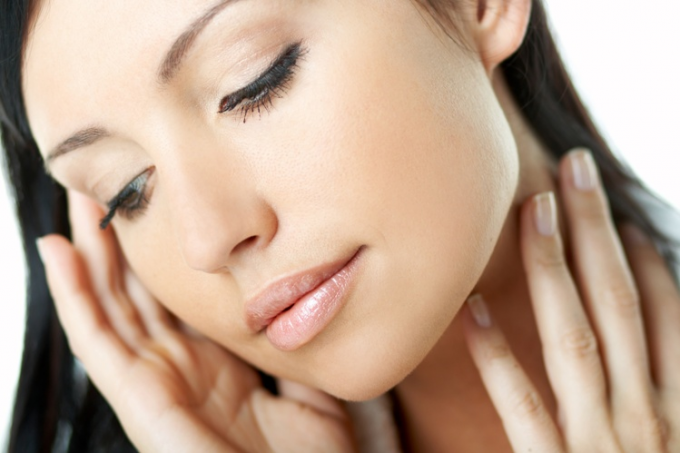 The beneficial properties of glycerin for skin
There are two diametrically opposed views about what is glycerin good for skin. One of these, it moisturizes the skin, creating her invisible film while binding moisture to the cells. But on the second in this property to retain moisture lies deceit glycerin: if enough in the air, it will absorb the microscopic particles of water and keep them on the surface of the skin, creating a feeling of freshness. But in that case, if the surrounding air is dry, the wet film on the surface of the face, the glycerin will be generated from internal reserves of the skin, pulling moisture from the cells and drying it. But while the debate about the benefits and dangers of liquid glycerin in cosmetics continues, cosmetics manufacturers continue to use it, rightly considering a much cheaper component than, for example, with similar properties hyaluronic acid.
Familiar to all form of glycerol - liquid. But the comparative novelty is glycerin in the bars with similar properties, which is used in soap making.
The use of glycerin in cosmetics
It is used at home as part of masks and creams and in its purest form. If you regularly RUB the leather with a sponge moistened with glycerine, it is possible to reduce inflammation and accelerate regeneration of the skin because the glycerin is useful for damaged skin and for skin with aging. Also glycerin you can make a lotion that can be used with any type of skin. The basic component of such a lotion, the decoction of the most suitable herbs, 100 g of which is added a teaspoon of glycerin. For example, for skin prone to inflammation, suitable decoction of calendula, the skin will soothe a decoction of chamomile, for dry is a good brew of mint. The only drawback of such lotions is that they are not stored for a long time because every two days (if stored in the refrigerator) will have to make a new batch.
The composition of face masks with glycerin can be equally diverse. Universal recipe for any skin type is a mixture of equal parts of honey, glycerin and mineral water. Rinse off the mask must after a quarter of an hour after application.
Do not be afraid of sticky feeling of skin after application of home remedies using glycerine. That feeling passes after a few minutes, as glycerol is easily absorbed.
Other uses of glycerin
Setting a goal to help the skin retain moisture, cosmetic glycerin can be used not only in the composition of lotions, creams or masks. The easiest way to preserve the beauty of the skin is to make glycerin soap, which is glycerin bars are melted in a water bath, and thereto are added to essential oils and other substances that improve the qualitative composition of the final product.