Instruction
Unlike store-bought, homemade creams have several advantages. They are natural, do not contain dyes and perfumes, they are easy to prepare, and the result, often, is not inferior to the expensive creamfrom a famous boutique.
For example, dry skin of the face will be good the following recipe: RUB on a fine grater cucumber, then add to the pulp 1 teaspoon of honey and 3 teaspoons of almond oil. Precipate the mixture on a water bath for 30 minutes, then beat with a blender - nourishing cream is ready!
For dry and normal skin face good creamy cream. Whisk one egg yolk with one-fourth Cup heavy cream. Add 1 teaspoon of honey. This cream nourishes and softens the skin. It must be stored in the refrigerator.
Oily skin will be happy with fruit cream. Take 1 tablespoon of melon, watermelon, banana, peach, black currant. Whisk in a blender. Add to the resulting mass 2 egg yolks and 1 teaspoon of heavy cream. Blend again. Then add 1 teaspoon of cognac and mix. Received the cream must also be stored in the refrigerator.
For aging skin you can try the following recipe for cream: grind in blender 5 nettle leaves, 3 leaves of mountain ash, a little parsley 8 leaves of currants, a few buds of Jasmine flowers or roses. To the resulting mass add 1 tablespoon melted in a water bath margarine, 1 teaspoon beeswax, 1 teaspoon of vegetable oil and a few drops of oil solution of vitamin A (you can buy in the pharmacy). Mash until smooth. This cream nourishes and restores the skin's youth.
Beautiful toning cream for all skin types you can make from watermelon. Boil thick porridge with 1 Cup milk and 1 tablespoon of semolina. Let cool to room temperature, add a pinch of salt, 2 egg yolks, 2 teaspoons honey and 2 teaspoons of butter. Stir, and then add watermelon juice to make a soft cream.
Note
Homemade creams must be stored in the refrigerator. The shelf life varies from a few days to months - it all depends on the ingredients added.
Advice 2 : How to make face cream
Homemade creams have advantages over industrial cosmetic products: they are made from natural ingredients, you can always check their quality, self-made creams no preservatives.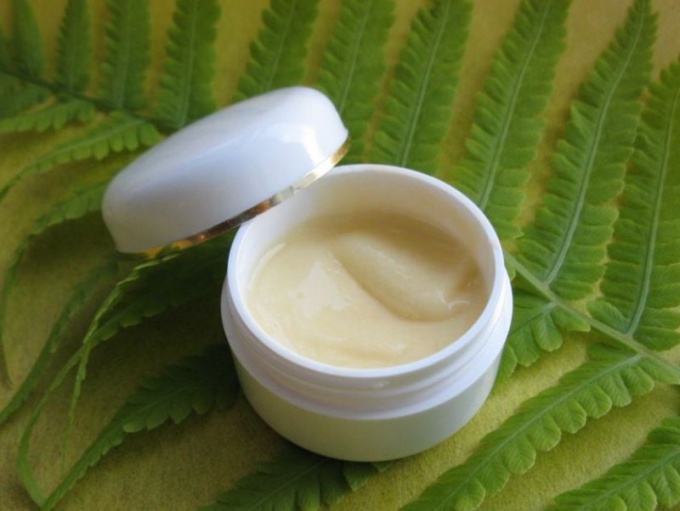 You will need
- lanolin;
- glycerin;
- essential oils;
- beeswax;
- vitamins in the adipose capsule;
- dry herbs, vegetables, fruits, etc.
- capacity for melting the composition;
- measuring syringe;
- mixer or a blender;
- a stick for stirring.
Instruction
Determine the type of creamyou want to prepare, moisturizing, nourishing, softening, anti-aging, etc. depends on the composition of the cream and select ingredients.
Get all the ingredients homemade cream – the pharmacy, a specialty store or a regular grocery store. All the dishes, which will be in contact with the composition, pre-scald with boiling water.
Make the base of the cream – it can be beeswax, palm oil or cocoa butter, and other solid formulations. Break into pieces or astrogate a solid Foundation, put them in a bowl and melt composition in a water bath.
In a separate bowl, mix dry herbs, pulp of fruit or vegetables, honey, glycerin, lanolin, etc. Mix all ingredients in a specified dosage, gently stir with a wooden or plastic stick, achieving uniformity of the composition.
Connect the two parts of the cream. In a bowl with the melted base in a thin stream, pour the second part of the composition. Whisk the cream with mixer or blender, achieving full dissolving and dispersing the components.
Add the water part of the cream – pour the cooked vegetable infusion (spoon dry herb per Cup of boiling water), mineral non-carbonated or distilled water. Put the entire composition in a water bath, soak for 3 minutes and transfer a container of cream in a bowl with cold water. Immediately start whisking the cream with a mixer and continue until, until the structure finally cools off. At the end of churning, add the prepared essential oil and vitamins (so the oil trains will retain all its useful properties).
Place a container of homemade cream in the fridge. During use, keep in mind the expiration dates of improvised compositions – usually they do not exceed seven days. The best way to store homemade cream in glass jars, and get them need special spatula and not fingers.