You will need
For knitting cozy house Slippers: crochet hook No. 4 acrylic yarn (250 m/100 g) purple - 10 g blue 20 g, brown - 40
Crochet delicate Slippers: hook № 3,5 or №4, about 90 g of multicolored woolen threads (the example uses strands of beige and blue colors).
Instruction
Knitting cozy Slippers, start with the soles. To do this, enter a chain of air loops with a thread of brown color. Chain length should be equal to 2/3 of the length of the sole.
Knit on circle columns without nakida on the heel and toe evenly add on to the loop. As a result, you should get a flat oval.
Stop to add a loop and continue according to the scheme: from each of the second hinge promazyvaya 2 column with nakida. In the next row the columns with nakida provarite in the gap between two pairs of columns of the bottom row. Each subsequent row begins with a knit 3 loops rise, changing the yarn colour from brown to blue and Vice versa.
The upper part of the slipper sock knit the same way as sole. Make a chain of air loops. Its length should be equal to 1/3 of the length of the foot. Next knit in a circle by columns without nakida. The edges uniformly add loops. As a result, you should get a flat oval.
Take the purple yarn and connect the top of the sock with the main part of the slipper-rail "crayfish".
Associate
of fine
homemade
Slippers
also very easy. To start with the size. To do this, cut the fabric into six equal squares and staple them together. If the layout of the slipper was a perfect fit, take a size of a square for the base.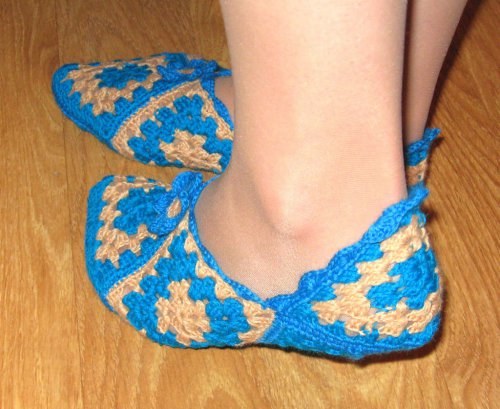 Tie to the top of the slipper four square. Pattern choose to your taste. You can knit and plain loops. To Slippers were bright, alternate color threads. Also nice to look at the product, made of colorful knitted squares.
For the soles make two squares. It is better to link them to a solid filament with the addition of synthetic.
Firmly connect all the parts. First fold the two corners Bokova square. Sew them to the top of the Central square. Then connect it with the side parts and the lower one square foot. At the end sew the heel.
Decorate Slippers with edging and different decorative elements. For instance, flowers or butterflies. It will be interesting to look at lace threaded along the edge of the slipper.
Useful advice
If you wish to the soles of Slippers you can sew a leather insole. This will increase the length of their socks.