You will need
- feathers;
- headdress;
- swimsuit;
- fringe;
- shiny jewelry.
Instruction
Creating a Brazilian costume, remember that Latin dances involve quite active movement and your outfit should withstand this test. The hardest part is the big headdress, which consists of huge colourful feathers.
Think like a passionate dancer. Whether you are comfortable to move only in a bra and microscopic Thong or is put on enticing mini skirt. Some Brazilians prefer to wear nothing but a headdress. In this case you will only need to color your body, sprinkle glitter and stick on rhinestones.
Train to do bright makeup carnival. It needs to be combined with your way. Usually around the eyes are drawn of butterfly wings, fantastic flowers or intricate pattern. And here don't forget about rhinestones, paillettes and sequins.
Pick a comfortable, well-fitting for you wearing a two-piece bikini. Buy lot of bright beads, beads, beads. Prepare the hot glue, decorative heavy fringe. Find peacock feathers, pheasant, ostrich or other large and beautiful. Perhaps we should ask for help to workers of a zoo or circus.
Look carefully at the pictures of carnival in Brazil. Select a few outfits that you like. Consider whether you need to do something similar, or should I choose an outfit easier. If you have no time for careful work, the decorations will stick. It is better to sew them, in this case, they hold much stronger.
At the bottom of the bodice and on the waistband of the panties tab heavy fringe of shiny stripes with the beads. Decorations in the Brazilian suit is never too much! Attach rhinestones and sequins, creating the beautiful and colorful ornament.
Grab tightly and firmly seated on your head a hat. This can be a baseball cap without a visor, bathing cap. Modify it by cutting off unnecessary details. Tab on cap first large feathers, and then those a little smaller and puffier. If the fabric of the beanie is visible, panel it with rhinestones and sequins.
Advice 2 : How to make a Hawaiian costume
Hawaiian costume from many associate with the sea, sun and summer holidays. Most appropriate for this outfit on a beach holiday in hot weather. But will it fit for a Christmas club costumefocus of the party. However, the materials in these cases it is necessary to apply different.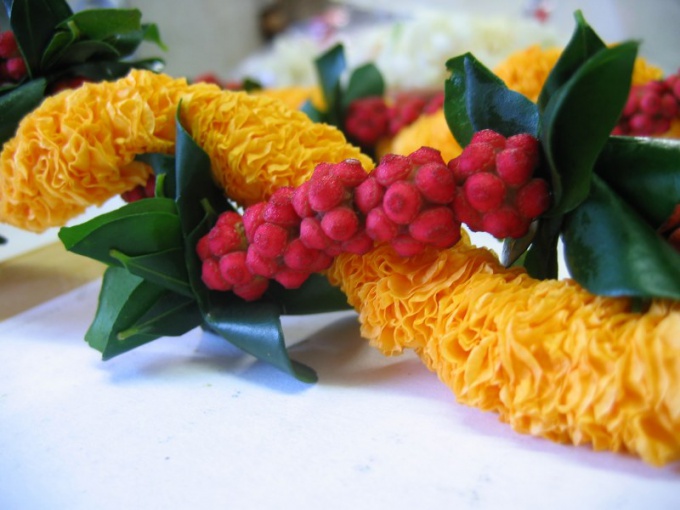 You will need
- outdoor swimsuit;
- tinsel;
tape;
- artificial vines;
- flowers;
- Laundry gum;
- braid;
- needle;
- threads;
- a pair of scissors.
Instruction
Manufacturer suitand start with the skirt. It can be done of different materials. If you decided to do this costume out of Christmas tree tinsel, we choose the one that is with a soft long NAP. Suit and satin ribbons, and artificial plants. Cut the tinsel pieces equal to twice the length of the skirt. It can be anything, but most often to the knee or slightly below. If you make a suit of satin ribbons, cut their edges obliquely or sewn.
Cut a piece of elastic. Sew it into the ring so that skirt was easy to wear. Better to take a wide elastic band, which is less stretched. You can make a belt from grosgrain ribbon. In this case you will need a clasp.
Folded in half a strip of tinsel or ribbon wear on the belt. Straighten the edges. Sew the strip to the gum. Tinsel can sew in principle, any thread, since the stitches are still hiding under the pile. If you are using ribbon or artificial vines, the material for stitching must be exactly the color. For satin ribbons, preferably silk thread. Sew the remaining strips, so they completely shut down the belt.
Decorate the bra. Tinsel can simply be sheathed on all sides. From the tapes it is better to make multi-colored rosettes and sew them on the neck, lines the armholes and bottom of the swimsuit. Rosettes can be done in the following way. Cut a piece of ribbon with a length of 10-12 cm On one long edge sew it with a seam "forward a needle" with small stitches. Roll the ribbon into a tube. Much structure stitched edge and sew through it a few cross stitches. Straighten the free edge. Sew the rosette to the bra. You can also use artificial flowers, cut from their stems.
Make a flower necklace. Try to keep it in the same style as the rest of the costume. Rosettes of ribbon or artificial flowers tab on the right color braid, best green. In the same way make the decoration on the head. This headband with attached flowers. Position them as prompt your imagination. If there is at hand the shells of different shapes, make a second necklace. Complete the costume with a corsage.
Note
Shoes must be in the same style as the rest of the outfit. In this case, no good for evening shoes or sneakers. The best option is beach Slippers, which can also be decorated with shells or flowers.

Initially, these costumes were made from different plants. For a beach party best suited to do this.
Useful advice
Mens Hawaiian costume has several varieties. If you can not get a Hawaiian shirt with palm trees, do not cover the torso at all. Pick a denim or white shorts and make a flower garland on his neck.

For a suit you can take synthetic packing tape. It is better to buy some multi-colored skeins. The rosettes of this tape is better hold the form. Stripes and flowers to attach to the belt and the rim can stapler.