The batter is used mainly for roasting a wide variety of products deep-fried, while retaining the richness and delicate structure of the cooked product.

A favorite dish of many lovers of delicious food – succulent lamb in batter, cooked pork or chicken meat. Very tasty fish in the test, any mushrooms and seafood. Cooked in batter fruits and vegetables not only delicious, but healthy dish. Hard vegetables before roasting it is better to slightly boil.

We now proceed directly to the question how to make batter for frying products in deep fat. Here are some of the most basic recipes of the batter.



A classic recipe of batter:

The ingredients: raw proteins in a quantity of 4 pieces, 1/2 Cup wheat flour, vegetable oil – half tbsp, warm water – half a glass.

• Whisk the egg whites to a solid foam.

• Mix warm water with oil

• Gradually add the resulting liquid to the flour, stirring with a whisk.

• At the end gently enter into the dough beaten egg whites, add salt to taste.

• Prepared the batter, it is better to put in a container of cool water. You can try another version of the recipe by replacing plain water with cool mineral water.



Recipe of the batter in milk. Milk batter good for roasting vegetables.

Necessary ingredients: eggs – 3 pieces, flour – half Cup, chilled milk, 6 tablespoons, rust. oil – 1 tea spoon salt and add sugar to taste.

• Separate the egg whites, whip them to a froth.

• Pour cold milk into a separate bowl, add the egg yolks and vegetable oil, add the flour, salt.

• Mix the mass until smooth.

• Before roasting, mix the whites with the ground.



French beer batter. The recipe was invented in France, it is advisable to use a well cooled beer varieties, it does not give bitterness. The batter is delicious and slightly crunchy.

Necessary ingredients: cold light beer – 1 Cup, 1 tbsp Rast. oil, eggs – 2 pieces, flour – 1 Cup salt curry powder – a pinch (optional).

Preparation:

• Beat separately the yolks and whites.

• Mix the flour with the yolks, gradually add beer, then pour Rast. oil.

• Add to the resulting mass is proteins, gently stir.
Advice 2: How to make batter for meat
Fry meat in
batter
... a Seemingly simple dish. But the questions when preparing the batter raises a lot. What thickness should the dough be the basis on which to cook it and how you can diversify the taste? Try to prepare the batter several recipes and choose the one you like more.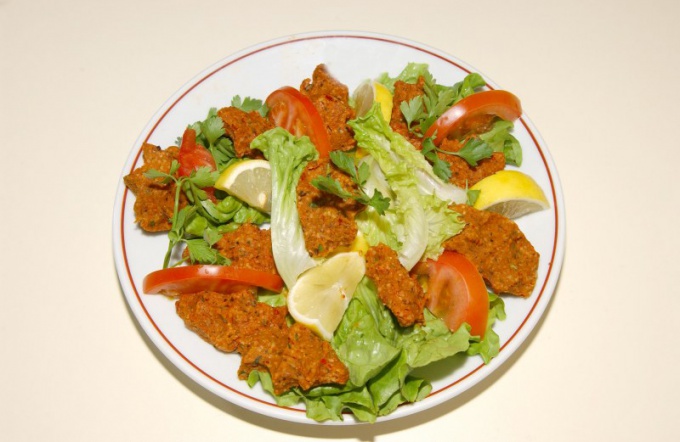 You will need
Recipe No. 1:
- 2 eggs;
- 1 Cup of flour;
Sol;
- 25 g of vodka.
Recipe No. 2:
- 1 Cup of flour;
- 0.75 cups milk;
- 3 eggs;
- 1 tbsp vegetable oil;
Sol;
Spezia.
Recipe No. 3:
- 250 g of beer;
- 1 egg;
Sol;
red pepper;
- flour.
Instruction
Recipe No. 1

Mix the eggs and flour until a homogeneous mass. Salt the mixture to taste. Add vodka, and stir. Vodka will give the batter fluffiness and lightness. The thickness of the batter in the finished product depends on its initial density. The more thick crust you want to, make the thicker batter. Dip the prepared piece of meat in batter and fry it in oil on all sides until Golden brown. This recipe is suitable for cooking chicken and pork.
Recipe No. 2

Heat the milk to room temperature. Carefully pouring it into flour, put them into a homogeneous mass without lumps. Add eggs and vegetable oil, mix everything again. Batter salt to taste and leave it for 15-20 minutes. Then you can start frying the meat. This batter is more suited for pork. To get different flavors you can add coriander, cumin, cumin, red and black pepper, marjoram, rosemary. You can use a single spice, or combine them according to your taste.
Recipe No. 3

Try to cook the batter, taking the beer. In this case, he will get light, lush, with a faint tinge of freshly baked bread. Beer mix with egg, salt and pepper the mixture to taste. Add flour in small portions, stirring thoroughly. The batter consistency should be slightly thicker than sour cream. In order to better meat is done, slice it into thin pieces and repel from two sides. Cooked meat in batter, place on paper towel to stack excess fat, and serve hot on the table.
Note
Be careful, omitting the meat in the fryer, turning and pulling it on a plate. Do this with two forks or special forceps. Can't touch this!
Is the advice useful?
To add some spice in the batter, prepared according to the first and second recipe, you can add 1-2 crushed cloves of garlic.